Heritage
The school was formerly a charity school but is now controlled and maintained by N.E. Lincs. Council. It retains the name "Stanford" in its title in recognition of the Stanford Trust, which founded the school in 1730.
Phillip and Sarah Stanford's three children died in infancy so they left land and money to start a school in Laceby. It is thought they both died before the first school was built in 1730.
The Stanford Trust is still active, providing additional educational facilities at this school and at the nearby Stanford Centre for residents of the village. The most recent project is a contribution of £3,200 towards a complete regeneration of the Wild Area to turn it into an outdoor classroom and funding towards a Tyre Play system for children's activity.
The school also participates in the Stanford Day Service, which is held at the village church of St. Margaret's each year on Ascension Day.
Please read The Stanford Legacy by Pat Anderson below for a fuller history of the Stanfords and the Stanford Trust.
Year 2 Historical Enquiry
The children produced wonderful art work and wrote interesting facts about Founder's Day and the Stanford family. They enjoyed looking at a wide range of sources, including old photographs and Sarah Stanford's deed of 1721. Well done everyone
The Stanford Legacy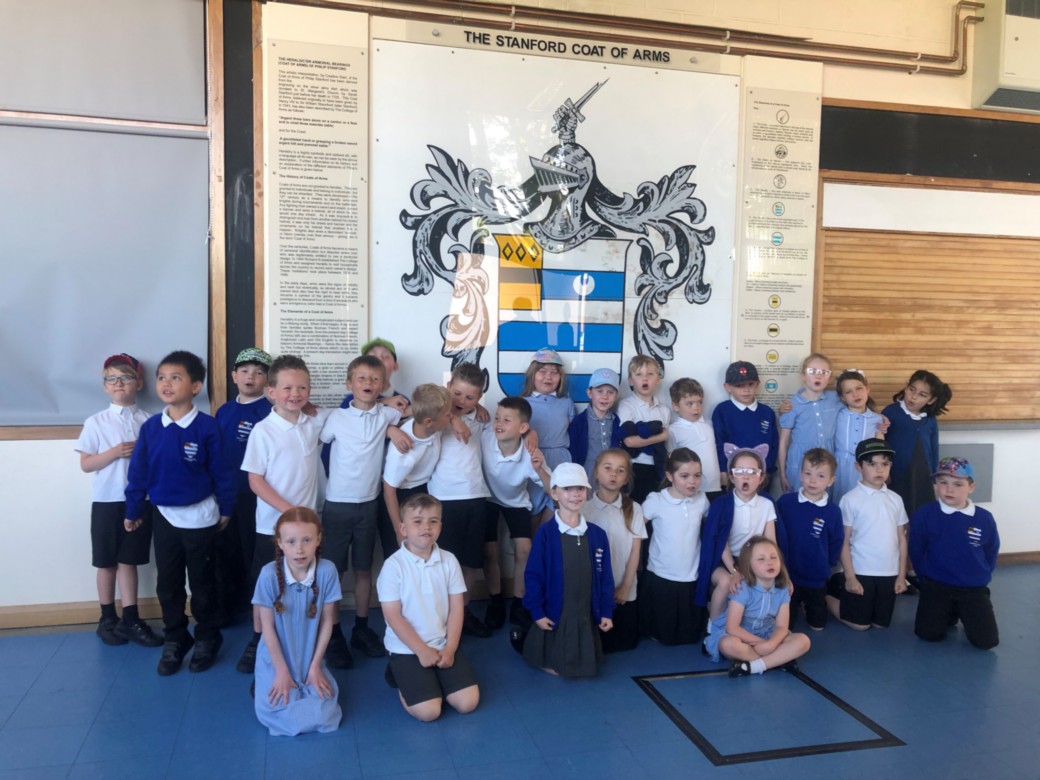 As part of their historical enquiry work about Founder's Day this year, Pumpkin Class visited the wonderful Stanford exhibition at the Stanford Centre. They were able to read information about Sarah and Philip Stanford, The Stanford Trust and the origins of the Stanford Coat of Arms.
Many thanks to Mrs. Brumfield for her interesting and informative talk.
H- The Stanford badge has diamond shapes on it called mascles.
N- The moon shape on the badge means second son.
H- I noticed the top of the badge is a different shape to our badges on our jumpers.
M- The sword and the helmet made me think that William Stanford had been a knight.
A - Henry VIII gave Philip Stanford's ancestor, William Staunford the badge in 1543.
L- I liked the church picture. I found the old penny!
H- If you come here, you can read about Sarah Stanford's deed and what she wanted The Trust to do with her money. She wanted to help poor people, give children a school and she wanted boys and girls to learn maths.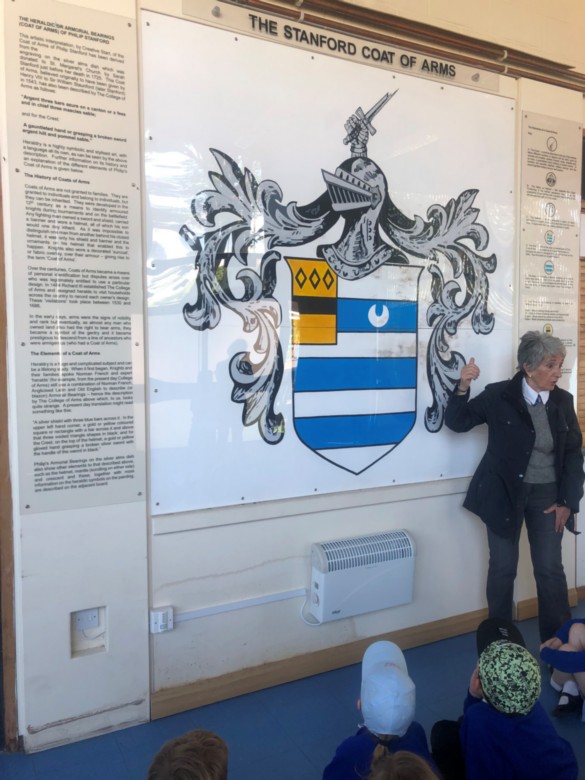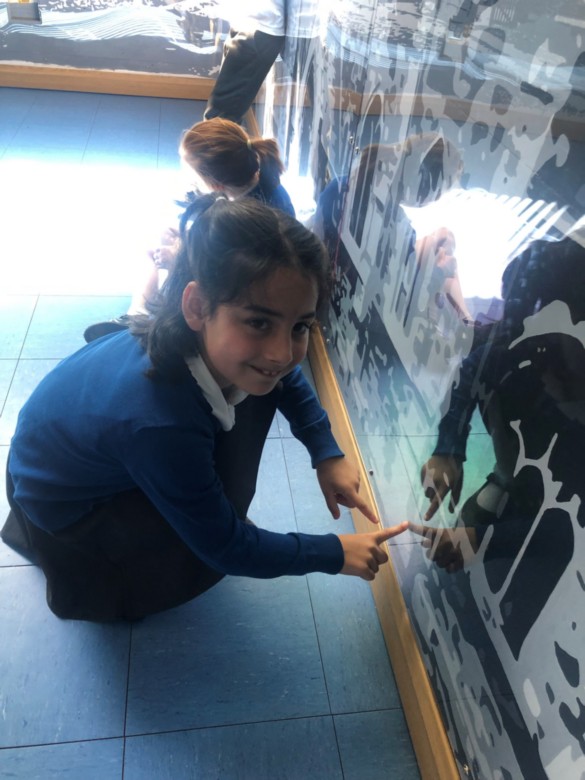 Founder's Day Celebrations
The KS1 and Foundation Stage children had a special assembly led by Mrs. Brumfield to mark Founder's Day- The School's Birthday.
Mrs. Brumfield gave a very interesting and exciting talk. She is very knowledgeable about the school's history with many family connections to the school and is also a member of The Stanford Trust. The children were very excited to see all the different artefacts and old photos, as well as finding out about the rich heritage of our school.
J- I spotted Mrs. Brumfield when she was a little girl in an old photo. Her hair was very long then.
L- The school is 293 years old today.
A- Founder's Day was also called Penny Day because all the children got money. They used to get an old penny in the olden days.
G- Mrs. Brumfield's Dad went to the old Stanford School and at playtime he had to drink water out of a bucket!
A- Mrs. Brumfield's Grandad had to write with chalk on a slate.
H- I loved it when Mrs. Brumfield took her coat off and showed us her son's old school uniform. I noticed the blue on the badge was a lighter blue than mine.
S- Sarah Stanford left £40 to build a school for the children because they couldn't read or write.
R- The old school got too small, so it is now someone's home which is called Daisy Cottage.
T- Sarah Stanford gives us money every year on Founder's Day. The Stanford Trust are the people who look after her money. We all got 50p.
T- I enjoyed singing Happy Birthday to the school.
J- Mrs. Brady played The School Song on the piano and we all sang it. It was a really happy day.
Investigating the History of Stanford School
Year 2 have been enjoying learning all about the History of the School.
They have been the first children in the school to examine our large copies of Sarah Stanford's will and the Stanford Trust Deed written in 1720! These were kindly donated to us by The Stanford Trust. Many thanks also to Mr. and Mrs. Griffiths for their help in organising the framing of these very important documents.
R- I think we are very lucky to have such a special school. I have loved looking at the old writing.
A- I guessed that the school would be nearly 300 years old.
J- The house where Sarah and Phillip Stanford lived is still there. I walk past it every day.
D- I found Sarah Stanford's writing at the bottom of her will. She wrote her name with a feather.
H- W in our class gave an amazing talk about King Henry VIII. He told us lots of interesting facts.
W- I wonder if we are the only school to have a badge from Henry VIII in 1543?!
M- The first Stanford School is now a house that people live in.
J- I can't believe that there has been a Stanford Trust looking after Sarah's money for over 300 years. I think we will all get 50p each on Founder's Day again.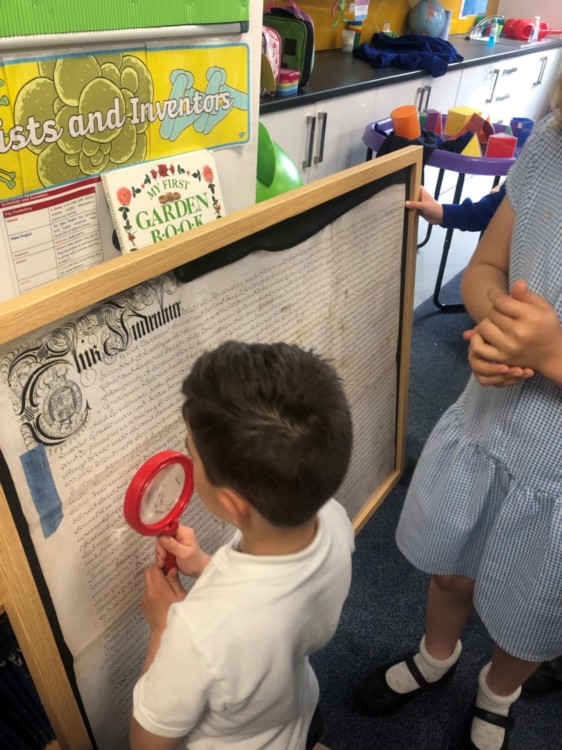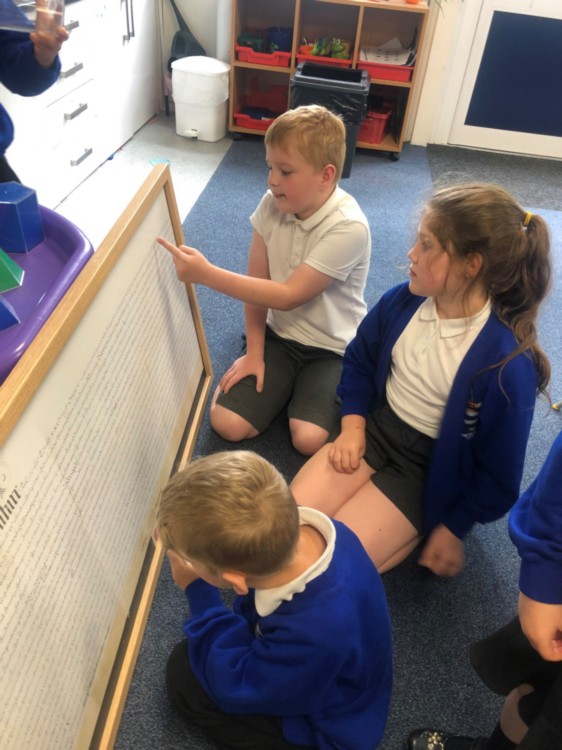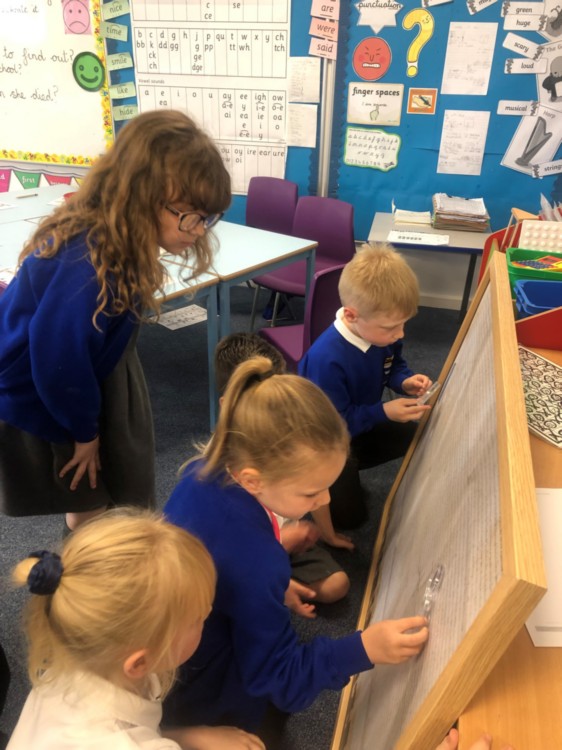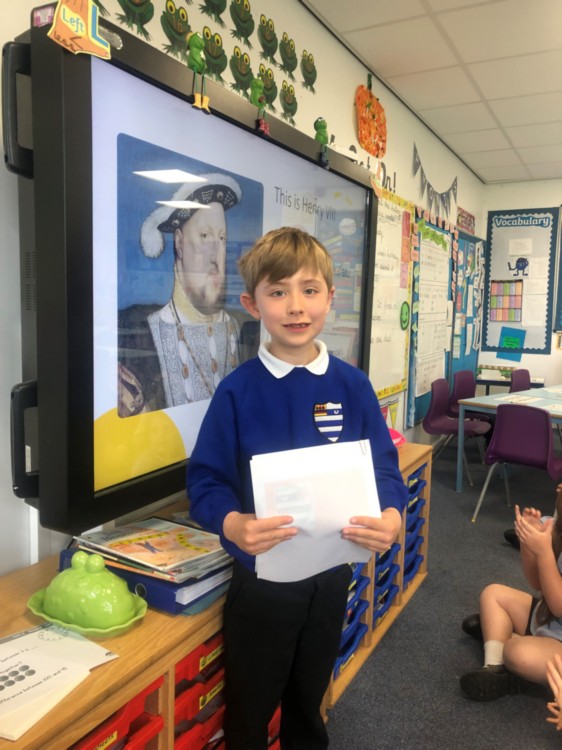 Who are our Team Point Houses named after?
Blue Team: Stanford
This team is named after Philip and Sarah Stanford who owned farm land in Laceby.
In his will dated 1712, Philip left all his land and money to Sarah. He expressed the wish that it be used to help charitable causes. In 1720, Sarah founded The Stanford Trust and decreed that after her death the income from all her land be used to educate the children of Laceby and surrounding villages. Thus in 1730, Stanford School was founded.
Green Team: Field
This team is named after William David Field, born in 1847. He is recorded in 1871, as being a gentleman farmer and was known in Laceby as Squire Field. He served as Churchwarden at St. Margaret's Church in Laceby from 1879-1932. Squire Field also occupied the position of Steward of Laceby Stanford Charity School for 53 years.
Red Team: Whitgift
This team is named after John Whitgift who was born in Grimsby in 1530. He was the Rector of St. Margaret's Church from 1571-1576. Queen Elizabeth I appointed him Archbishop of Canterbury in 1583. In 1603, he presided at the funeral of Queen Elizabeth I and enthroned James I.
Yellow Team: Knight
This team is named after The Rev. Canon Henry Wynyard Knight. M.A. Who was born in Laceby in 1863 and was Rector of St. Margaret's Church, Laceby from 1862-1889.
The Stanford Coat of Arms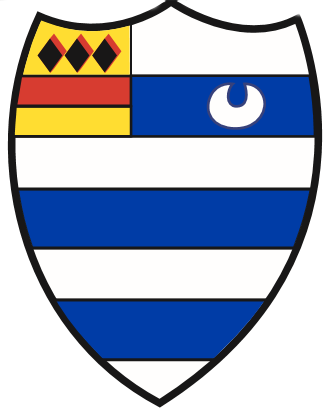 This was granted to William Staunford (ancestor of Philip Stanford) by King Henry VIII on 6th May 1543.
St. Margaret's Church, Laceby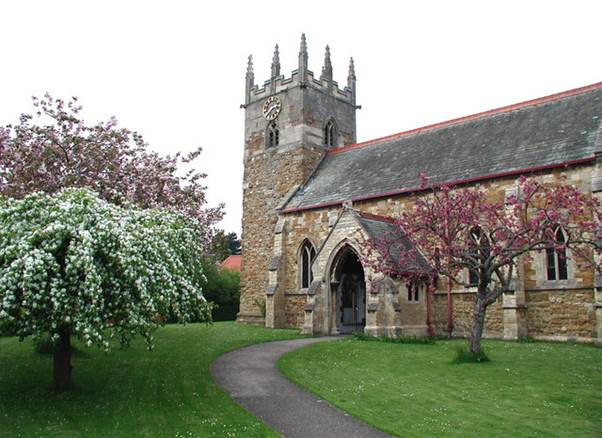 St. Margaret's Church is a very special and important place for us at Stanford School.
Throughout the year, we regularly visit the church and take part in celebrations such as;
the Harvest Festival
Christmas Carol Services
Easter Service.
In May each year, the Key Stage Two children attend church to celebrate Founder's Day. This was Sarah Stanford's wish, who in 1720 decreed that a sermon be preached to the children at the Parish Church in May on the anniversary of her husband Philip's death.
John Whitgift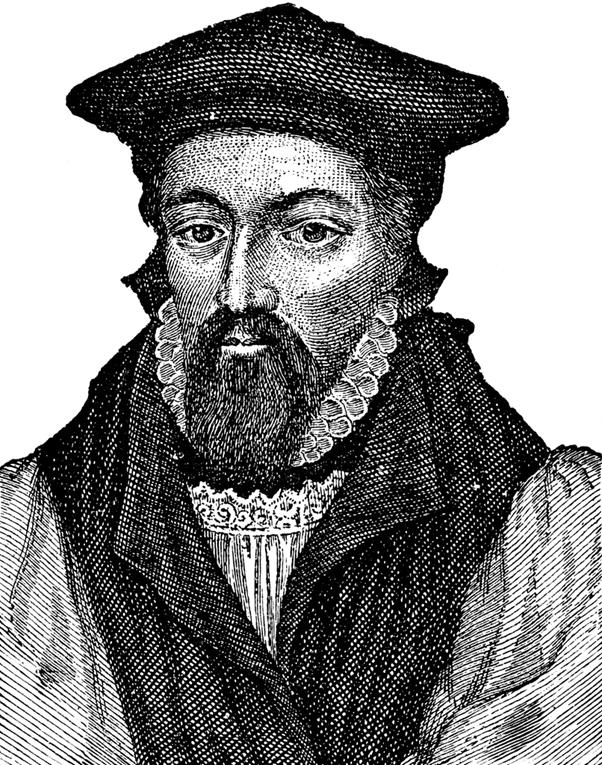 King Henry VIII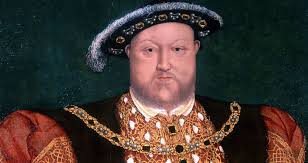 Many thanks to Laceby History Group for their valuable research and information. For more information about local history please visit the Laceby History Group website.
---
The Stanford Legacy by Pat Anderson
The first thing we must realise is that the Stanford's were important people; they even had their own coat of arms and it is still the Stanford School badge. The arms were granted by Henry VIII to a William Stanford, an ancestor of Philip Stanford in 1543.
Philip and Sarah his wife lived first of all in their married life at Barnoldby-le-Beck and then at Bradley, where they had 2 children, a boy William and a girl Elizabeth. One died in infancy in 1694 and the other one in 1695.
They subsequently moved to Laceby to the house which still stands at the bottom of Cooper Lane, College Farm House. Here in Laceby they farmed about 90 acres of land which they owned and possibly other land which they rented.
Sarah had been born Sarah Fountain. She was the step-daughter of Richard Nelthorpe of Brigg. The Nelthorpes has already founded Brigg Grammar School so we can see where her interest in education came from.
They lived a normal farming life in Laceby and Philip in his will dated 1712 left all his lands and all his money to Sarah. His will makes interesting reading. He left it "To settle upon such poor widows or other charitable causes she thought fit". Well that gave Sarah carte blanche to set up some kind of charitable trust. She thought about it for a few years. In 1720 she made the deed which founded The Stanford Trust. It's not a will, it's a conveyance to the original Stanford Trustees. In it she decreed that on her death the income from all her lands, house and other money should be used for 5 main causes, the principal one being that a school was to be founded in Laceby for the children of Laceby, Bradley and Barnoldby-le Beck.
She not only said there was to be a school but laid down what the remuneration was to be. The Master was to be paid £12 a year plus free coal the Mistress £4 a year also plus free coal. She also stipulated what subjects were to be taught. The most fascinating one is that she states girls should be taught to cast accounts. For girls in a remote village to be told in 1720 they were to be taught mathematics was really something. Women's Lib. Please note!
She decreed that once a year on Philip's birthday, not Ascension Day as it became in later years, all the children were to go to church. They were to hear a suitable sermon preached by the Rector of the village at that time for which he'd be paid £1 and when they left they were to receive a coin to remind them of Philip's generosity. In the deed it says that 5/- shall be distributed. Now assuming there were 60 children in school they would receive 1d each, hence "Penny Day" and it's been known as that ever since.
She said that any boys who showed an aptitude should be apprenticed to a craft and the Trust were to pay their apprentice fees. This was wonderful for boys whose only other hope would have been agricultural labour. Mindful of Philip's provision for the poor widows she stated that the poor of the village could go to the church porch once a month where they would receive free bread and she set aside 5/- a year for the purpose.
Fifthly she stated for all this work the Trustees could treat themselves to a dinner once a year and they could spend 5/- in total on that dinner. For many years the Trustees met in The Cock Inn which stood in Laceby Square but which was demolished in 1816 and was replaced by The Waterloo. Sarah lived until 1725. Just before she died she gave the church at Laceby a lovely silver alms dish. It has on it the Stanford crest and round the side an inscription "Given by Mrs. Sarah Stanford to the Church of Laceby July 22nd 1725". The interesting thing about that alms dish is that the hallmark is some 50 years earlier, 1676. So was it a wedding present to Philip and Sarah?
The Old School House
After Sarah's death the Trustees got to work and opened the first Stanford School in 1730 in the house which many of us remember as Mr. Rowson's. The house which stood at the bottom of Cooper Lane was demolished in 1970. They appointed the first Head, Mr. Anthony Bainton. He duly got his £12 a year. He must have thought it worth it because he stayed 50 years, still the longest tenure by any Headteacher and unlikely to be beaten, although George Smith in the 1800's served over 40 years and Richard Rowson in our lifetime served 35 years. New buildings (now converted to houses) were added in the 1700's and 1800's.
It is still the Stanford School (now serving the villages of Laceby, Aylesby and Irby) albeit it is run by the local authority and funded by them but still owned by the Trust even the new building. In recent years the Trustees have funded a resources room and the staffroom. They've helped the school provide computer terminals and every year when children leave the school the Trustees provide them with a book, dictionary or Bible. Also three of the School Governors come directly from the trust. Children still go to church on Ascension Day, they still hear a suitable sermon, the Rector receiving £10 nowadays for it and they still receive a coin -5p now.
Apprentice grants are still given but this area has been widened enormously and now any youngster going on to higher or further education can apply to the Trust for a grant to help fund the cost of their books or tuition. The Trustees set aside some £1500 each year for this purpose.
Poor widows don't attend at the church door for their bread once a month- although it happened well into the 1940's when Ernest Graham brought the bread down from the bakehouse in a basket and stacked it on the seats in the porch. Nowadays this part of the Trust is covered by a separate little Trust within the main body where three Trustees, one appointed by the church and two by the Parish Council, distribute food parcels where they think they will be most appreciated at Christmas
The Stanford Centre
Lastly, the dinner for the Trustees. Now the Trustees invite, once a year, the School staff, the Governors, ex teachers and friends to a high tea after the Founder's Day Service. In the 1970's the land from Cooper Lane right down to the kennels was compulsorily purchased by the local authority for housing, playing field and school use, almost 40 acres in total. With this money the Trust was able to embark on a major project, the building of the Stanford Centre which was opened by the Chairman of the Trust, Major Harry Spilman in 1975. As a Millennium Project the Trustees provided a dedicated children's library within the main building. So Sarah's wishes are still interpreted today and if that doesn't make the Trust unique it is certainly unusual and her spirit still lives on.
Stanford School
Laceby
Laceby is a large village about one and a half miles from the western boundary of Grimsby. The village retains its rural character whilst enjoying the facilities which the nearby town and resort of Cleethorpes offer.
The school is built on a pleasant, open site on Cooper Lane. The whole of the school is now housed in the main modern building with two new classrooms having been built in 2011.
The Stanfords
The school was formerly a charity school but is now controlled and maintained by N.E. Lincs. Council. It retains the name "Stanford" in its title in recognition of the Stanford Trust, which founded the school in 1730.
Phillip and Sarah Stanford's three children died in infancy so they left land and money to start a school in Laceby.   It is thought they both died before the first school was built in 1730. 
The Stanford Trust is still active, providing additional educational facilities at this school and at the nearby Stanford Centre for residents of the village.  The most recent project was a contribution of £3,000 towards the renovation of a wild area to create an outdoor learning environment. £1,500 has also been donated towards up-dating IT technology. The school also participates in the Stanford Day Service, which is held at the village church of St. Margaret's each year on Ascension Day.
Founder's Day (Penny Day) Gone By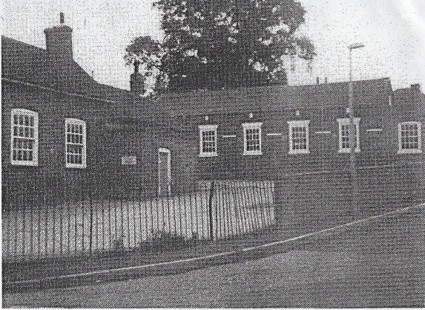 The original Stanford School.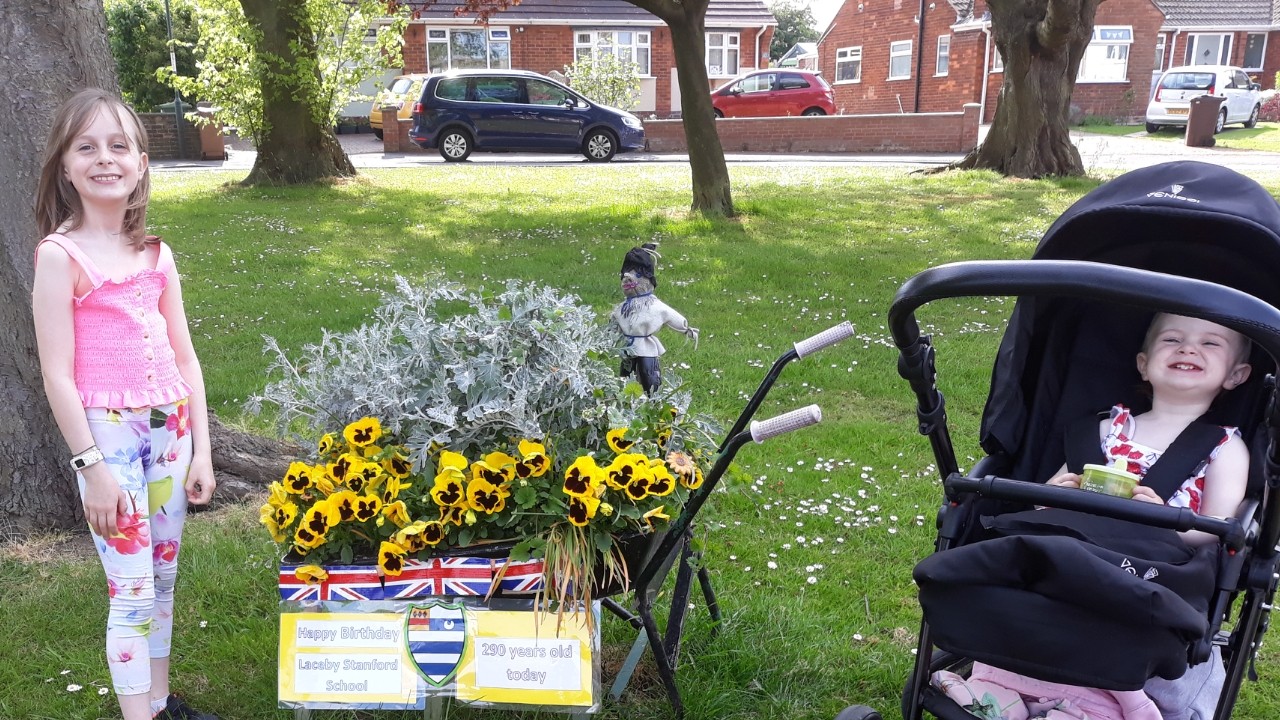 This years Founder's Day
Many thanks to Mrs. Chambers from The Laceby History Group for sharing these wonderful photos.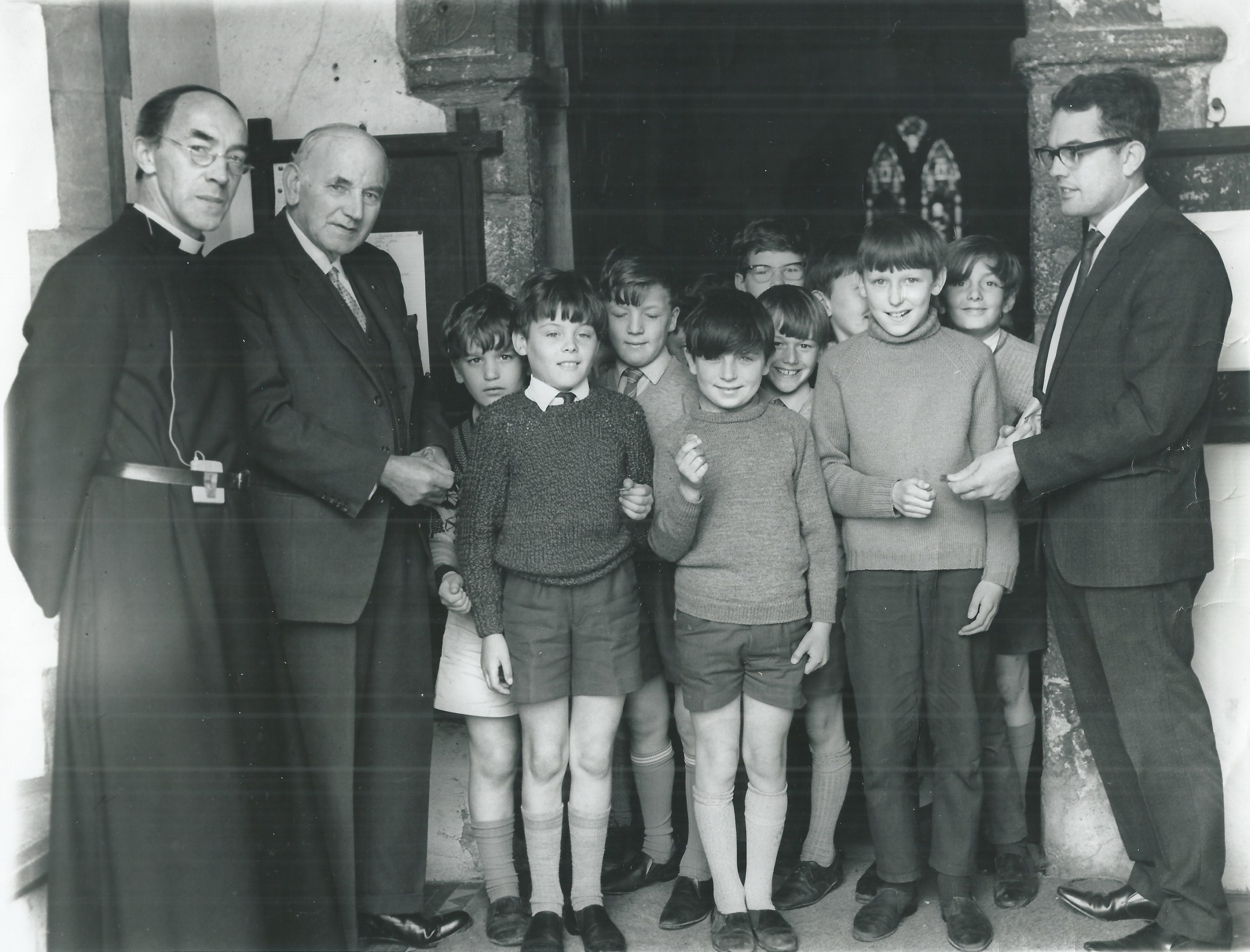 1969 Founders Day with Rev Sam Riley, Ronnie Mawer and Dennis Read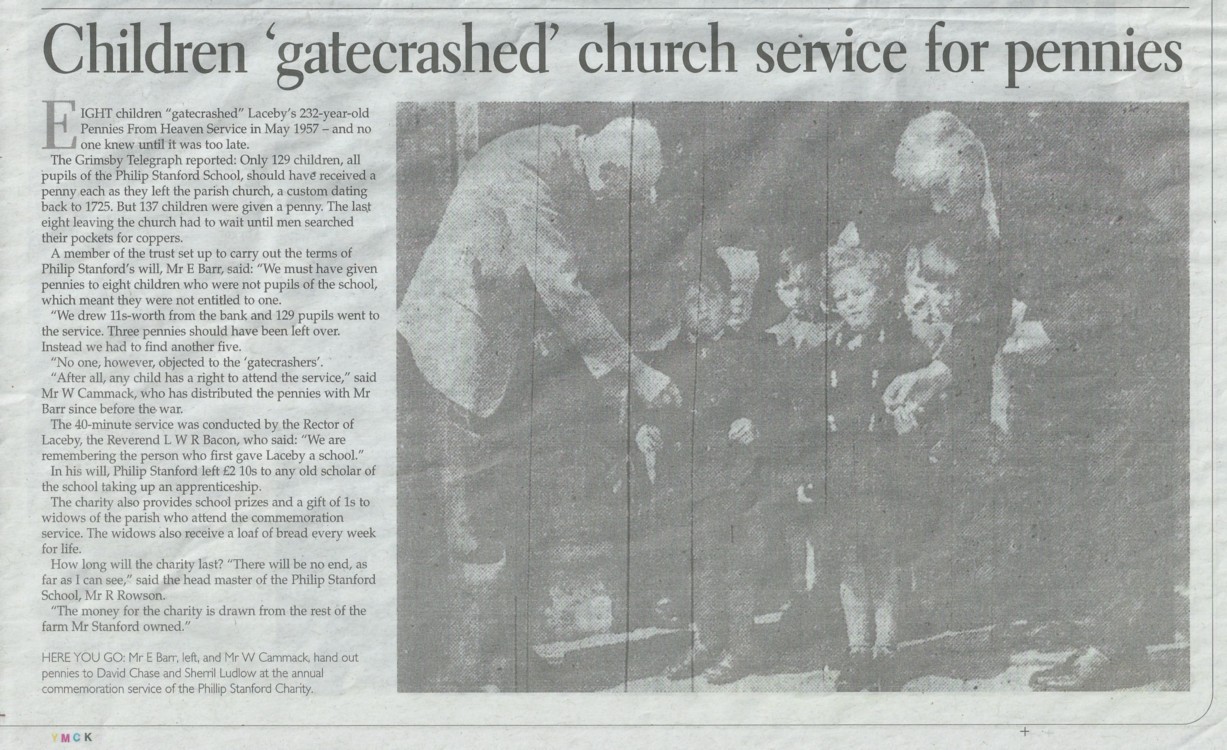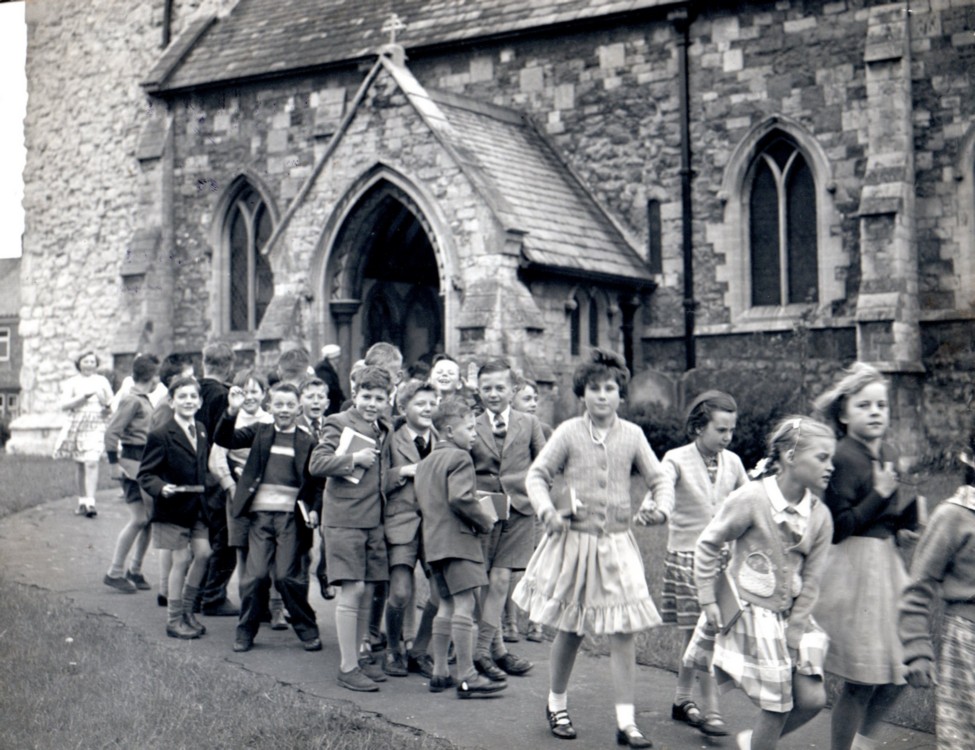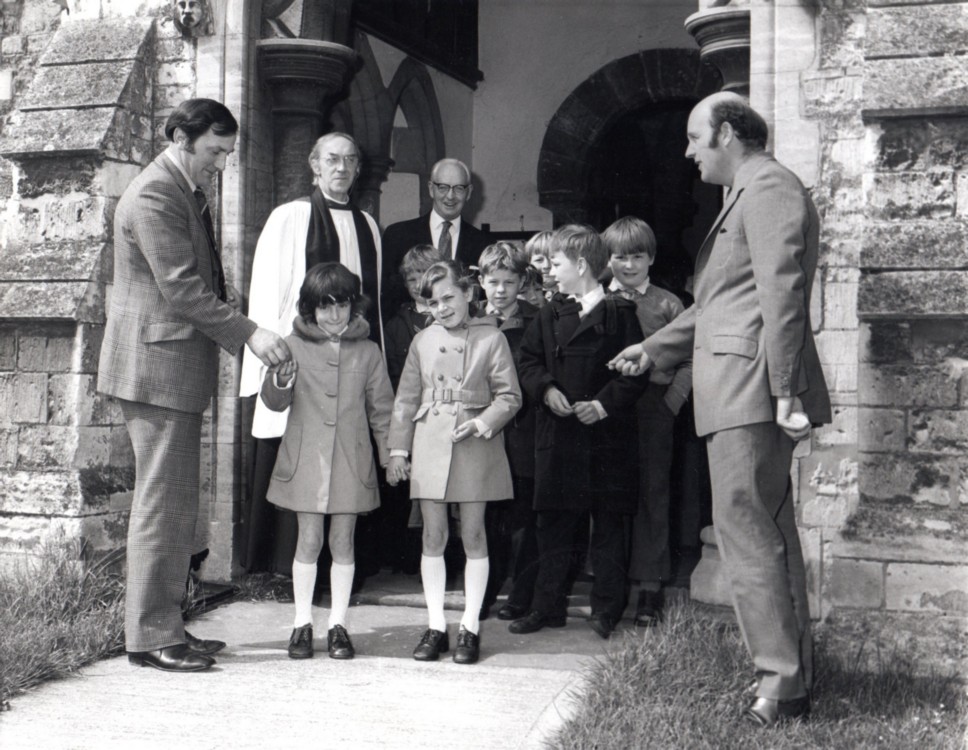 In the church porch, dated between 1968 and 1970, the Rector of Laceby, Rev. Sam Riley and the Headteacher Mr. Rowson can be seen.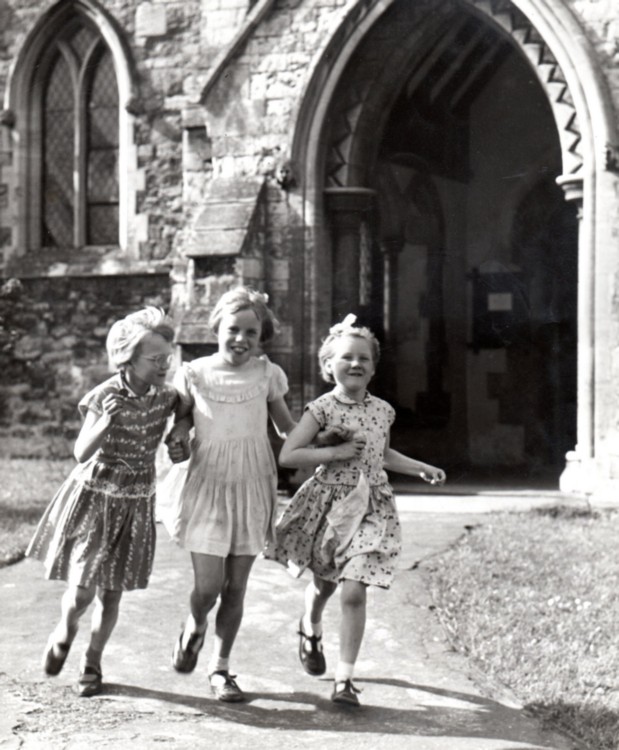 Three girls running out of church dated 1958/9.