History
Martin Luther King Day
Year 6 pupils focused on the famous speech made by Martin Luther King, 'I have a dream' from 1963. They the speech and then created their own based on their ideal world and place. Some fantastic, thought-provoking dreams!
Year 3 Hook Day - Photo Call
The children really enjoyed dressing up for our Prehistoric hook day. We used our amazing immersive welcome display to copy the picture on the cover of 'Stone Age Boy' which we are studying in English. The children look amazing!!
Year 3 - The organisation of the Egyptian Society - being a historian
To understand how Egyptian life was organised and the roles of different people at that time the children took part in a role play. They had such fun as you can probably tell from the clip!
Year 3 - being a designer
The children have learnt about the jewellery that Egyptians wore. Using this information they designed their own necklaces and created them. Aren't they great?
We Are Historians!
Why should we remember Walter Tull?
Pumpkin Class have been busy researching the life of a man called Walter Tull. They used a range of primary and secondary sources to find out interesting facts. This work linked very well to Black History Month and Remembrance.
E- We saw his birth certificate and also his family tree. I am interested in family trees and I made my own for home learning!
G- Walter had a sad start in life, as both his parents died before he was 9.
F- Walter ended up in a children's home.
H- Walter didn't give up; he became very good at playing football. He was so good that he ended up playing football for Spurs.
M- I liked looking at all the old photos of Walter. Sometimes he was dressed as a footballer and sometimes he was in his soldier's uniform. The pictures were old and in black, brown and white.
A- When Walter was playing football people shouted nasty things at him because of the colour of his skin. I was shocked to hear about this.
R- When the First World War started Walter was very brave and he volunteered to join the army.
H- He worked hard as a soldier and he became the first black British Officer.
O- It was very sad in the end because Walter died during the Battle of the Somme in France and on Poppy Day we should think about him.
J- Walter was a hero because he didn't give up. He overcame prejudice and racism. We will remember him.
Remembrance
Lest We Forget
To mark Remembrance Day we had a special whole school assembly led by Mrs. Brady.
H- Mrs. Brady told us a true story about her Great Uncle who died in WWI. She explained that on Poppy Day she likes to remember him. We saw his army photo, his gravestone in France and the cenotaph in his village where people still place poppies.
O- Year 2 children read out lots of information to tell us why we have Poppy Day and what happens during Remembrance. They showed us their big poppy wreath that they had made.
V- Children from lots of other classes showed us beautiful poppy art work.
F- Year 6 children had written very thought-provoking poems and everyone listened carefully as they were read out. N- Mrs. Brady reminded us of the 11 o'clock silence which we all did in class. She told us about the leaves on poppies, that they should point to 11.
L- The assembly ended with a short video clip of information for us to watch and a clip of Remembrance Sunday. We saw soldiers marching to classical music. (Nimrod by Elgar.)
We Will Remember Them
Pumpkin Class marked Remembrance Day by making a poppy wreath, sharing their knowledge of Remembrance in assembly and completing a reading comprehension task. At 11 o'clock they were very respectful during the two minutes silence.
Laceby Royal British Legion
Mrs. Kennedy and Mrs. Hull from Laceby Royal British Legion led a very informative assembly to launch this year's Poppy Appeal.
"We found out why it is important to remember."
"Soldiers gave their lives in wars for us, this is how we can remember them and say thank you."
"In Flanders Fields, the poppies began to grow after WW:, this is why it is the symbol for Remembrance."
"The money we spend on poppies, slap bands and key rings all goes to help ex-servicemen and woman."
Y3 - History - Death on the ........Humber
We were shocked to find that there had been a death in the classroom!!!
Cleopatra was found on the floor surrounded by asps. Seeing as she was the last Egyptian queen we only thought it was important to give her a proper Egyptian burial and mummify her so her body would be preserved until her soul reached the afterlife.
Black History Month
The children in Pumpkin Class have been finding out all about the life of American artist Alma Thomas. They discovered that during her life she had been treated very unfairly because of the colour of her skin. The children enjoyed exploring her art work and found her colourful pictures inspiring and so they decided to create some of their own.
Viking Day
We had the pleasure of having some Vikings in school! They showed us how Vikings live and all sorts of facts and information about them. We then staged what it would be like to be on a long boat and we re-enacted what it would be like to loot other places. We had a lot of fun and enjoyed the Vikings visiting!
Viking Visit
As part of The Grim Falfest we had an exciting visit from some Vikings!
They told us the local legend of Grim and Havelok in a very interesting whole school assembly.
It was great to welcome visitors to our school and learn about historical events and legends with such a strong local significance.
R- It was good to find out how Grimsby got it's name.
H- Grim saved Havelok when he was a baby.
T- Havelok went to work at Lincoln Castle when he was a man.
R- Havelok one day became the King of Denmark.
S- I want to see the Vikings in their boat at the weekend.
Paying our Respects
Mrs Hackfath, Mrs Smith and our Head Pupils visited St Margaret's Church this morning to pay their respect to Queen Elizabeth II. Head pupils laid flowers as well as all signing the book of condolence for Her Majesty. A very special morning.
👑 Thank you for 70 years of loyal service 👑
Year 3 - Being an artist
The children enjoyed researching about the Egyptians. We looked at examples of Egyptian necklaces and found out that most were made from gold or breads, they had bright colours and repeating patterns, The children designed their own necklaces using these features out of paper plates. In addition to this we tried to make a replica of papyrus. The Egyptians were the first to make paper out of papyrus. They tore the papyrus into strips and laid the strips in layers horizontally and vertically. The sheets were hit to make the pieces stick together and then they were left to dry. We used brown paper which we tore into strips, dipped in glue and laid out in layers. Our method was much easier and equally effective. We can't wait to show you the finished products when they are dry!
Egyptian Hook Day
The children had lots of fun dressing up as Egyptians, mummies & explorers. Well done parents for the effort you went to with the costumes. (Keep you togas safe as you will need them in the summer term for our Roman theme)
Year 3 – The Collection
Free time at the museum
After lunch the children were able to explore the exhibits in the museum in small groups. The children were able to see artefacts from different periods of history from the Stone Age onwards. They were fascinated by them, especially items from the Romans.
Being a Roman Soldier
We went into the museum and a lady showed us some the different pieces of clothing and armour. She told us the Latin names for the different items and why the soldiers had to use these . She then told us that the soldiers trained for 2 years until they pledged themselves to serving the Emperor in the army. Men served for 20 years and. if they survived that long, they could then retire. We were allowed to try on some pieces of the clothing which were really heavy! The poor soldiers had to march for miles carrying all of their equipment so they ended up being really strong. After we tried on the pieces of armour we were taught how to march, fight and form a defensive formation called Testudo……..we didn't know it but we were going to be attacked……. by the adults!!!! This was so much fun and most importantly we learnt so much about the Romans.
Being an archaeologist
Today was an exciting day for Poppy Class, we went to The Collection to learn about history, archaeology and the Romans. This was an amazing experience as the children were able to see and handle primary resources in the form of artefacts.
Our task was to be commercial archaeologists. These are asked to inspect a site before building takes place to ensure that there are no historical finds on the site.
First we put on Hi-Viz Jackets then we went off to investigate our site. We carefully looked for historical finds, when we found them we had to mark the spot and put our finds in bags to keep them safe. Then we investigated them closely, measured them, took notes and drew a sketch of the artefact. Some of the finds were quite unusual so we had to research what they were. After this we had to make a display of our artefacts, then be tour guides and talk about the items.
This was a lot of fun and the children found it amazing that they were holding a part of history in their hands.
History of Stanford School
The children in Foundation, Year 1 and Year 2 enjoyed a very interesting assembly led by one of our Stanford Trustees and School Governor, Mrs. Brumfield. She told the children all about the history of the school.
J- Mrs. Brumfield showed up a picture of the old school and she showed us some old pennies that had been given to her, her son, her dad and her grandad when they went to Stanford School. It was very interesting to hear about what the old school was like. She told us that her grandad had to drink water out of a bucket!
J- I held a photo of Mrs. Brumfield's grandad. I saw the old penny that he got on Founder's Day.
E- I held a photo of Mrs. Brumfield's dad. He went to Stanford School when he was little and he kept one of his old coins from Founder's Day. We don't get a penny now, we get 50p.
R- I held a picture of Mrs. Brumfield when she was little. She had long hair just like mine. Mrs. Brumfield told us that she can remember having her photo taken at school.
N- I held a photo of Mrs. Brumfield's son. I think all her family came to our school.
C- Mrs. Brumfield showed us where the old school is and what it looks like now. It's called Daisy cottage now. I also saw the house where Philip and Sarah Stanford lived. I walk past them on my way to school. I'm going to have a really good look at them later.
Investigating the History of Stanford School
Year 2 have been enjoying learning all about the History of the School.
They have been the first children in the school to examine our large copies of Sarah Stanford's will and the Stanford Trust Deed written in 1720! These were kindly donated to us by The Stanford Trust. Many thanks also to Mr. and Mrs. Griffiths for their help in organising the framing of these very important documents.
R- I think we are very lucky to have such a special school. I have loved looking at the old writing.
A- I guessed that the school would be nearly 300 years old.
J- The house where Sarah and Phillip Stanford lived is still there. I walk past it every day.
D- I found Sarah Stanford's writing at the bottom of her will. She wrote her name with a feather.
H- W in our class gave an amazing talk about King Henry VIII. He told us lots of interesting facts.
W- I wonder if we are the only school to have a badge from Henry VIII in 1543?!
M- The first Stanford School is now a house that people live in.
J- I can't believe that there has been a Stanford Trust looking after Sarah's money for over 300 years. I think we will all get 50p each on Founder's Day again.
Willow Class Victorian Day
Willow class enjoyed an immersive Victorian experience day for their hook event this term.
We learned all about how Victorian schools differed to modern schools, using a range of approaches. We had a lot of discussion about how lessons were different to what we experience during our school day. This included taking part in a traditional Victorian exercise "drill", as well as practising the skill of "deportment" to improve our posture (by balancing books on heads). We also learned about the range of Victorian school rules and punishments. We researched what playtime games Victorians would've been likely to play - we particularly enjoyed tiddlywinks. In the afternoon we researched the art of William Morris and started creating our own wallpaper designs based on floral patterns.
World War 2 Hook Day
Year 5 have had a very busy hook day. We recapped on what life was life in the 1930s and how and when WWII started. We focused on strategies that were put in place to keep people safe including, gas masks, evacuation and air raid shelters. We ended the day sharing some iconic songs by Vera Lynn.
Researching key information about World War II
This afternoon we started researching key information about World War II
We used different sources of evidence and worked as a team to find out what World War II was and where and when it took place. We then used our new knowledge to create mind maps to help us remember the key information.
The Collection
Lincoln All about Vikings! We had a great day exploring The Collection as we learnt so many different things about The Vikings! We took part in different workshops from a museum investigation where we were digging for artefacts and handling them and also what life was like in Viking Lincoln. We learnt how to barter to gain food and even dressed up! We all had a fantastic day!!
Pumpkin Class Love History!
The children all enjoyed a very special History lesson which was led by one of the children in the class. Our History expert had done some wonderful research all about Florence Nightingale and Mary Seacole and prepared a very interesting powerpoint. The children and Mrs. Brady thought his lesson was wonderful!
A- I thought his lesson was really good, it was very interesting.
H- I think W had done a lot of work for the lesson and I think he knew a lot about Florence Nightingale.
C- I was impressed that W had made his own powerpoint.
J- It was amazing! I found out that Mary Seacole also went to the Crimean War to help the soldiers.
Mrs. Brady- This was a wonderful lesson. W had worked so hard to prepare so many interesting photographs, facts and maps. I was really interested to learn about the connection between Florence Nightingale and Mary Seacole. W did a brilliant job and he led the lesson so professionally too!
Download the PowerPoint Presentation
Vikings and Anglo Saxons Hook Day
Juniper class had their hook day based on our new topic- Vikings and Anglo Saxons. During our Hook day we learnt about Viking long boats, designed our own Viking shields, showing our understanding of Viking art and started to learn a choral chanting song linked to Viking invasions! In the coming weeks we ae going to be learning the rhythm, on the djembes, to go with the song!
Year 3 Hook Day - Being Archaeologists
We have learnt that we know so much about history from archaeologists through their discoveries of fossils and artefacts.
Miss Perrin told the children that she had got some special fossils called 'Coprolites' which had been sanitised and hydrated so we could handle them. The children were given the task to look at the fossils and see what they could find inside them.
In one set the children found 'bones', seeds, berries and plant material. In another they found modern vegetables, cerals & fruit.
Miss Perrin then said that Coprolites were actually fossilised poo and archaeologists investigate them to find out what people in the past have eaten..... but...... these weren't real coprolites they were playdough examples which she had made.
From this activity the children were able to deduce that prehistoric people ate what they could hunt and find around them whereas we have a more varied diet as we buy our food at the shops.
Year 3 Hook Day
The children had lots of fun dressing up in our Prehistoric costumes. What a fantastic effort you have made. Don't they look great?
Of course we all know that dinosaurs and humans didn't exist at the same time (as they died out long before humans existed), but as Stanford believes in being inclusive we let them join the humans and all the fun. What's 65 million years between friends?
---
Year 3 - The mummification process
We were shocked and stunned to find a 'corpse' in the classroom. Cleopatra had been bitten by an asp and needed our help to get her ready for the afterlife!!! First we cleaned the body then we stuck a hook up her nose to remove the brains (yuk!) and throw them in the bin. A cut was made in her side to remove her internal organs (I know they look like balloons but let's use our imagination here!!!). She was left tilted at an angle so the liquids could drain out and then given a salt bath to dry her body out. Her internal organs were put in canopic jars to keep them safe for the afterlife and we put her heart back in her body. She was then stuffed with linen to retain her shape then painted with tar to preserve her skin. Next over to hair & make up to keep her looking good for the afterlife. She was then wrapped in linen while we all said prayers. We added good luck amulets as we wrapped her then we added a scroll with prayers & a map to find the afterlife. Her death mask was the finishing touch so her soul could recognise her body when they are finally reunited.
Rest in peace Cleopatra we were glad we could help!
Remembrance
Pumpkin Class
Year 2 have been learning all about why we wear poppies and what happens of Remembrance Day.
L- When I wear my poppy, I think about soldiers who died in wars.
C- Poppies grew after WWI on the battlefields in France. The red colour also reminds us of all the blood that was shed.
D- We give money to The Royal British Legion to buy poppy things and to help injured soldiers and service people.
J- Mrs Brady told us about someone in her family who was killed in WWI. She was thinking about him during the two minutes silence.
Willow Class
Willow class created some beautiful artwork and some wonderfully descriptive poetry as we learned about Remembrance.
Remembrance Day Poems
Juniper class worked with their peers to create an emotive poem for Remembrance Day. The emotive language and word choices created wonderful poems- Well Done Juniper.
These poems are displayed on our display in the school hall and were shared in our Remembrance assembly.
Can I explain how the Egyptian Society was organized?
First we thought about how our school was structured from the head teacher downwards. We then looked at some pictures of Egyptian people and tried to put them in order of importance. Miss Perrin told us about the structure of the Egyptian Society then we acted this out so we understood it better. We had lots of fun doing this as you can see by the video clip…….All hail the Pharaoh!!!!!
Ancient Greek Hook Day!
This term we will be learning all about the Ancient Greeks.
For our Hook Day, we discovered where the legend of the Minotaur and The Labyrinth came from, different Greek Gods and Goddesses, Ancient Greek art and architecture and discussed how the Ancient Greeks have influenced the modern world.
We are really excited to learn more about the Ancient Greeks - we will keep you posted on our Barley Class Blog!
Egyptians, Mummies & Explorers
The children had lots of fun dressing up on hook day. The costumes were amazing and we would like to thank the families at home who made such an effort with these. Don't the children look amazing?
Year 4 - Virtual Visit
Obviously a trip to Central America is out of the question at the moment so we went for a virtual trip around the Mayan ruins. First a lovely tour guide told us about the ruins then we were able to explore ourselves on a virtual site. The children loved exploring the area in close detail.
IS - I liked it because I could go where I wanted to see things
SM - I liked the view from the top of the temple where you could see everything.
OR - I liked the temples
LD - it feels like you were actually there
Try it yourself on
Virtual Field Trip - Mayans
Mayan Ruins
Founder's Day 2021: Stanford School is 291 years old!
The Sunflowers and Seedlings enjoyed celebrating the school's birthday today. They had a special assembly with Mrs. Brady and learnt all about the history of the school.
C- I wrote all about Sarah Stanford and how she left her money to build our school.
L- I wrote about the Stanford people and how sad it was that their children died.
W- I was interested to find out that the badge came from King Henry VIII. Mrs. Brady said it was given to the Stanford's in 1543.
O- Our school started in 1730.
L- The children didn't know how to read and write, so Sarah Stanford thought they would like a school to help them learn things.
C- I enjoyed playing instruments to the school song.
H- I can draw the school badge.
H- We had cakes and juice today.
A- I liked it when we went to see the school flag.
E- I have made birthday cards for the school.
I- We all got 50p.
D- I would like to say thank you to Sarah and Philip Stanford for giving us our school.
T- We all watched the Deputy Mayor. He used to come to our school when he was a little boy.
When civil rights, history & music combine with art
In music we have listened to a piece of music by The Beatles called 'Blackbird'. When we investigated further we discovered that Paul McCartney created this piece of music after he learnt about the struggles of civil rights for black people in America. We researched further into how people of colour were treat in history including slavery in America. We looked at the piece of music again to further understand the music then we created a piece of art to accompany this track.
Here is the link if you would like to listen to this poignant piece of music while you enjoy our art - Blackbird
Make Do & Mend
In history we learned about how people would need to repair and re-use their clothing during World War 2. During this time, one quarter of the population were in services that required uniform, so clothes manufacturing had to prioritise this. Ordinary people at home would therefore need to "make do and mend". Manufacturing toys was not a priority because the factories were re-purposed for the war effort, meaning that some families would take to making their own toys. Inspired by this piece of history, in Year 5 we have been making our own toy bunnies out of our old socks!
Welcome to the rainforest
As we are learning about the Maya culture and rainforests we have built a fantastic immersive welcome to excite the children and let them 'step into' this wonderful environment. The children have been busy creating art and writing poems to show how talented we are. Doesn't it look wonderful??
Juniper Class Roman Hook Day
For our Hook Day many of us enjoyed dressing up as Romans. We learnt that Romans sometimes wore laurel wreaths as a sign of victory or triumph. We made our own.
In maths we learnt about Roman Numerals.
In the afternoon we looked at Roman life and how the Roman children lived. We found it strange how the Romans shared toilets! We looked at some of the games that the children would have played and enjoyed them ourselves. We played dice guessing, tic-tac-toe and marbles.
We next looked at what mosaics are and how they are created. We investigated some examples of the different Roman patterns and then had a go at creating some of our own. We used squared paper with colouring pencils to practice our design and then we used foam squares to fill our pattern in. We really enjoyed this!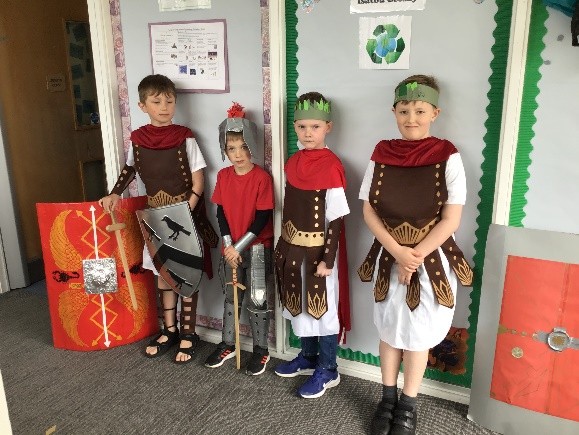 WW2 Stories
The children in Year 5 are already showing great enthusiasm for their new history topic! It has been fascinating to hear the stories that some of the children have been able to share with us so far, about their relatives who were involved in the war. So far, children have shared photos of their relatives, real-life stories (including the discovery of an un-detonated bomb!), and other artefacts such as rationing books and newspapers from the time.
I wonder what other fascinating stories we might discover about pupil's ancestors during this term...
Year 1 History Hook Day
The children's were introduced to The Great Fire of London. They had so many questions to ask.
'When was the Great Fire?' 'What started the fire?' 'Where did the fire start?' 'How long did the fire last?' 'How did the people put the fire out?'
They had a great day finding out all about it and enjoying some exciting activities.
E- We had to read instructions about how to make bread.
H- We put the bread making instructions in order, so we would know what to do.
W- We made bread with Mrs. Christie. We did this because we found out that the Great Fire started in a bakery in Pudding Lane.
C- The bread was very crispy and crunchy.
M- We went to the cinema (in the hall) and watched an exciting film all about The Great Fire. There was a magic Grandad that told us all about it.
C- We made 3D houses out of paper. They looked like the wooden houses from 1666.
H- We found out that Samuel Pepys wrote a diary and that's how we know all about the fire.
D- We had a go at writing with a feather (quill pen), just like Samuel Pepys did. I liked doing it.