History
Intent: The History curriculum at Stanford School is unique. It is broad and balanced with a breadth of engaging opportunities. It is carefully planned and sequenced with key skills, concepts and knowledge that build on previous learning. Pupils revisit their learning and use and apply their knowledge fluently.
Implementation: The History curriculum is purposeful and relevant to the pupils. The knowledge and skills pupils acquire, build on their previous learning, allowing them to transfer key skills, knowledge and concepts to their long-term memories.
Impact: We are proud of the achievements of our pupils in History. Our pupils fluently apply their skills and knowledge within History and make connections to their existing knowledge and to other curriculum areas.
At Stanford School we encourage pupils to be curious about the past and the way it affects our lives today. We aim to give our pupils a greater understanding of the world they live in and its history, to further develop their understanding of values and attitudes. We endeavour to deepen our pupil's knowledge and understanding of people in other societies, religions, and cultures and countries, as well as their own. We teach key skills progressively from Foundation to Y6 so that the pupils are able to find evidence, weigh it up and reach their own conclusions.
The pupil's knowledge is enhanced by many visitors, school trips to places of historical interest as a well as drama workshops, themed historical days, and close links with the local history group. We are also very proud of our heritage at Stanford School and enjoy a special celebration each year on Founder's Day.
Virtual Museums
Love History? Why not go on a tour of a virtual museum.
Victorian Hook Day
We had lots of fun on our hook day pretending to be Victorians. Miss Perrin greeted us at the door ringing her school bell to say that our school day had begun.
First we were given rags and we had to work to make the building clean.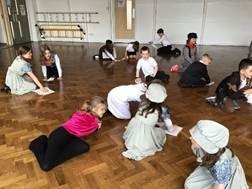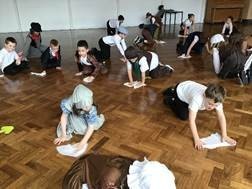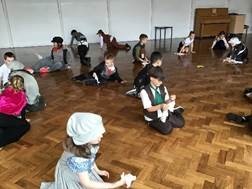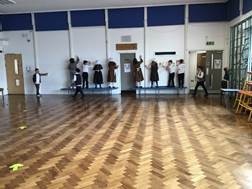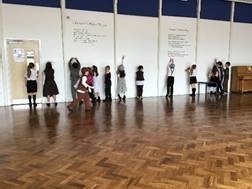 Then we lined up outside the classroom and we paid Miss Perrin a penny for our education.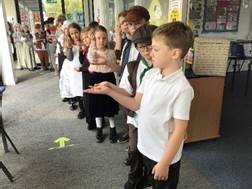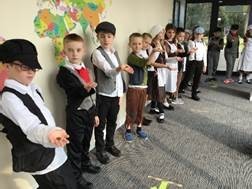 In the classroom we practised handwriting and practised out times tables. We then went for our morning constitutional.
The boys had to march like soldiers and the girls had to walk with 'like ladies'.
Then we went out to play. Victorian children liked to play with hoops and sticks, they also liked to skip. We had a go at both of these but it wasn't easy!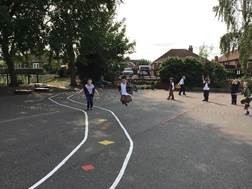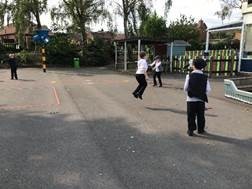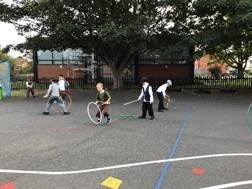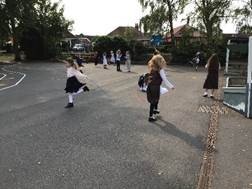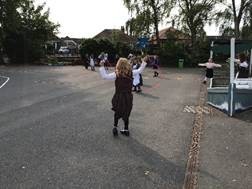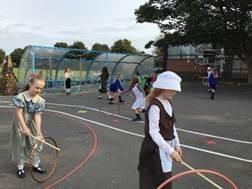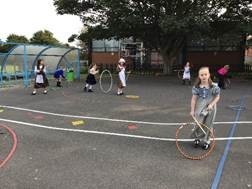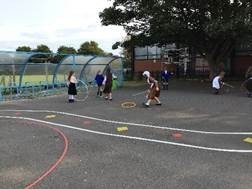 Life was so bad for Victorian children you can understand why they looked miserable as their lives were so bad.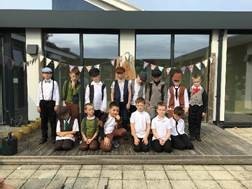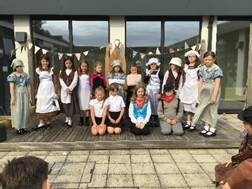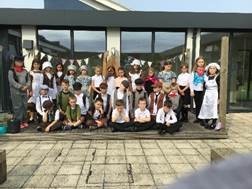 It's a good thing that we were only pretending to be Victorians because we had lots of fun!!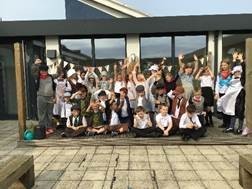 Stanford School Celebrate the School's 290th Year!
Thank you to everyone who celebrated today. A wonderful community spirit- thank you!
---

Singing in the sunshine. Thank you to everyone who joined in the celebrations.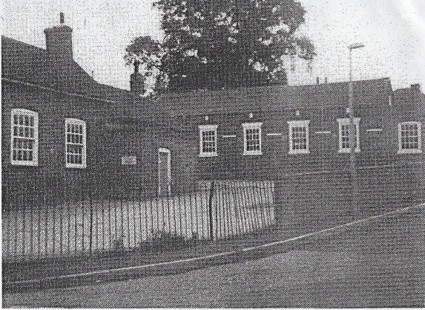 The original Stanford School.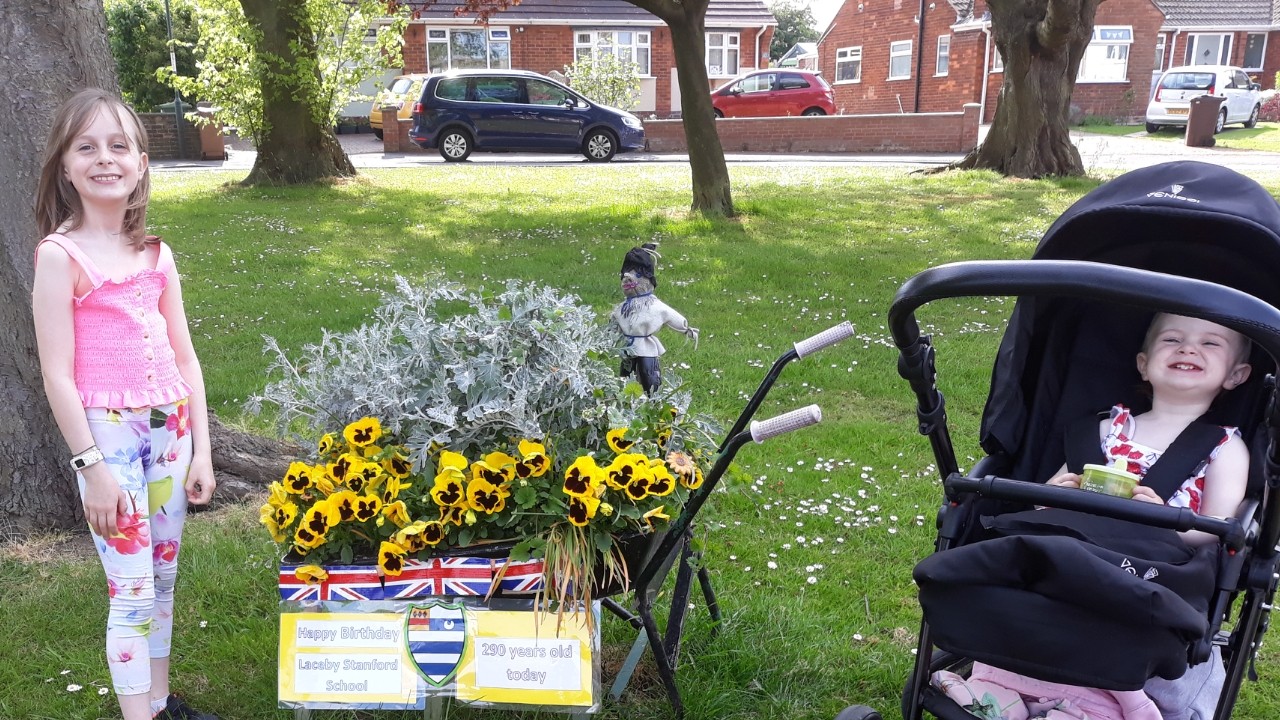 This years Founder's Day
Founder's Day (Penny Day) Gone By
Many thanks to Mrs. Chambers from The Laceby History Group for sharing these wonderful photos.
Many thanks to Mrs. Chambers from The Laceby History Group for sharing these wonderful photos.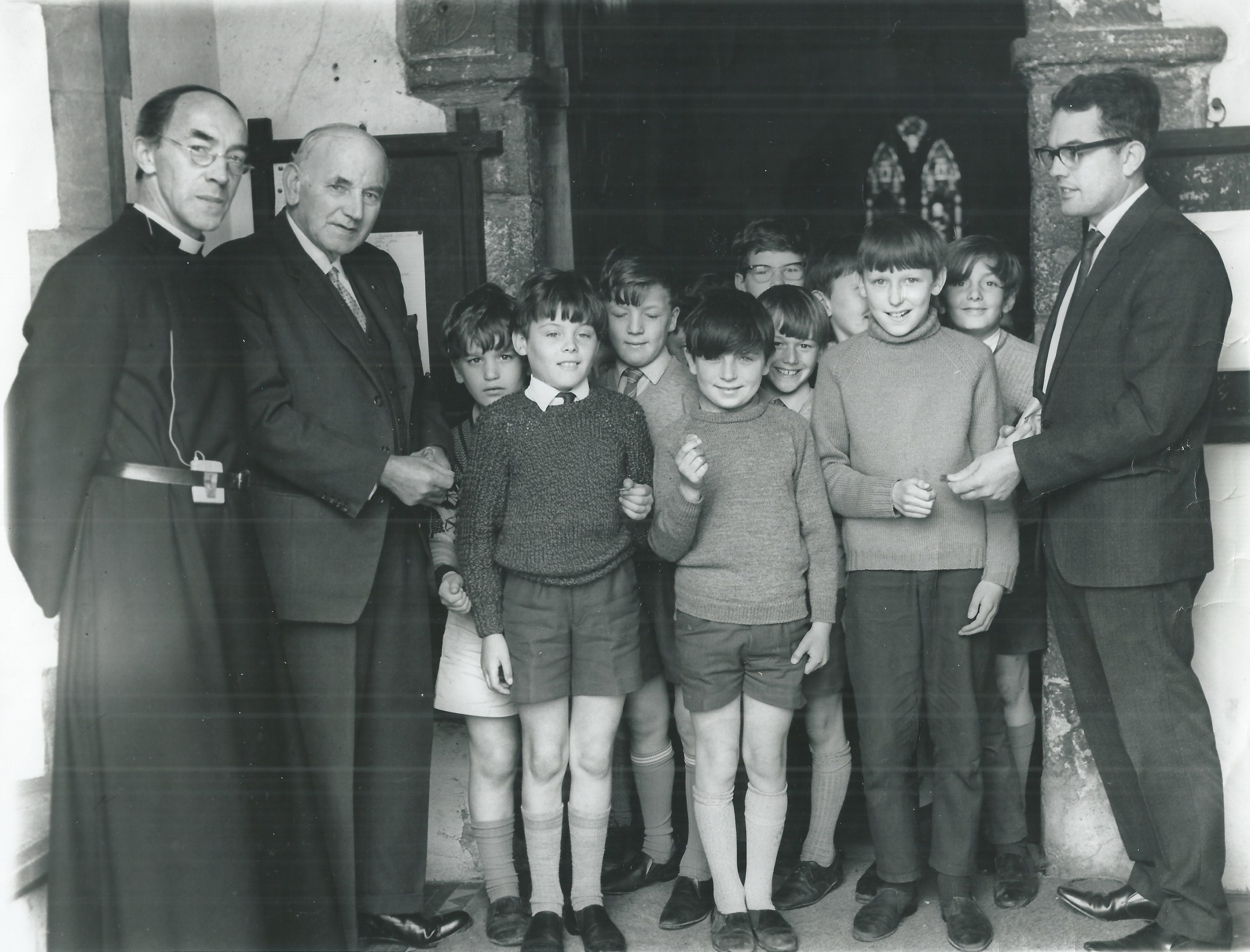 1969 Founders Day with Rev Sam Riley, Ronnie Mawer and Dennis Read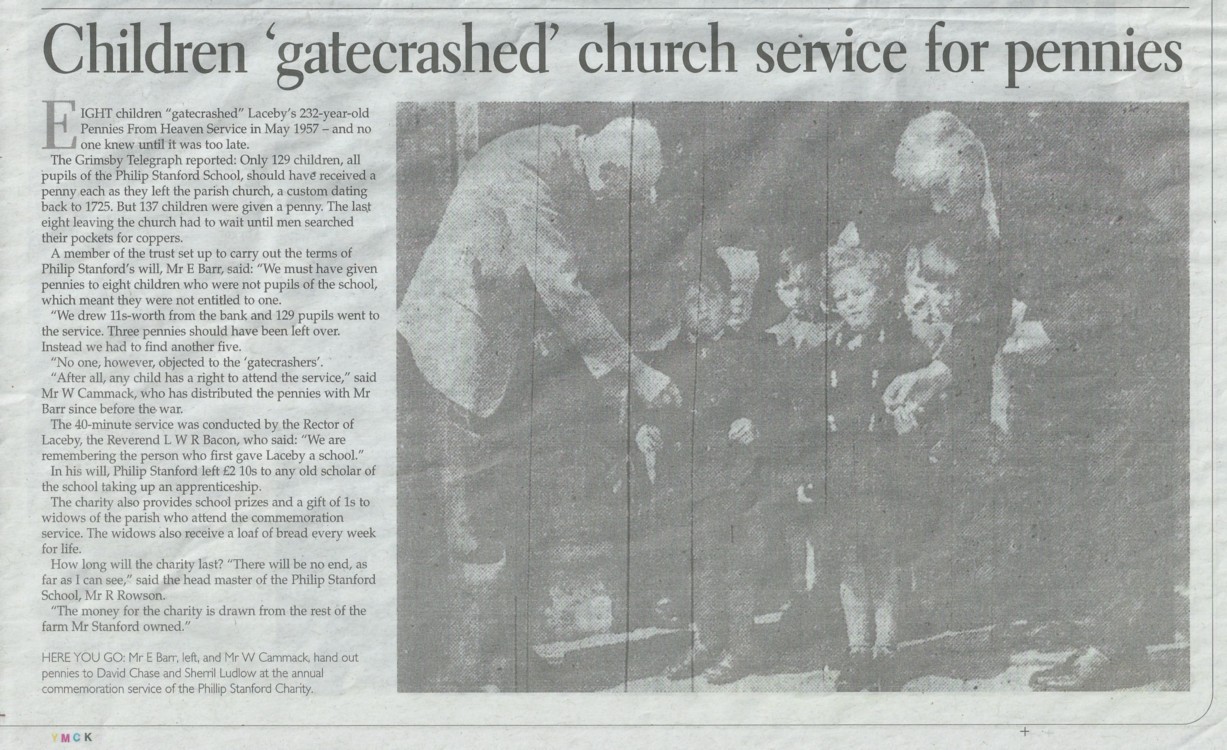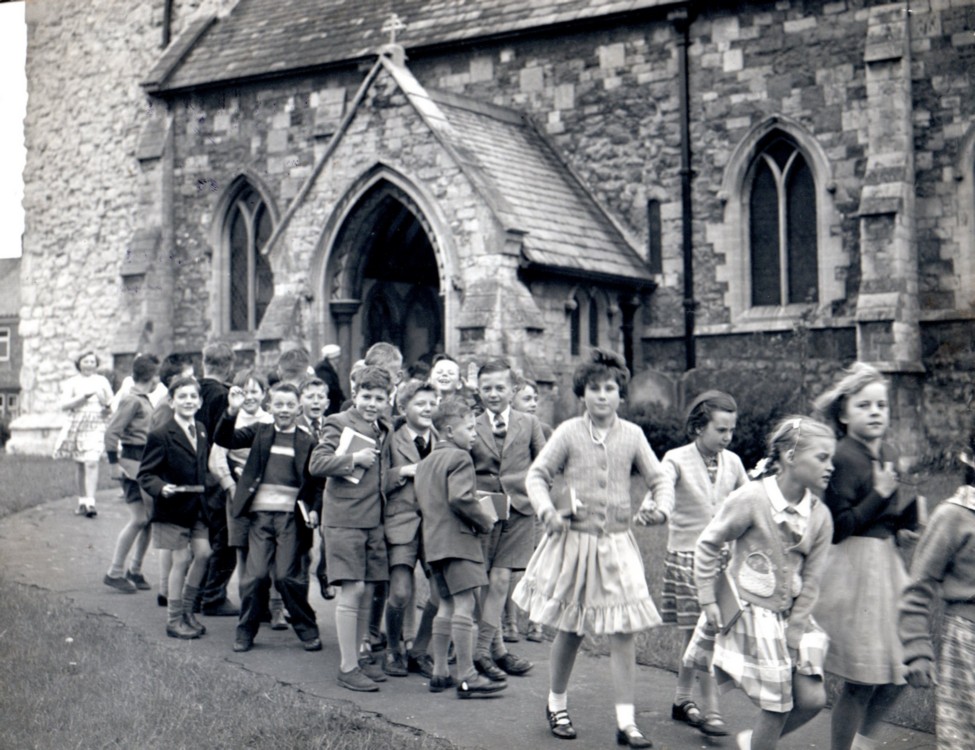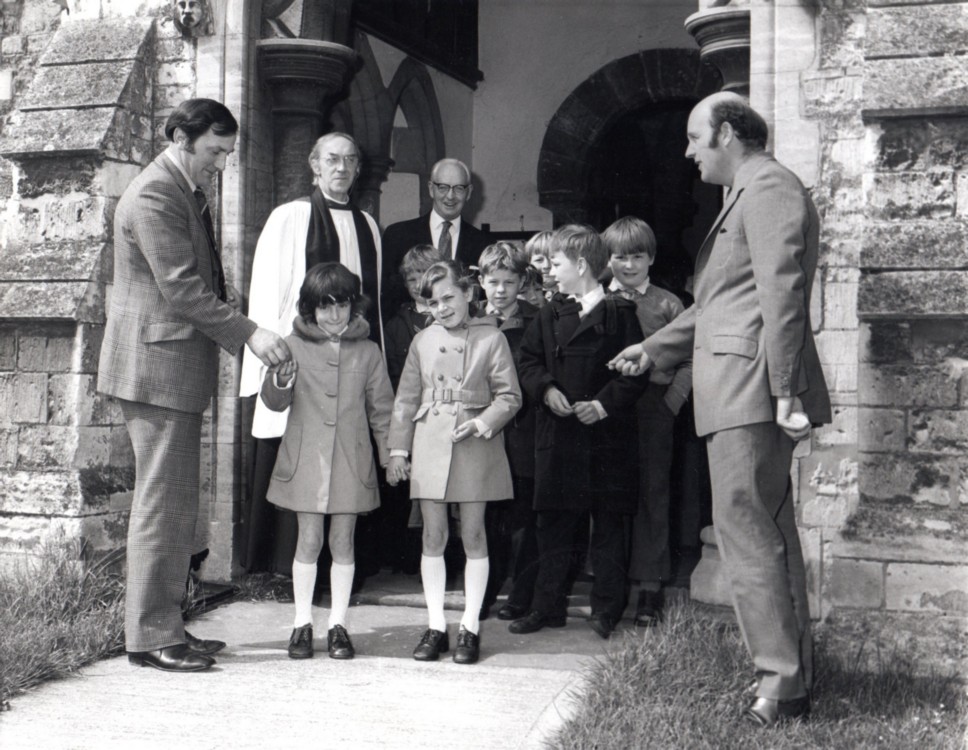 In the church porch, dated between 1968 and 1970, the Rector of Laceby, Rev. Sam Riley and the Headteacher Mr. Rowson can be seen.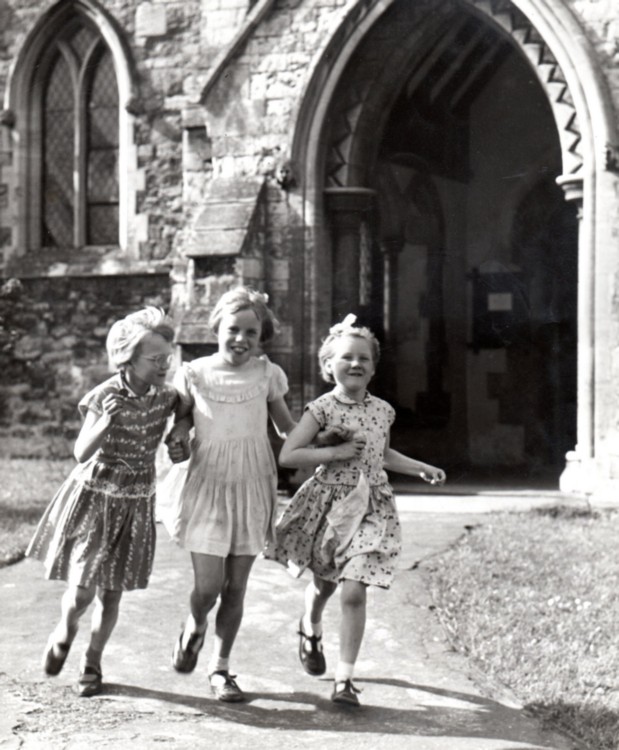 Three girls running out of church dated 1958/9.
Founder's Day Thursday 21st May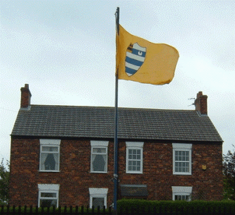 Stanford School's 290th birthday at home.
VE Day Celebrations
Thank you for all the photos you sent in, it looked like everyone had a fantastic day celebrating VE Day!
Learn About The Legend of St. George
The 'Lady of the Lamp'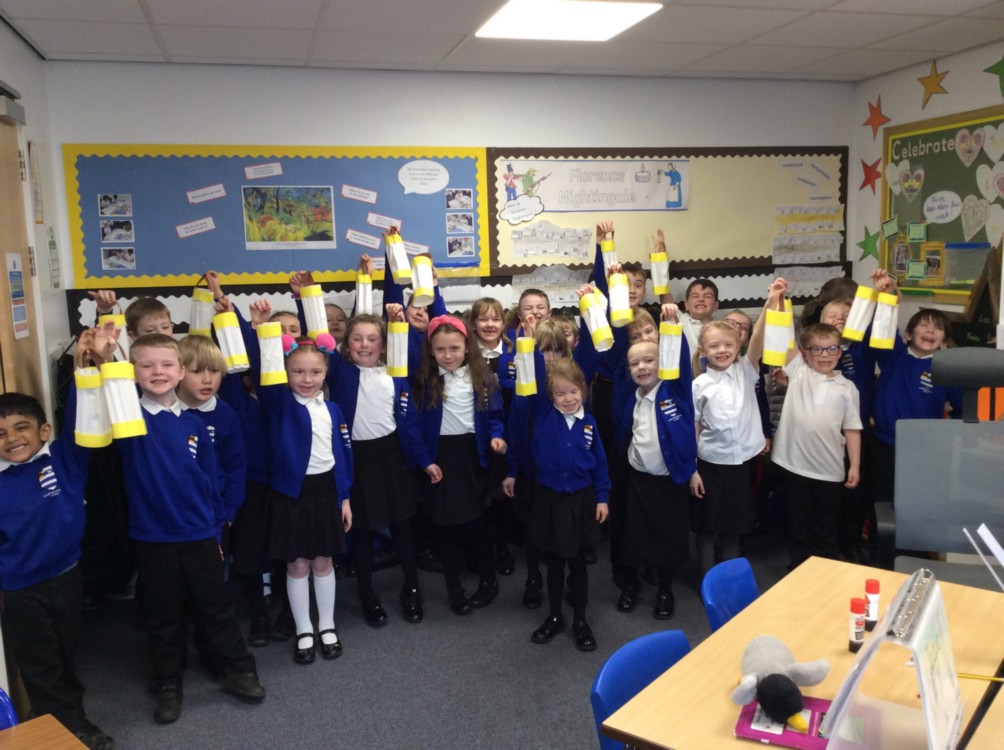 We have combined our learning skills this week to make Florence Nightingale's lamp.
In History we have learnt about the work Florence did in the past and how nursing changed because of her.
In Design Technology we have used skills to join materials to make her lamp.
In English we are writing diaries in character as Florence – watch out for these – we will be publishing them very soon.
Creating Pictish Stones
A Pictish stone is a type of monument that the Picts used to carve symbols. They decorated them with designs or wrote on them using the ogham alphabet. During Poppy classes' Art lesson, we looked at the Pictish stones. We designed one using the ogham alphabet and then made them using clay. The children had lots of fun making them.
Can I find out about toys and games long ago?
Mrs. Griffiths visited Sunflower Class and gave a very interesting and interactive talk about lots of different old toys and games. She told the children how her Grandad and Dad used to make her toys out of wood when she was little. The children had fun exploring many toys, including; a diablo, a yo-yo, tiddlywinks, jacks, a spinner, a whip and top, cats cradle, marbles and draughts. She also demonstrated how toys could be made from paper, such as a fortune teller and a paper plane.
Mrs. Brady would like to thank Mrs. Griffiths for sharing all her wonderful toys and games. Everyone learnt something new today!
B- I learnt how to play draughts today, it was fun.
J- I knew how to play draughts, so I showed everyone.
J-Marbles were fun, I rolled them.
O- They yo-yo was easy to do.
M- We used wool to play with. I had never thought that wool could be a toy.
T- Tiddlywinks are fun, I didn't know how to play that before.
F- I had seen jacks before, but I didn't know what they were called.
A-Thank you Mrs. Griffiths for a lovely afternoon!
Can I make a replica of an Anglo-Saxon broach?
As a part of our Hook Event, the class were given an introduction to the Anglo-Saxons. They discovered where they came from and where they fit on the timeline of events in British history. We know a lot about the Anglo-Saxons through the discovery of a burial ship at Sutton Hoo. The Anglo-Saxons were experts at metal work and created some fine pieces of jewellery.
The children then learnt about Jewellery, its uses throughout history, and about the different types of gemstones and their names. We discovered that Anglo-Saxon broaches were often circular, symmetrical, and intricate. They were decorated with gemstones and enamel. The designs were usually made by embossing the metal.
The children were asked to design a broach similar to the ones we have researched. We made the designs by using thick cardboard and string to raise parts of the pattern. The children then covered their brooch with tin foil and gently pressed it down so the pattern emerged through the foil. The brooches were then painted and 'gems' were added.
Watch out for pictures of the finished products on this blog!
Stone Age Hook Day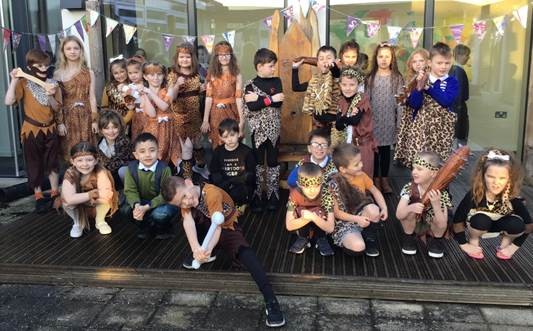 We started the day learning that the early stone age people were hunters and gatherers.  We enjoyed searching for food on KS1 playground. We learnt the sorts of foods that they might find to eat and that they would have to move places throughout the year to find food.
We thought about how Stone age Hunter-gathers survived by thinking about Assets and threats in the environment.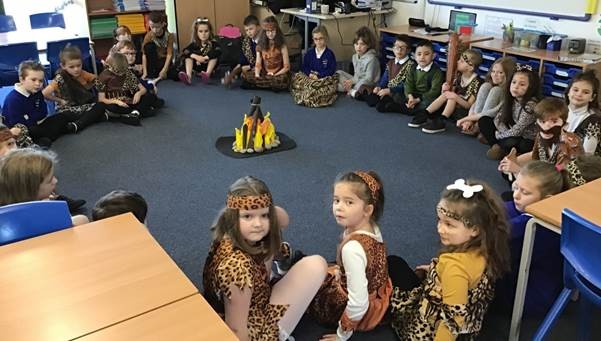 We researched the sorts of creatures that were alive in the Stone age that the people would hunt.  Also we looked at how they made their weapons.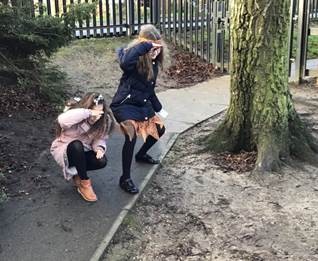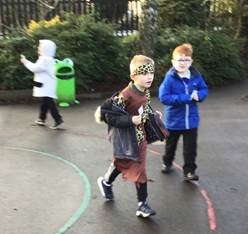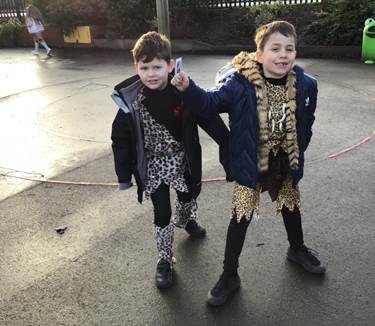 LQ: Can I look at historical artefacts and think about others?
LQ: Can I learn about why people are wearing poppies?
Today is 'Remembrance Day' and we have been learning about why people wear poppies. We made a created clay poppies and wrote about poppy day and learnt about Miss Wilson's grandad who was a solider in WW2. We looked at artefacts such as his uniform and medals. In our assembly we sat silently for 2 minutes to remember the soldiers in the war.
Wash Day Blues
We went to Normanby Hall to find out what it was like working in Victorian times.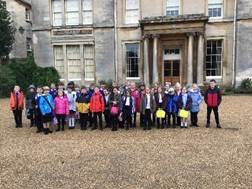 There were lots of artefacts from the past to look at. We didn't know what they were for but they looked interesting.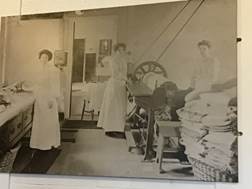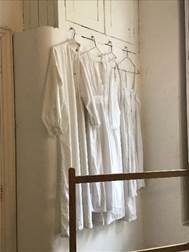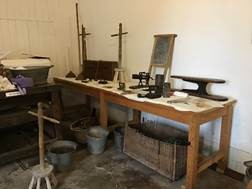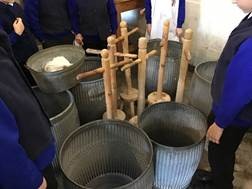 The first thing they had to do was to carry water from the pump using a yoke. This was really heavy even with the buckets empty. It was uncomfortable to carry and it hurt our necks.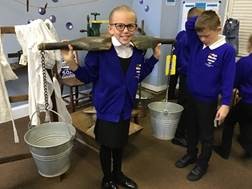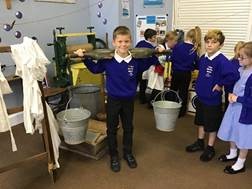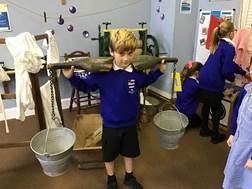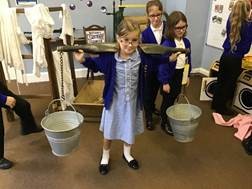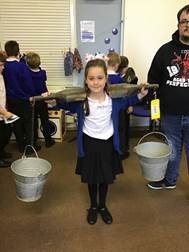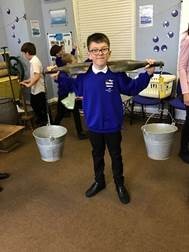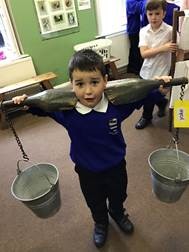 After we had warmed the water we put it in a dolly tub. They used carbolic soap to wash clothes in Victorian times. It was so hard they had to grate it into the tub using a grater.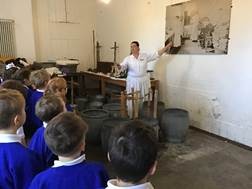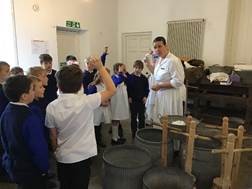 Then we had to use a dolly stick. It was called that because they thought it looked like a wooden doll with a head, 2 arms, a stick body and a wooden skirt.
We had to hold the stick in a certain way. We put one hand underneath the handle and the other hand on top. This made the stick easier to twist. We had to twist the stick as fast as we could for a minute. It was really hard and made our arms ache. We couldn't imagine what it must be like to do this all day.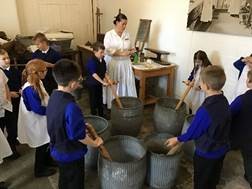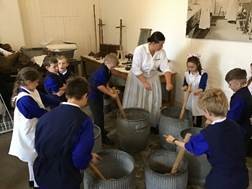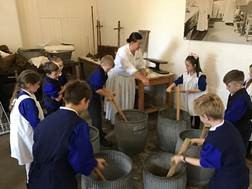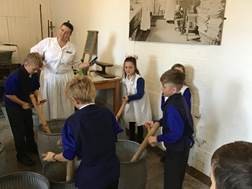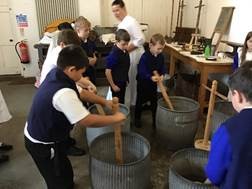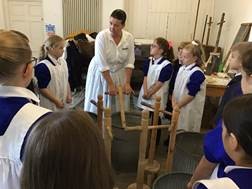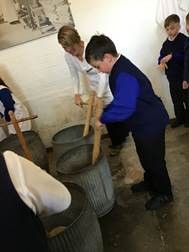 When the clothes were clean we had to take them out of the water using tong and put them into a mangle to squeeze the water out.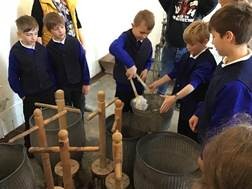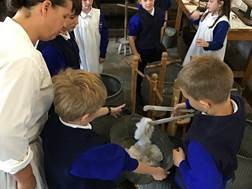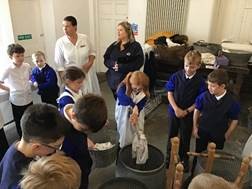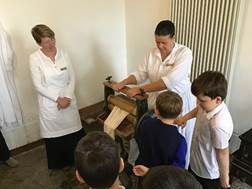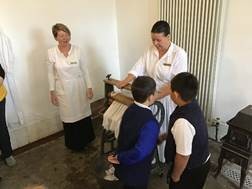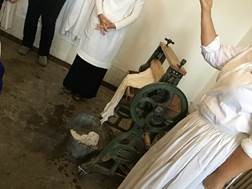 The clothes would then be put on a clothes horse to dry and neatly folded. The next day the clothes would be ironed. The flat irons were placed on a special stove to 'heat' up then we had to carry them with a cloth so we didn't burn our hands. We would spit on the iron to see if it was hot enough and then clean the iron by running over a spare piece of cloth. Then we would iron the clothes.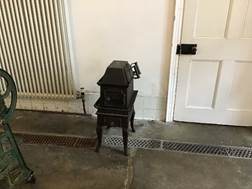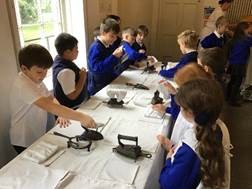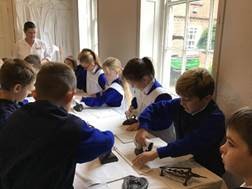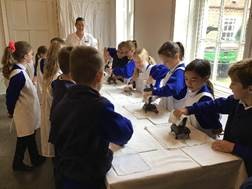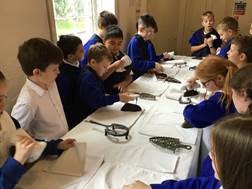 LQ: Can I recognise ways to celebrate events from in the past?
We have been celebrating Bonfire Night and learning all about the story of Guy Fawkes and the Gunpowder Plot.
Children have been sequencing pictures of 'The Gunpowder Plot' story and learning how Guy Fawkes tried to blow up the Houses of Parliament with 36 barrels of gunpowder!,
We also had fun splattering painting to represent fireworks in the night sky and making making a Guy Fawkes too. It has been a sparkling week!
Can you tell a grown up the 'Fire Safety Code'?
Victorian School Experience
The children were really keen to come to school dressed in their finery.
Mistress Perrin rang the school bell and the children marched happily into school.
First we went for our morning constitutional around the playground. Then we had a 'class portrait' taken with a thing that takes photographs.
We marched to the head teacher's office where the children were inspected to make sure that their fingernails were scrubbed and they had cleaned behind their ears.
To enter the classroom the children had to pay the teacher a penny to pay for their education….. well worth the money!!
In the classroom the children had to sit in rows with the girls on one side and the boys on the other.
The children were told about the school rules and the consequences for breaking these rules.
School rules:
Pupils must address the teacher as 'Sir' or 'Ma'am'.
Pupils are not permitted to ask questions.
Pupils must stand up when asked to speak.
Pupils must stand up when an adult enters the room.
Pupils must keep their eyes front at all times.
Pupils must sit with straight backs at all times.
Pupils who misbehave will be punished.
Pupils must be neat and presentable at all times.
Mistress Perrin spoke about the discipline in the classroom.
Children misbehaving would wear the Dunce cap and face the wall.
Anyone really misbehaving would be given the cane or sent to the Headteacher's room to sit in a cage.
In addition to the cane Mistress Perrin had her friend 'Jim' this was a knotted rope which Victorian teachers would whirl around to ensure that the children are all paying attention.
The children's first task was to practise their handwriting. They had to write a very important phrase 'Children should be seen and not heard'. The children had to use their best handwriting and work in silence. Then they chanted their times tables.
After they had practised their 3Rs - Reading, wRiting and aRithmatic, the children were set to work to make some Christmas crafts……but that's all top secret until the Christmas Fayre.
For some strange reason the children loved their Victorian day…..and the staff loved getting curtseys and bows when they entered. Perhaps it should always be like this in Poppy Class??
The Battle of Hastings
By Year 2
Today we have been using a paper copy of the Bayeux Tapestry to follow the story of The Battle of Hastings in 1066. We had already read the story and watched an animated version on line but we have been looking closely at the stitching on the tapestry. We also recreated parts of the battle ourselves through art work.
Can I use Primary Resources to learn about history?
We can learn a lot about history by using the internet and looking at books but this is only a secondary source of information. The best way about learning about our past is by touching and feeling antiques from that era and experiencing them first hand (Primary sources).
When we were at Normanby hall the children were able to investigate the different resources, handling them and thinking about what it would have been like to use them.
Victorian Clothing
As a part of our trip to Normanby Hall the children looked at the fabrics used to make clothing in the Victorian times and in modern times. They looked at a variety of materials to see whether they would be suitable for different purposes.
The children were given a range of clothing which they could try on. Some were for rich people and some were for poorer people.
The children had lots of fun trying on the different outfits.
---
---
Travelling back in time to the Ancient Egyptian Era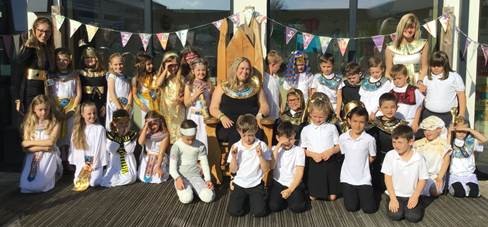 We looked at a range of sources of evidence which gave us lots of information about Ancient Egyptians.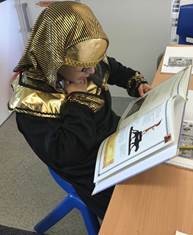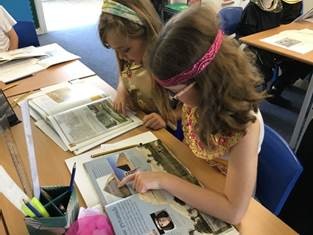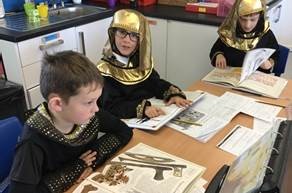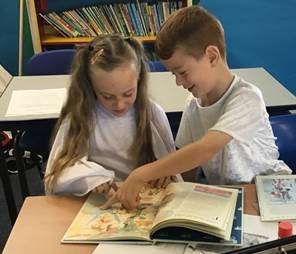 We learnt about their writing and number system.
We translated Ancient Egyptian numbers and created our own number patterns for each other to solve.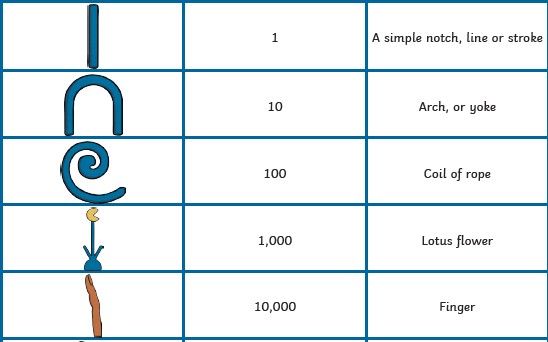 We looked at some Egyptian dancing and in groups created our own routines?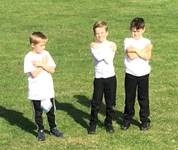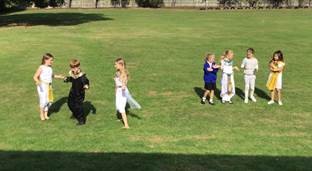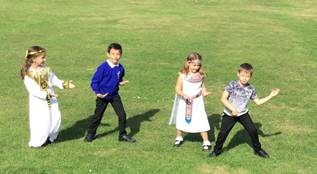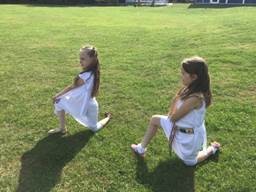 A snapshot of some of our History Displays!
Intent: To showcase a wide range of knowledge, skills and learning for History across the whole school.
Implementation: Each class displays their current History topic each term.
Impact: These current displays show excellent examples of:
historical language and key vocabulary
key facts and research information
children's work -higher order questioning
chronology; dates and timelines
cross-curricular skills being used to present historical information and enquiry
celebration of our the school's heritage
collaboration and group work