History
Intent: The History curriculum at Stanford School is unique. It is broad and balanced with a breadth of engaging opportunities. It is carefully planned and sequenced with key skills, concepts and knowledge that build on previous learning. Pupils revisit their learning and use and apply their knowledge fluently.
Implementation: The History curriculum is purposeful and relevant to the pupils. The knowledge and skills pupils acquire, build on their previous learning, allowing them to transfer key skills, knowledge and concepts to their long-term memories.
Impact: We are proud of the achievements of our pupils in History. Our pupils fluently apply their skills and knowledge within History and make connections to their existing knowledge and to other curriculum areas.
At Stanford School we encourage pupils to be curious about the past and the way it affects our lives today. We aim to give our pupils a greater understanding of the world they live in and its history, to further develop their understanding of values and attitudes. We endeavour to deepen our pupil's knowledge and understanding of people in other societies, religions, and cultures and countries, as well as their own. We teach key skills progressively from Foundation to Y6 so that the pupils are able to find evidence, weigh it up and reach their own conclusions.
The pupil's knowledge is enhanced by many visitors, school trips to places of historical interest as a well as drama workshops, themed historical days, and close links with the local history group. We are also very proud of our heritage at Stanford School and enjoy a special celebration each year on Founder's Day.
Virtual Museums
Love History? Why not go on a tour of a virtual museum.
Pumpkin Class Learn about Florence Nightingale
As part of our history theme this term we have been learning all about the life and work of Florence Nightingale and what a significant person she was. The soldiers called her 'The lady with the Lamp' and the children at home and in school enjoyed making their own lamps as well as other events in Florences life.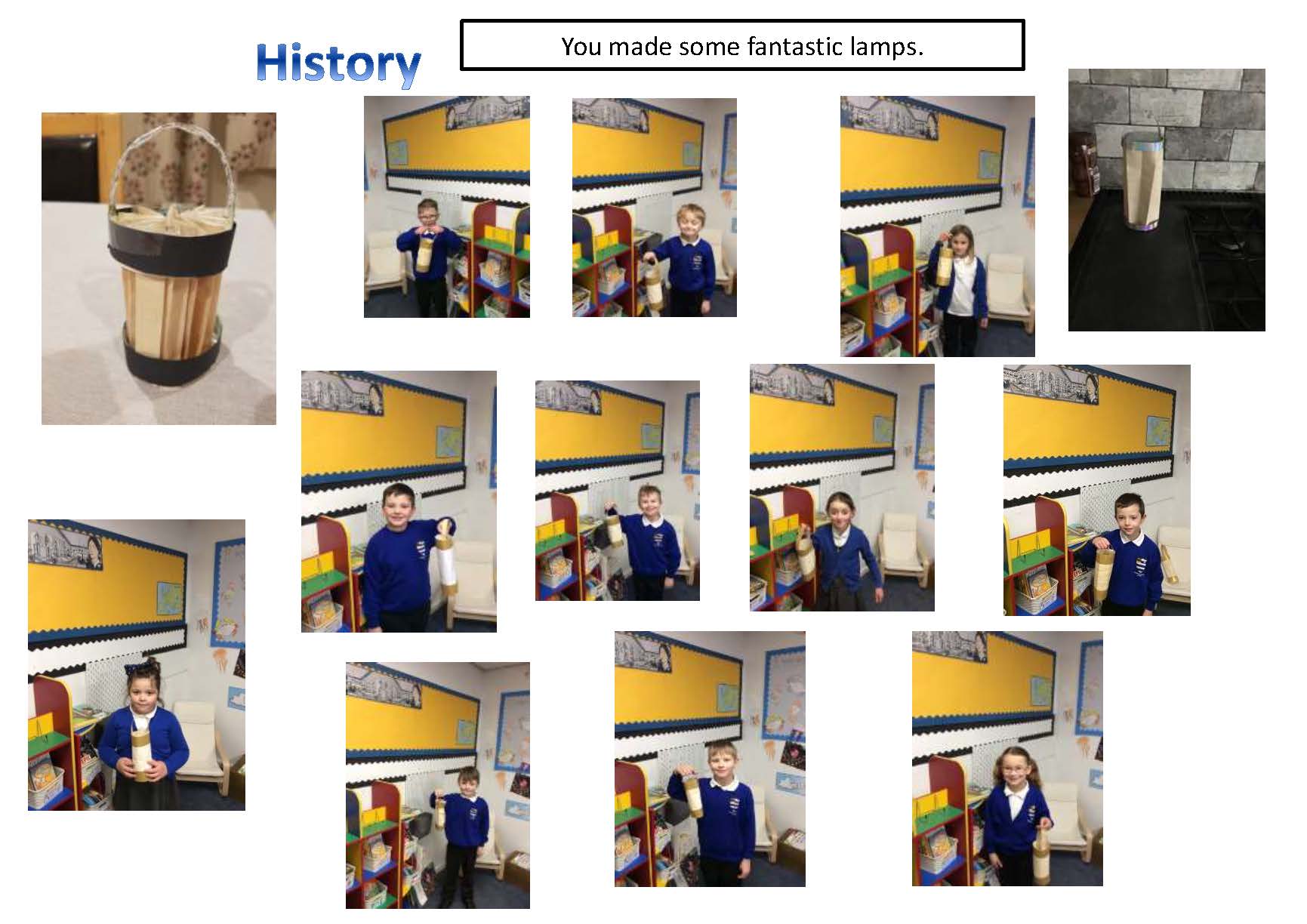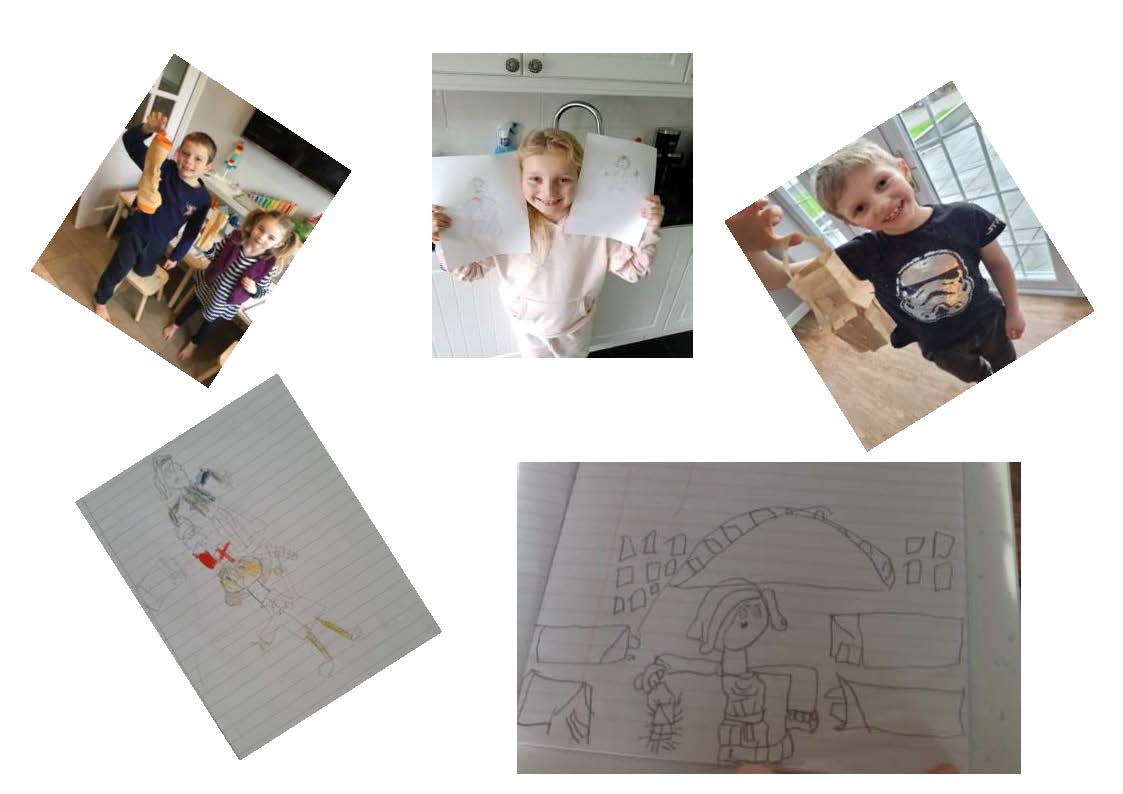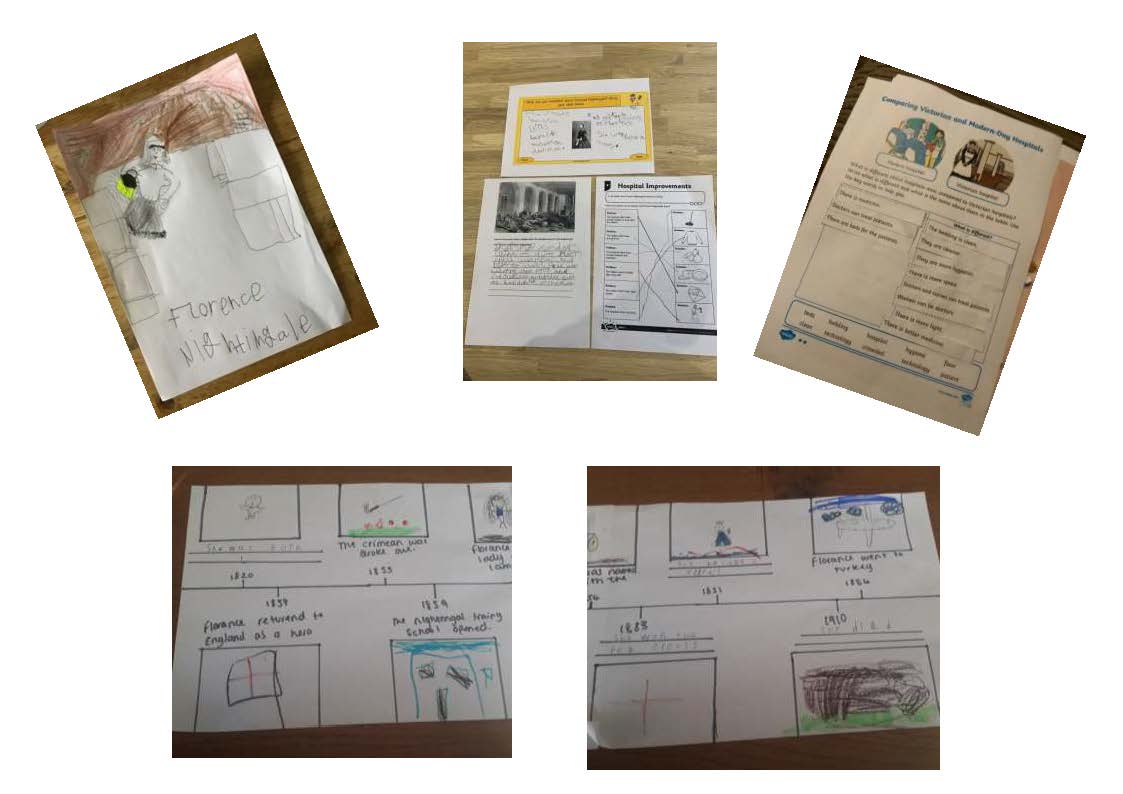 As part of their History work on Florence Nightingale, the children in Pumpkin Class watched a video showing them how to draw her. Here are their fantastic drawings!
Pictish Stones
In history we have been learning about the Picts and the Scots who tried to invade England.
The Picts used Ogham to write their names on stones, this involved a central line where they made diagonal and horizontal lines to spell out letters.
First we figures out how to write our names using Ogham then we made a design to go around the edge of the stones. We made the stones using salt dough and after they were baked we painted them so they looked like old stones.
Some of the children made theirs at home and either sent in pictures or brought them in with them when they were in school. They all look great.
Juniper Hook Day at home and at school
Today we learnt about people survived in the Stone age looking at threats and assets.
Here are some of the posters that were created: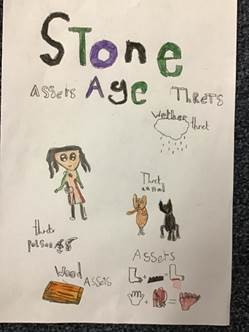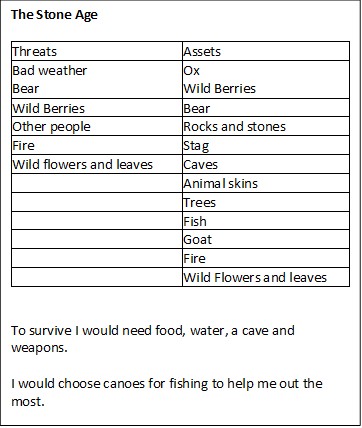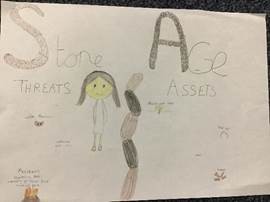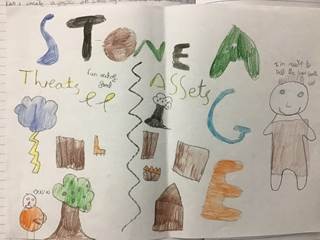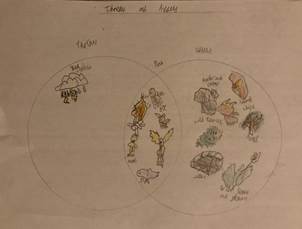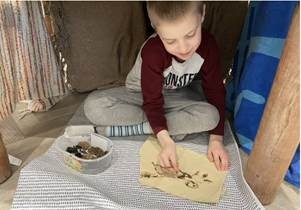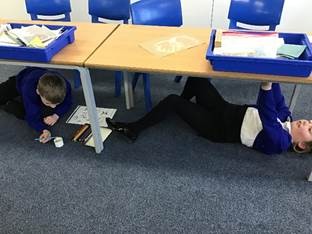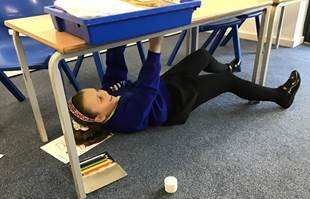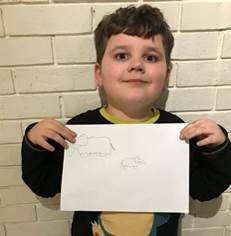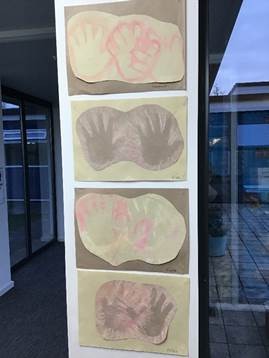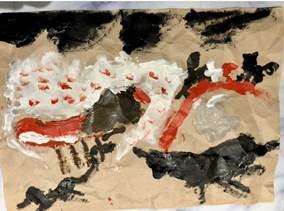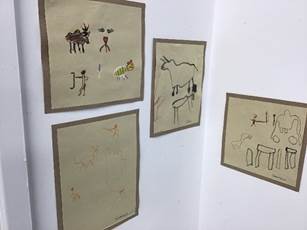 Remembrance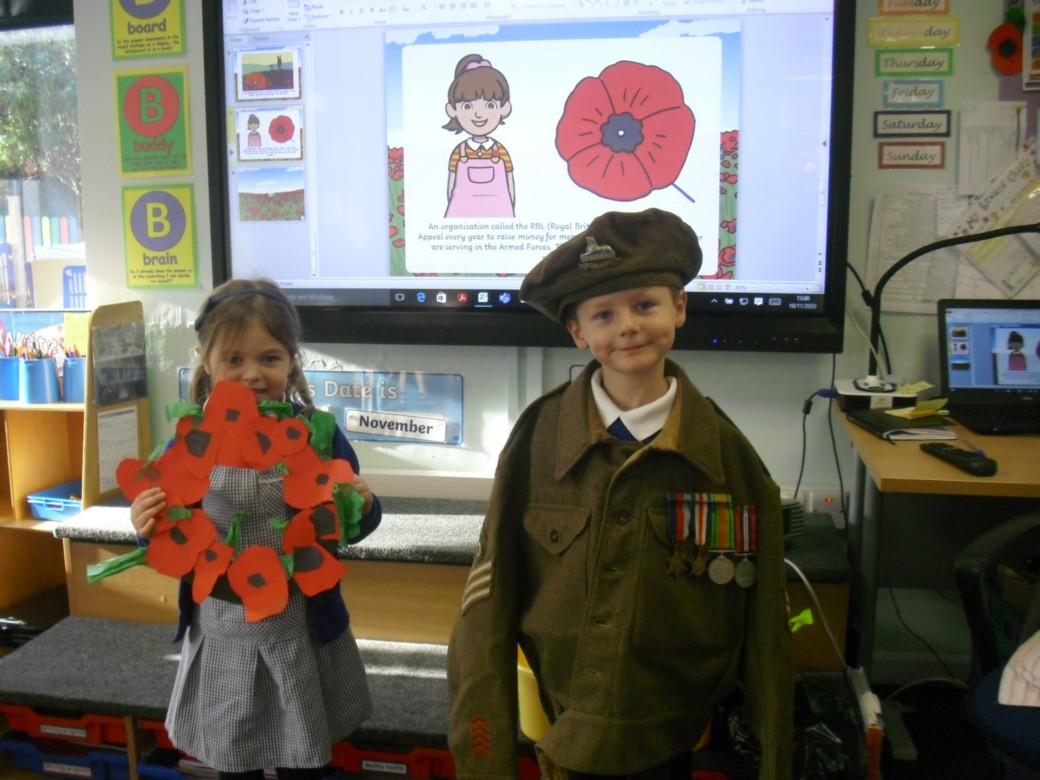 Children cut poppies to make a wreath for Remembrance Day, observed the 2 minute silence and looked at artefacts from WW2 such as a soldier's uniform.
Bonfire Night and Guy Fawkes
Take a look at our Bonfire work this week.
We used chalk to draw fireworks outside and make firework in the purple sparkly sand.
Humberside Fire and Rescue shared an assembly online about keeping safe during bonfire night and we sequenced pictures from the Gunpowder Plot story learning all about Guy Fawkes, King James 1 and the 36 barrels of gunpowder hidden in the Houses of Parliament!
Some beautiful firework paintings and play dough toffee apples too.
In our Humberside Fire and Rescue online assembly we learnt;
T.T - If you get fire on your jumper you must roll over on the floor.
E.A - The Fire Safety assembly I learnt that you must 'STOP, DROP and ROLL' if you catch fire.
A.T - You don't play near the fire.
E.E - The quiz was good, you had to say 'Yes' or 'No' to the things that you could or couldn't play with and I got them all right.
O.B - Put sparklers in a bucket of water when they have finished.
S.P - Don't throw fireworks, it's dangerous.
"Have a safe and happy Bonfire Night everyone."
---
Congratulations Stanford Trust!
The Stanford Trust is celebrating its 300 Birthday this weekend!
Here is a special message from Mr. Lingard.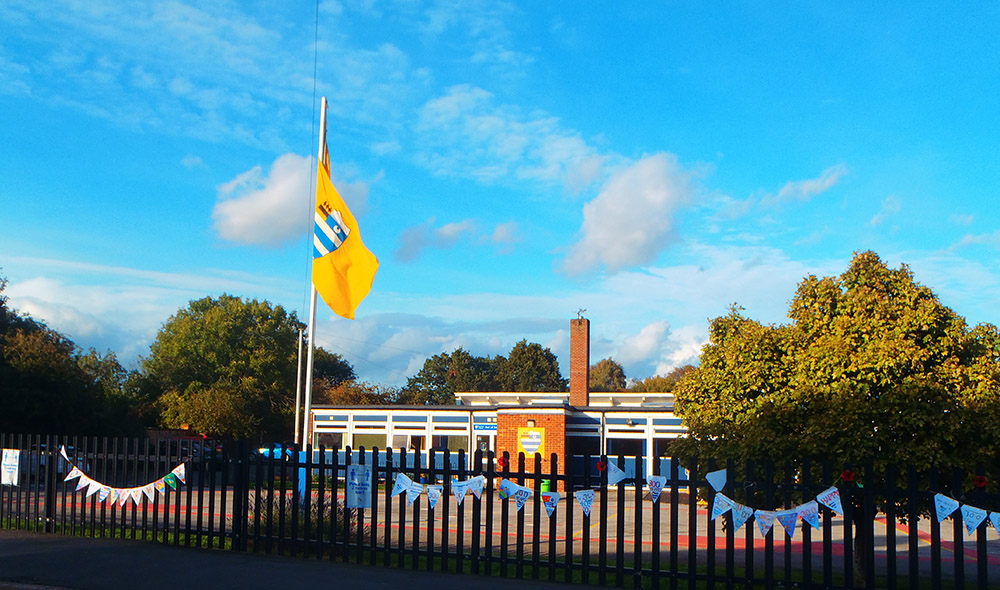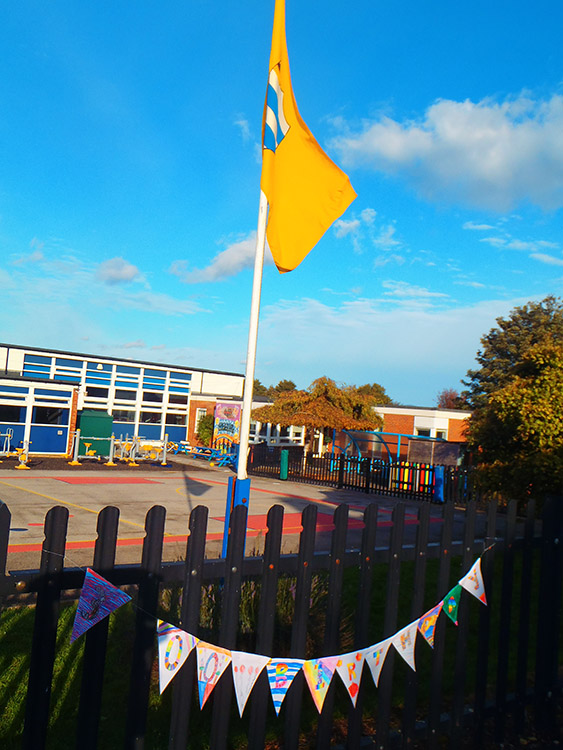 ---
Happy 300th Birthday Stanford Trust!
The children enjoyed celebrating this special event. They made birthday cards for the Trustees, watched a special video message from Mr. Lingard, learnt all about the history of the school and the Stanford family with Mrs. Brady and enjoyed some lovely cakes and juice. They were all so excited to receive their 50p coins and commemorative mugs!
Seedlings Class
The children enjoyed celebrating this special event. They made birthday cards for the Trustees, watched a special video message from Mr. Lingard, learnt all about the history of the school and the Stanford family with Mrs. Brady and enjoyed some lovely cakes and juice. They were all so excited to receive their 50p coins and commemorative mugs!
Sunflower Class
Pumpkin Class
Pumpkin class celebrated Stanford Trust's 300th birthday with cakes and special gifts from the trust. We all made a card to send to the trust and enjoyed a morning of art and craft, which we all loved.
Barley Class
Barley class enjoyed celebrating Stanford Trust's 300th Birthday. They designed bunting for the school gates, enjoyed a cake and drink and had their photo in front of the school flag- Happy Birthday!
Ancient Greek Warfare
Barley Class studied Ancient Greek Warfare and why the Ancient Greeks needed an army or navy. We looked at the Greek warfare and learnt about the different kinds of armour and weapons that were used, how we know about certain battles and what types of ships they used. We recreated the power in standing side by side like the Hoplites, with their shields held tightly across each other so that they were stronger against the enemy. This formation was called a Phalanx.
Victorian Hook Day
We had lots of fun on our hook day pretending to be Victorians. Miss Perrin greeted us at the door ringing her school bell to say that our school day had begun.
First we were given rags and we had to work to make the building clean.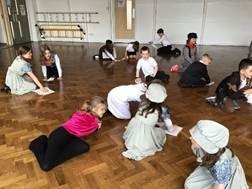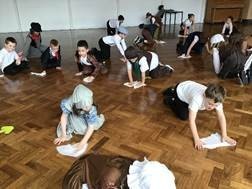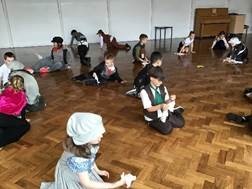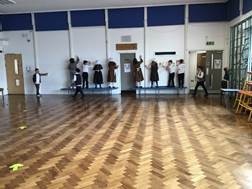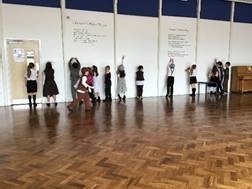 Then we lined up outside the classroom and we paid Miss Perrin a penny for our education.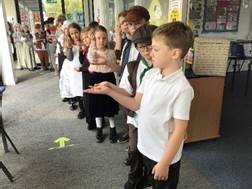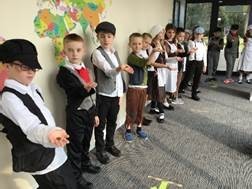 In the classroom we practised handwriting and practised out times tables. We then went for our morning constitutional.
The boys had to march like soldiers and the girls had to walk with 'like ladies'.
Then we went out to play. Victorian children liked to play with hoops and sticks, they also liked to skip. We had a go at both of these but it wasn't easy!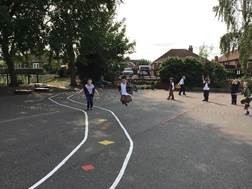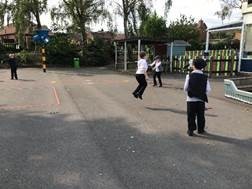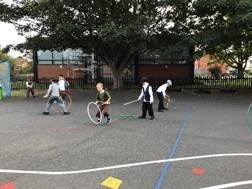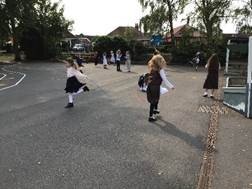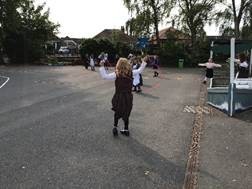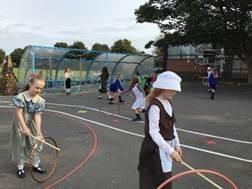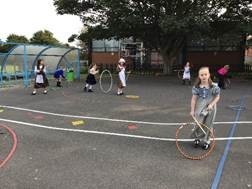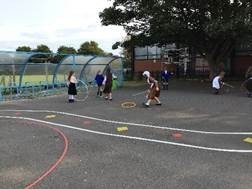 Life was so bad for Victorian children you can understand why they looked miserable as their lives were so bad.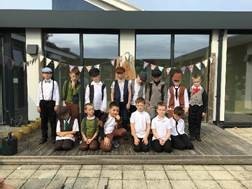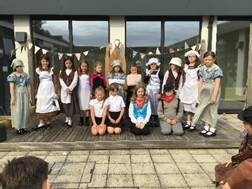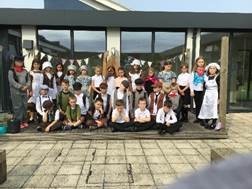 It's a good thing that we were only pretending to be Victorians because we had lots of fun!!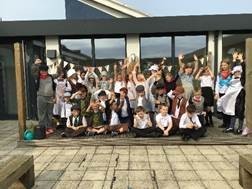 Stanford School Celebrate the School's 290th Year!
Thank you to everyone who celebrated today. A wonderful community spirit- thank you!
---

Singing in the sunshine. Thank you to everyone who joined in the celebrations.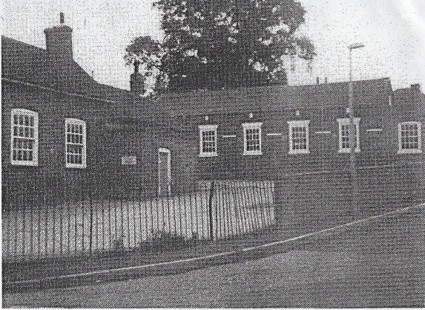 The original Stanford School.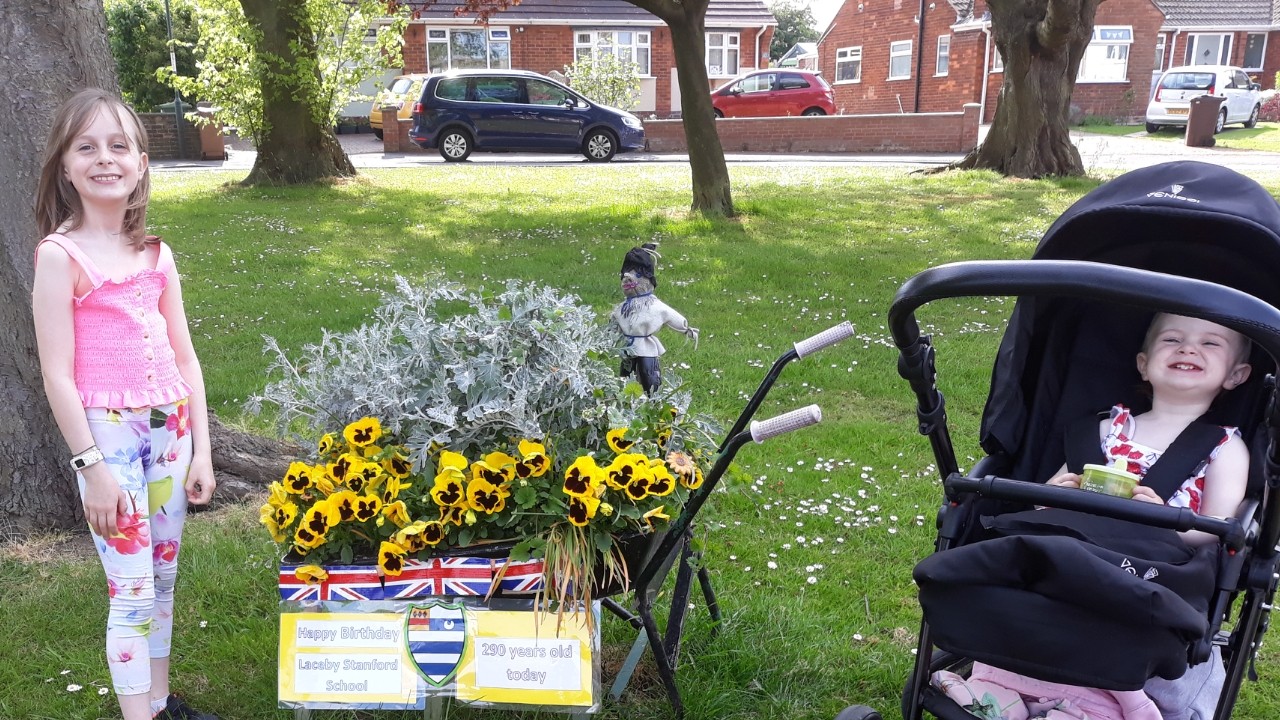 This years Founder's Day
Founder's Day (Penny Day) Gone By
Many thanks to Mrs. Chambers from The Laceby History Group for sharing these wonderful photos.
Many thanks to Mrs. Chambers from The Laceby History Group for sharing these wonderful photos.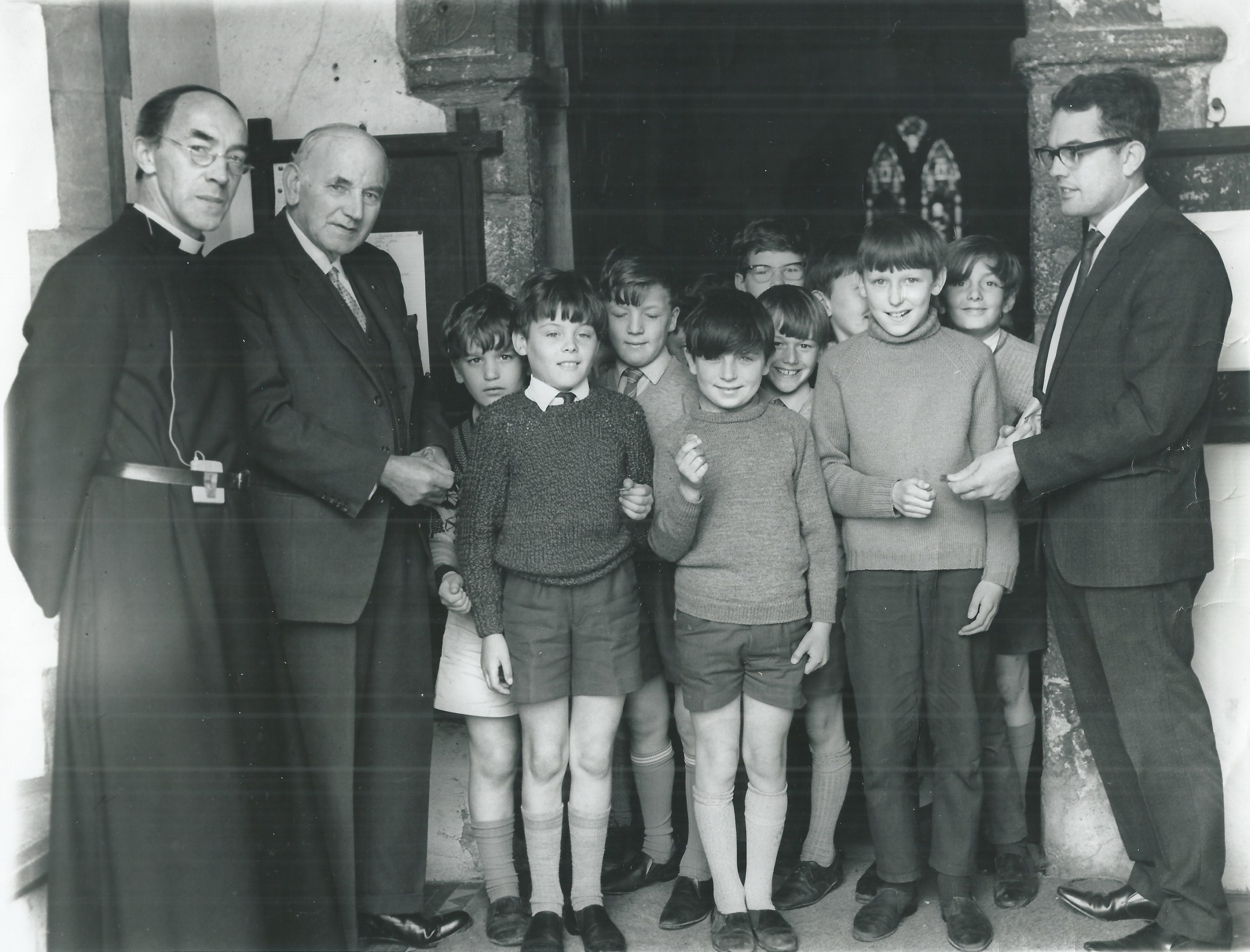 1969 Founders Day with Rev Sam Riley, Ronnie Mawer and Dennis Read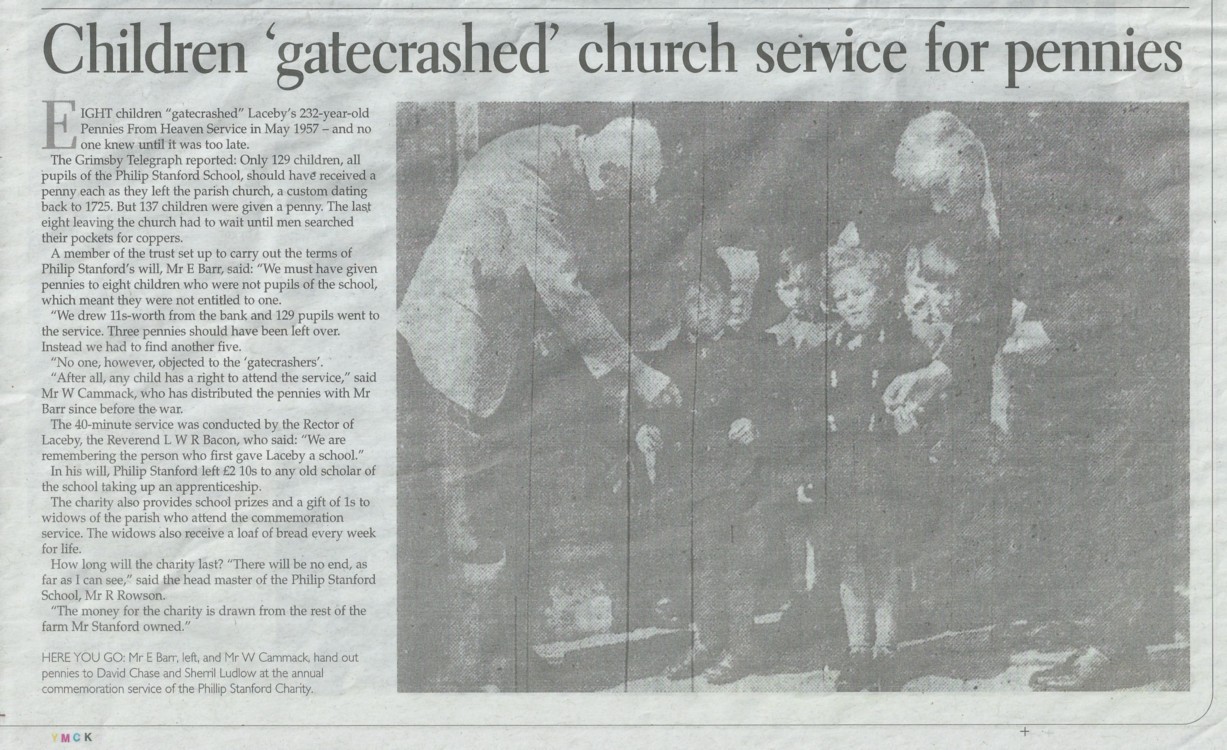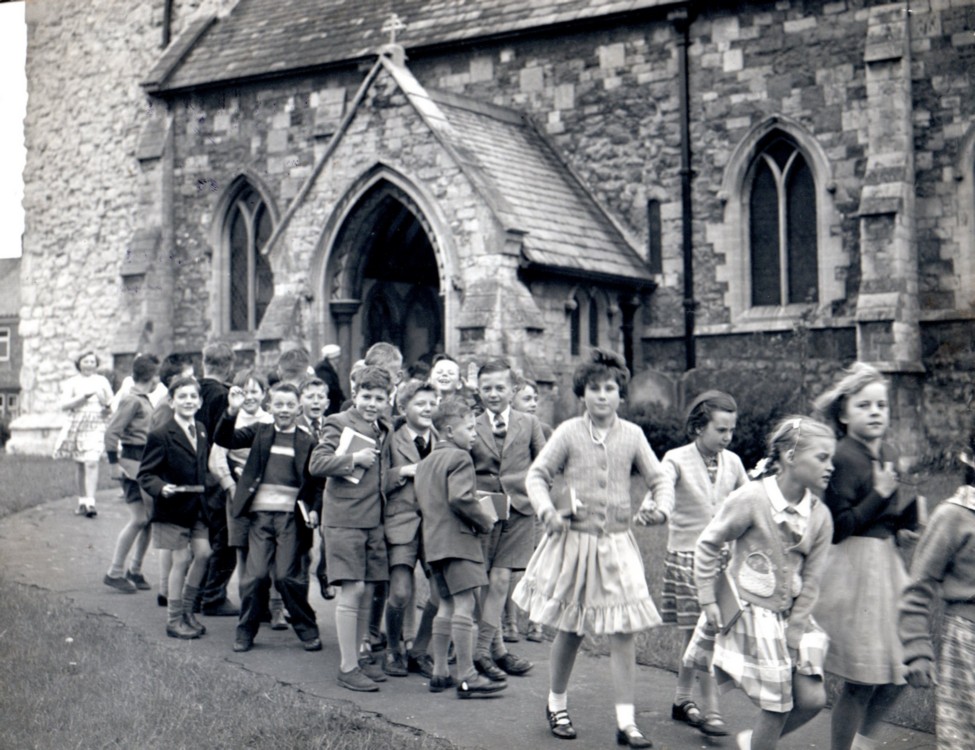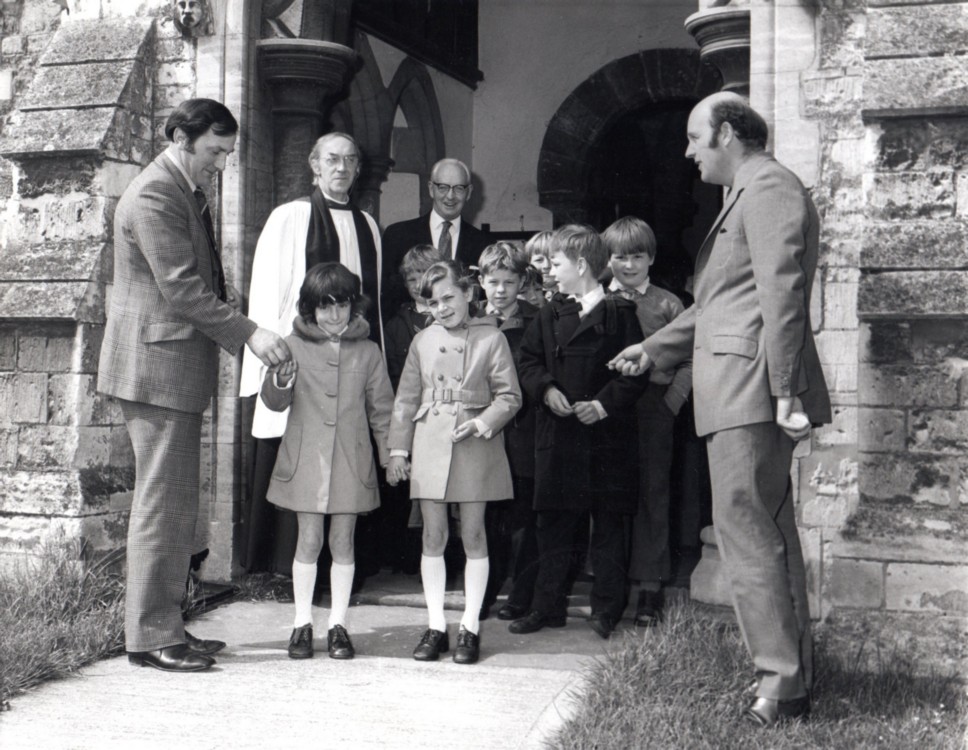 In the church porch, dated between 1968 and 1970, the Rector of Laceby, Rev. Sam Riley and the Headteacher Mr. Rowson can be seen.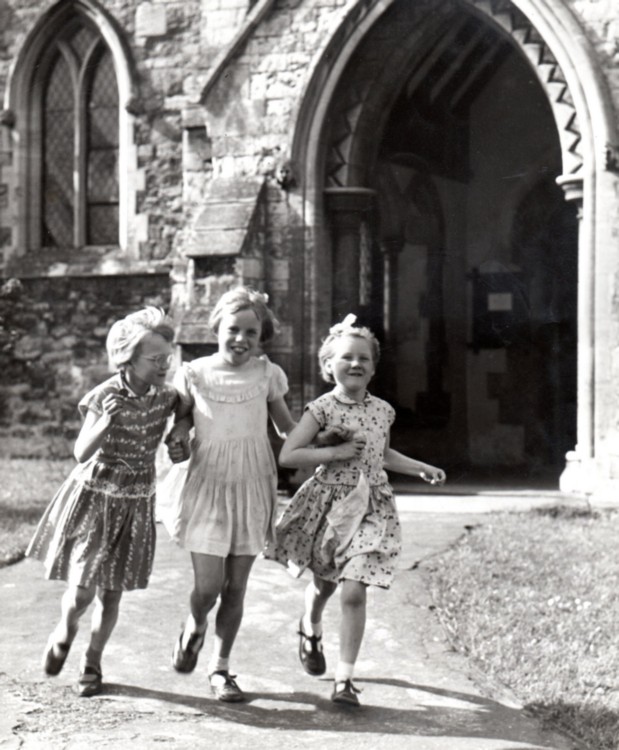 Three girls running out of church dated 1958/9.
Founder's Day Thursday 21st May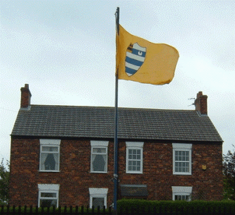 Stanford School's 290th birthday at home.
VE Day Celebrations
Thank you for all the photos you sent in, it looked like everyone had a fantastic day celebrating VE Day!
Learn About The Legend of St. George
The 'Lady of the Lamp'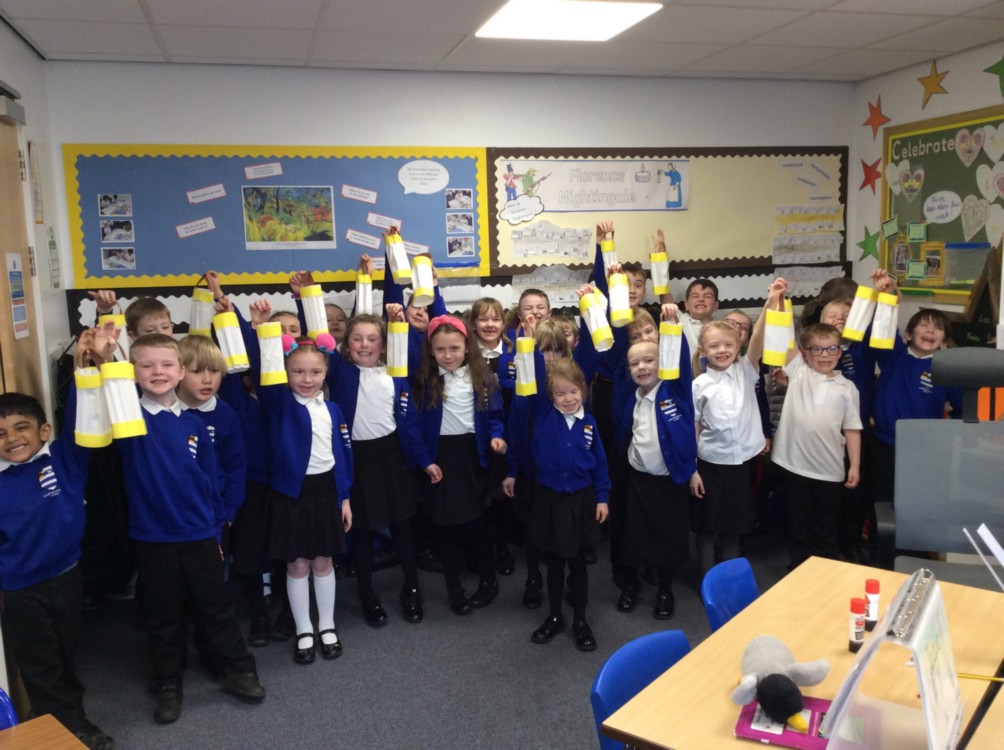 We have combined our learning skills this week to make Florence Nightingale's lamp.
In History we have learnt about the work Florence did in the past and how nursing changed because of her.
In Design Technology we have used skills to join materials to make her lamp.
In English we are writing diaries in character as Florence – watch out for these – we will be publishing them very soon.
Creating Pictish Stones
A Pictish stone is a type of monument that the Picts used to carve symbols. They decorated them with designs or wrote on them using the ogham alphabet. During Poppy classes' Art lesson, we looked at the Pictish stones. We designed one using the ogham alphabet and then made them using clay. The children had lots of fun making them.
Can I find out about toys and games long ago?
Mrs. Griffiths visited Sunflower Class and gave a very interesting and interactive talk about lots of different old toys and games. She told the children how her Grandad and Dad used to make her toys out of wood when she was little. The children had fun exploring many toys, including; a diablo, a yo-yo, tiddlywinks, jacks, a spinner, a whip and top, cats cradle, marbles and draughts. She also demonstrated how toys could be made from paper, such as a fortune teller and a paper plane.
Mrs. Brady would like to thank Mrs. Griffiths for sharing all her wonderful toys and games. Everyone learnt something new today!
B- I learnt how to play draughts today, it was fun.
J- I knew how to play draughts, so I showed everyone.
J-Marbles were fun, I rolled them.
O- They yo-yo was easy to do.
M- We used wool to play with. I had never thought that wool could be a toy.
T- Tiddlywinks are fun, I didn't know how to play that before.
F- I had seen jacks before, but I didn't know what they were called.
A-Thank you Mrs. Griffiths for a lovely afternoon!
Can I make a replica of an Anglo-Saxon broach?
As a part of our Hook Event, the class were given an introduction to the Anglo-Saxons. They discovered where they came from and where they fit on the timeline of events in British history. We know a lot about the Anglo-Saxons through the discovery of a burial ship at Sutton Hoo. The Anglo-Saxons were experts at metal work and created some fine pieces of jewellery.
The children then learnt about Jewellery, its uses throughout history, and about the different types of gemstones and their names. We discovered that Anglo-Saxon broaches were often circular, symmetrical, and intricate. They were decorated with gemstones and enamel. The designs were usually made by embossing the metal.
The children were asked to design a broach similar to the ones we have researched. We made the designs by using thick cardboard and string to raise parts of the pattern. The children then covered their brooch with tin foil and gently pressed it down so the pattern emerged through the foil. The brooches were then painted and 'gems' were added.
Watch out for pictures of the finished products on this blog!
Stone Age Hook Day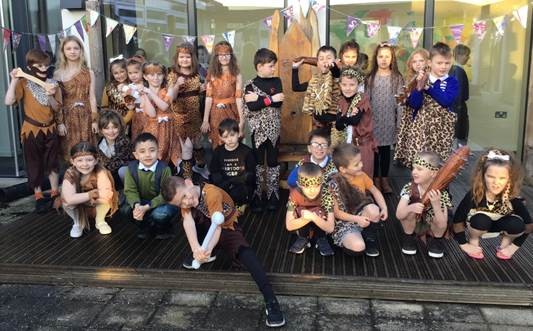 We started the day learning that the early stone age people were hunters and gatherers.  We enjoyed searching for food on KS1 playground. We learnt the sorts of foods that they might find to eat and that they would have to move places throughout the year to find food.
We thought about how Stone age Hunter-gathers survived by thinking about Assets and threats in the environment.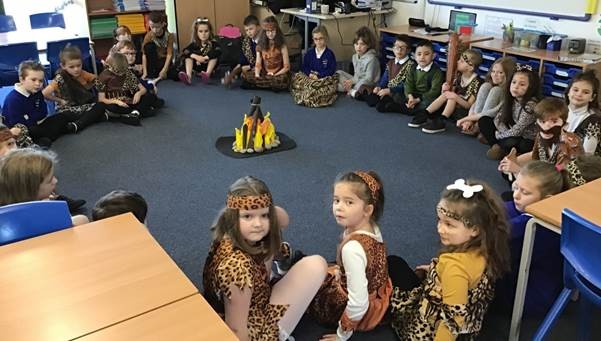 We researched the sorts of creatures that were alive in the Stone age that the people would hunt.  Also we looked at how they made their weapons.