We deliver a skills based curriculum, in which the basic skills and knowledge required to progress learning are of paramount importance and underpin all learning. High order questions within Maths challenge pupils' thinking and reasoning skills to allow them to interpret, suggest solutions, explain and justify their reasoning and findings.
At Stanford we believe that to become true mathematicians children need to be actively involved in the process of mathematical enquiry. We seek to develop young mathematicians through a skills and application approach to maths, covering topics including: number, calculating, money and measure, shape, position and movement and statistics. Pupils have embraced the new approach to deepening their understanding of Maths though reasoning and challenge. Mathematical reasoning is the critical skill that enables a student to make use of all other mathematical skills. With the development of mathematical reasoning, pupils recognise that mathematics makes sense and can be understood.
Providing a problem or challenge presents children with numerous opportunities to discuss and learn, identifying the key terminology and mathematical concepts required in order to solve it. This learning process continues through teacher led skills whereby the children develop clearer knowledge and understanding throughout, in order to arm themselves with the skills required to complete the challenge successfully.
All children are immersed in hands on practical experiences in problem solving. They learn to ask questions, work collaboratively, apply basic skills and participate in real life projects, improving ways of thinking mathematically from Early Years to Year 6.
Please look at our Curriculum Page to keep up to date with the exciting Maths learning that we are so proud of at Stanford Junior and Infant School.
Maths Basic Schools
At Stanford School we are focussing on developing our basic maths skills. Each class dedicates 15 minutes of the day to basic maths - we focus on mental maths skills, calculations and number.
We have lots of exciting resources to help us improve our basic skills, including number squares, fans, whiteboards, dice, counters, stopwatch challenges and iPods.
We also enjoy helping each other with basic skills and pair up with our partner classes for some of these sessions, which we really enjoy!
Here are examples of the Maths Basic Skills targets for each year group:
About our Calculation Policy
The following Calculation Policy has been designed to meet the requirements of the National Curriculum 2014 for the teaching and learning of mathematics, and is also designed to give pupils a consistent and smooth progression of learning in calculations across the school, Please note that early learning in number and calculation in Reception follows the "Development Matters" EYFS document, and this Calculation Policy is designed to build on progressively from the content and methods established in the Early Years Foundation Stage.
Age stage expectations
The Calculation Policy is organised according to age stage expectations as set out in the National Curriculum. However it is vital that pupils are taught according to the stage that they are currently working at, being moved onto the next level as soon as they are ready, or are working at a lower stage until they are secure enough to move on.
Download our Calculations Policy
Times Table Challenge
We are introducing a new Mathematics challenge aimed at developing quicker recall of the multiplication facts (times tables). The new National Curriculum from 2014 states that: 'By the end of year 4, pupils should have memorised their multiplication tables up to and including the 12 multiplication table.'
The new Key Stage 2 tests that came into place this year has an arithmetic test specifically on calculations. Therefore to ensure children are confident and prepared, learning tables' facts plus recalling these quickly and accurately will give children a distinct advantage.
Learning multiplication facts does not have to be boring and repetitive; we will be encouraging the children to recall facts in different ways through games, challenges and investigations as well as the weekly speed tests that will be held in class each week. We will be using an online resource, in school, called TT Rockstars, which focuses on times table challenges, improving pupil's rapid recall. This will be completed in class and will follow a programme of teaching and learning times tables. Pupils must though spend the time trying to learn the facts to make it easier in the classroom. Each child will have a record sheet for them to copy in their multiplication facts and record their progress.

The rewards for this will be bronze, silver and gold stickers that will be presented by class teachers and eventually the children will receive the platinum certificate for Multiplication Excellence which will be presented in the Friday assembly. Each year group will have their own targets which are outlined below:
FS and Y1- Counting on in steps of 2, 5 and 10
Y2- 2, 5 and 10.
Y3- 2,3,4,5,8,10
Y4- ALLTABLES FACTS TO 12× 12
Y5- ALL and completed 12× 12 mixed tables square in under 8 minutes
Y6- ALL and completed 12× 12 mixed tables square in under 6 minutes
TT rockstars is a daily practice of the times tables, through listening to rock music. Pupils have to answer 50 questions and time themselves. This will then work out your rick status. The idea is that pupils' rapid recall will become quicker for each times table.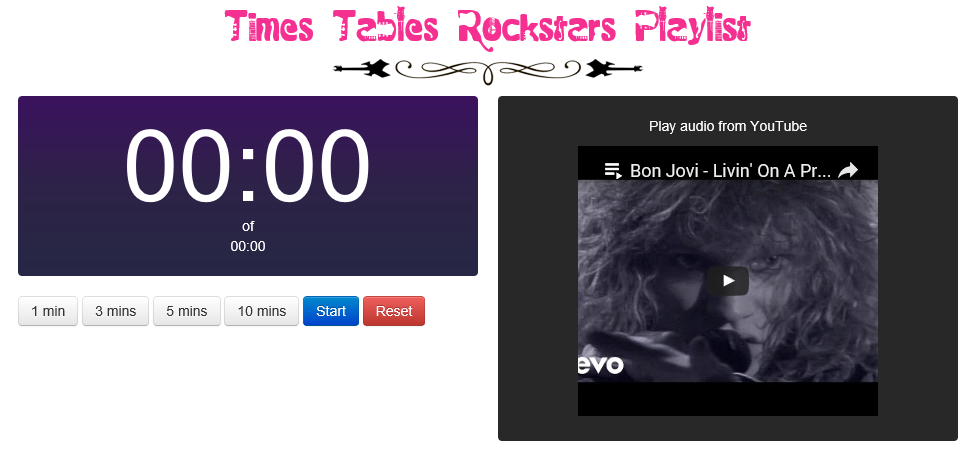 Here are some websites that offer games, grid challenges and interactive tests:
For more information please go to the website www.ttrockstars.com