SMSC, PSHE and RSE
Healthy Schools
The Healthy Places 'Education' award is designed to help educational settings in North East Lincolnshire to create a programme of work to promote health, as they act as vehicles to empower individuals to live well where they work, learn and play.
This is a fantastic award for schools and academies to work towards, which not only benefits the children and young people but also has a positive impact on the health of staff, parents/carers and wider community.
Martin Luther King Day
Year 6 pupils focused on the famous speech made by Martin Luther King, 'I have a dream' from 1963. They the speech and then created their own based on their ideal world and place. Some fantastic, thought-provoking dreams!
First Aid
In Year 6, we had an interesting session on First Aid. We looked at how to perform a primary survey, and check if someone is responding. We also watched a demonstration on how to put someone in the recovery position. A very vital skill- thank you Miss Hoad!
Compass Go Assembly
Zowie our link worker at Compass Go came to talk to us about the importance of sleep.
A- I have a bed time routine, I always get a good night's sleep.
S- I read at night, as part of my routine.
E- You should turn your ipad off one hour before bed, as this will help you sleep.
M- We learnt how to do spaghetti body actions to help us sleep.
A- Turning the big light off will help me get to sleep.
T- If we don't get enough sleep it might make us sad and grumpy and it will be hard for us to concentrate.
Christmas Jumper Day 2022
Pumpkin Class have learnt that since 2012, millions of people have put on their jazziest jumpers for one day in December and donated money to the charity 'Save the Children.' These donations have helped to make the world a better place for children in the UK and all around the world.
P.S. The Pumpkins also wanted to show off their beautiful robin Christmas cards too! Well done everyone.
SLEEP LAB
The Sleep Charity came to Stanford School today to see parents and children regarding sleep.
This exciting outdoor activity event brought together nature and learning to help improve children's mental health and gave parents/ carers knowledge and understanding on how to improve their child's sleep.
Children and their parents/ carers also had the opportunity to sign up to join the Primary School My Sleep Journal, an interactive book to learn and have fun with around the subject of sleep.
Polytunnel
Thank you to the Governor and volunteer who helped improve our polytunnel at school.
They have helped plant winter veg - the pupils are excited about watching the cauliflowers, cabbage and cos lettuce grow and using the produce in their cooking!
Odd Socks & expressing our individuality
We have had a busy week with Children In Need, Diabetes Awareness (wearing blue tops) and Odd socks day - a day for recognising how we are all individuals and how wonderful it is to be unique.
The children had lots of fun designing a pair of odd socks to express their own individuality. Don't they look great?
KS2 Road Safety Week
Humberside Fire and Rescue Service came into school to talk to the children about how to be safe on the roads, especially through using seat belts in cars and wearing helmets when riding our bikes. Something as simple as this can save lives and it's so easy to do.
Year 3 - Basic First Aid Skills
The children have been learning about basic first aid skills such as calling for help and what to do with head injuries and bites & stings. In addition to this the children were taught about how to put someone who is unconscious in the recovery position until help arrives. The children really enjoyed this and it is a very useful skill to have!
Year 3 & 4 local fieldtrip
Following on from Remembrance day we decided to go and look at the cenotaph and reflect on the people of Laceby who died in the line of duty.
First we looked at Laceby using ordnance survey and aerial maps then the children plotted the best route to get there.
To ensure road safety we word hi-viz jackets and ensured that we walked safely and carefully through the village.
When we arrived at the cenotaph the children were interested to read the names of the people who had died for their country. We had a minutes silence & reflection then the Year 3 children laid a wreath they had made and the Year 4 children recited poems they had written.
Road Safety
Foundation stage have learned a lot about keeping safe around roads this week, through assemblies, stories, songs and fun activities in the classroom provision. We had the tricycle and bike out in the playground as well, to help with our coordination and gross motor skills, while we practised crossing a 'road' safely.
Children in Need 2022
Foundation Stage
The foundation stage children enjoyed lots of sensory activities today to celebrate Children In Need. Thank you for all your donations!
Pumpkin Class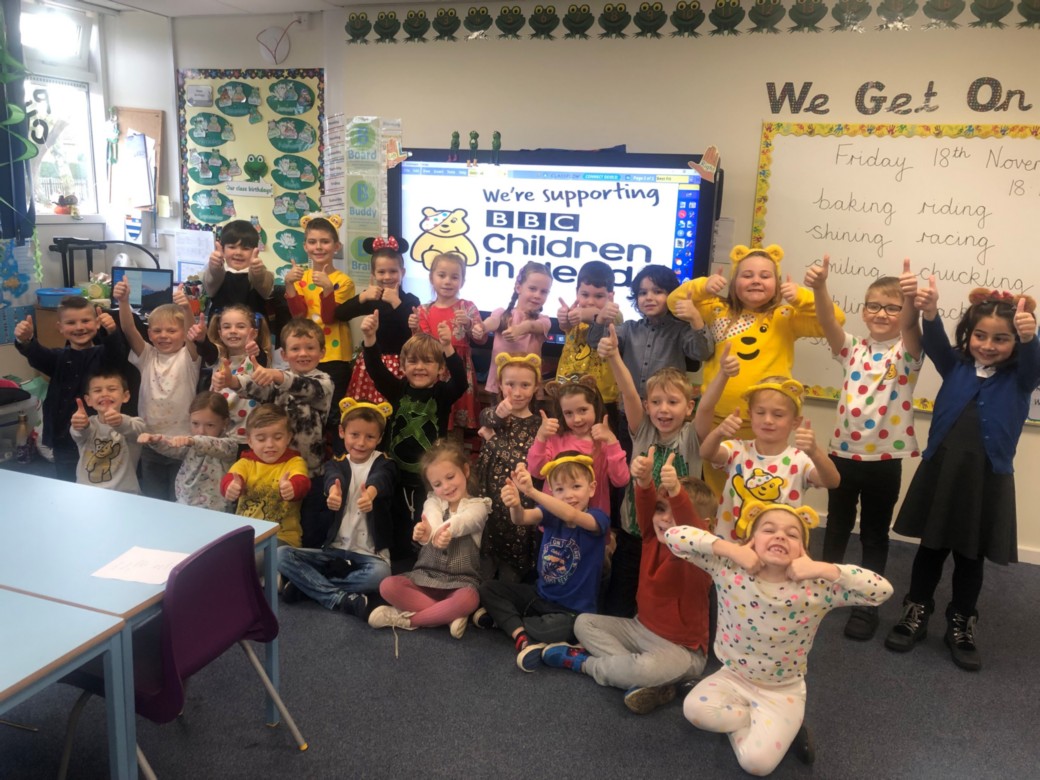 Pumpkin Class enjoyed dressing up and taking part in this year's SPOTacular event!
They challenged themselves to a 60 second read all about the charity and then answered quiz questions. They watched a story called 'Pudsey's Great Fundraiser' and found out ways in which the charity helps children.
R- The BBC want all the children in the UK to feel safe, happy and secure.
M- Pudsey Bear and Children in Need are on TV every November on BBC 1.
H- Pudsey Bear is the mascot.
A- The money goes to help children who might be poorly, disabled or struggling because of something sad that might have happened to them.
Poppy Class
The children had lots of fun dressing up in a 'spotacular' fashion! We have been writing instructions in English so today we tried following instruction to draw a Pudsey Bear.
Shoebox Appeal
A huge thank you to our Year 6 pupils for organising the Shoebox appeal and a huge thank you to our parents/ carers and community members for supporting this worthwhile cause! We had 17 boxes made up to send- amazing!!
Anti-Bullying Week 2022
Pumpkin Class have been learning about bullying: what it can look like, where it can happen and what they can do to if they or a friend feels worried. They discussed lots of scenarios and decided who could help.
L- We watched a video telling us to ask for help if someone is hurting us.
A - We wore odd socks to show everyone that it is OK for everyone to be different.
H- Anti-Bullying week is to remind people that we need to stop all bullying.
A - We read an anti-bullying poster and did a quiz to check we all knew about it.
F- Bullying is when someone hurts someone over and over again.
J- There are different kinds of bullying like hurting people's bodies and hurting their feelings.
T- It's called 'Reach Out'. So if someone is bullying you, you should reach out and tell a trusted adult.
Today is National Diabetes Awareness Day
Pupils and staff were encouraged to wear blue in support of Diabetes Awareness! #diabetesawareness
Odd socks day #antibullyingweek2022 🧦
We kicked off Antibullying week with odd socks day to celebrate being different!
IS: I chose two different houses from Harry Potter: Hufflepuff and Ravenclaw!
KR: My socks are different days of the week!
Rememberance
We Will Remember Them
Pumpkin Class marked Remembrance Day by making a poppy wreath, sharing their knowledge of Remembrance in assembly and completing a reading comprehension task. At 11 o'clock they were very respectful during the two minutes silence.
Lest We Forget
To mark Remembrance Day we had a special whole school assembly led by Mrs. Brady.
H- Mrs. Brady told us a true story about her Great Uncle who died in WWI. She explained that on Poppy Day she likes to remember him. We saw his army photo, his gravestone in France and the cenotaph in his village where people still place poppies.
O- Year 2 children read out lots of information to tell us why we have Poppy Day and what happens during Remembrance. They showed us their big poppy wreath that they had made.
V- Children from lots of other classes showed us beautiful poppy art work.
F- Year 6 children had written very thought-provoking poems and everyone listened carefully as they were read out. N- Mrs. Brady reminded us of the 11 o'clock silence which we all did in class. She told us about the leaves on poppies, that they should point to 11.
L- The assembly ended with a short video clip of information for us to watch and a clip of Remembrance Sunday. We saw soldiers marching to classical music. (Nimrod by Elgar.)
Healthy Eating
Thumbs Up to Healthy Eating
Pumpkin Class enjoyed a special visit today from a Chartwell's chef.
He told them all about healthy eating and demonstrated how to make a healthy breakfast bar with honey, oats and fruit. They really enjoyed tasting the bars.
R- I liked the honey taste , it was so sweet.
T- I know how to make a cereal bar now, so I think I will make some at home.
H- When I make a cereal bar, I will add chopped up apples, grapes and oats.
Making your own breakfast bars
Today we had a visit from Chartwells.   We discussed foods that provide us with energy and we learnt how to make a healthy breakfast flapjack.  We also got to taste them.
O- You need to be healthy for the day and have energy
B- I've never tried anything like this, it was nice.
L- It was really sweet
A-I like it as it had my favourite things in.
N- It was easy to make, I think I'll try it at home.
UK Parliament Week
Pumpkin Class
Pumpkin Class were very interested in learning more about the Government and Parliament- they even watched a clip of Prime Minister's Questions and went on a virtual tour of the House of Commons! Mrs. Brady was amazed at how much they already knew from watching the news at home.
H- Rishi Sunak is now the third Prime Minister we have seen. He lives at 10, Downing Street, which is in London.
T- The Houses of Parliament is in London, it's the big place that has Big Ben. People go there to decide important rules.
O- People vote for the MPs they want, so that they can go to meetings and ask important questions for everyone. Mrs. Brady told us that this is called Democracy.
V- The two parties that ask each other questions are called The Conservative Party and The Labour Party.
T- The leader of The Labour Party is called Keir Starmer. The parties sit opposite each other.
A- Mr. Speaker sits in a chair at the end. He makes sure that people take it in turns to speak.
Poppy Class
To understand the structure of parliament, how it works and the difference between the government and parliament, we took part in a fake election then acted out how parliament works. The children enjoyed acting out the different roles and making decisions on whether potential laws should be passed.
Fire Safety
The foundation children learned a lot in our fire safety assembly this week, including some useful tips for keeping safe if we attend bonfire celebrations. We watched some videos in class and learned a little bit more about firefighters. Then we had a go at putting out our own paint fire in the outdoor provision. Have a fun bonfire night everyone, and keep safe!
Black History Month
The children in Pumpkin Class have been finding out all about the life of American artist Alma Thomas. They discovered that during her life she had been treated very unfairly because of the colour of her skin. The children enjoyed exploring her art work and found her colourful pictures inspiring and so they decided to create some of their own.
Youth Social Action project, The Venturists.
As a part of this project the children were invited to Centre4 to learn about community businesses, see them in action and find out what a difference these businesses can make to our community. There are some fantastic local businesses out there which enrich the lives of so many. We can't wait to see what project our children develop!
---
Respecting Each Other
Year 2 enjoyed a special assembly led by Sunita. She told them all about her religion: Hinduism. She told them the story of Rama and Sita and demonstrated how she prays and celebrates the festival of Diwali. After the assembly the children thought that it had been unkind of some children who laughed when Sunita showed pictures of her gods. This led to an important discussion about why it is important to show respect to others.
Mrs. Brady showed the class The Equality Act 2020 poster 'Protected Characteristics.' The children picked out some of the symbols they recognised e.g. religious symbols, people of different ages, male and female symbols, people with disabilities and different kinds of families. They made posters to show that all people need to be treated fairly.
M- Sunita has a religion called Hinduism.
A-She prays in a temple called a Mandir.
E- If she wants to pray somewhere else she can set up a little table called a shrine with all her candles and little statues of gods.
R- I learnt that people are different and it doesn't matter if people pray to different gods.
S- People have the right to dress differently and wear things that they like.
V- She taught us that we need to show respect for each other.
World smile Day and National Teacher Day Friday 7th October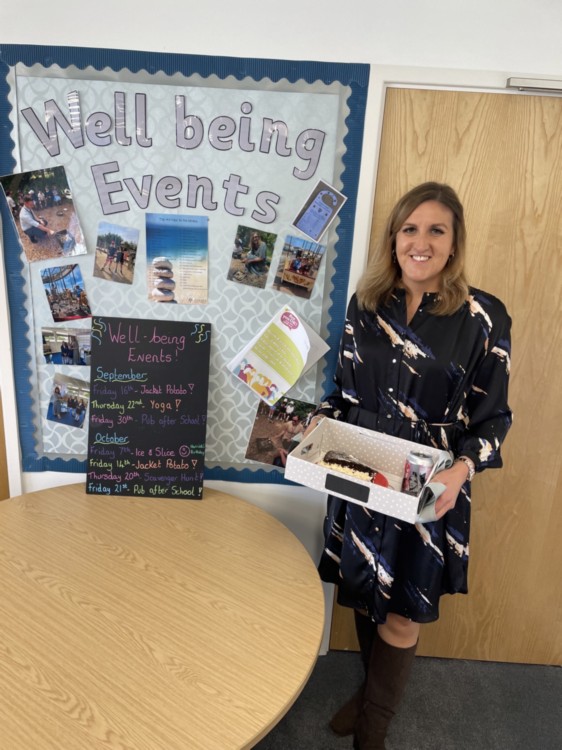 The wonderful Mrs Smith and her Well-being team brought cakes and drinks to all staff, as a thank you for all their hard work on World smile day and National Teacher day! 🍰#WorldSmileDay2022 #NationalTeacherDay
Year 6 Roar Project!
Year 6 completed the second phase of their 8 billion ideas project…. Ideas, ideas, ideas!
As a team they discussed different ideas that link with their problem and agreed on a final product that they will move forward to the design stage!
Learning about food waste
Today we had a workshop delivered by Chartwell and we learnt all about how and why food gets wasted. We learnt about ways we can help to reduce waste. Did you know you can freeze milk? One way of using milk instead of wasting it is to make a smoothie. We tasted banana smoothies made with over ripe bananas, milk with spinach added for extra nutrition. The smoothie looked a cool green colour. Most of the class thought it tasted great and much better than throwing away the bananas and milk.
Be a Swap Rockstar!
Take a look at the leaflet and website for great ideas on how to make healthy food choices for the whole family.
Paying our Respects
Mrs Hackfath, Mrs Smith and our Head Pupils visited St Margaret's Church this morning to pay their respect to Queen Elizabeth II. Head pupils laid flowers as well as all signing the book of condolence for Her Majesty. A very special morning.
👑 Thank you for 70 years of loyal service 👑
Stanford School Head Pupils ⭐️
Wow! Well done to our amazing Year 6 pupils who delivered their Head Pupil speeches in our assembly this morning. Their commitment, dedication, kindness and motivation shone through from all of the candidates. We are all very proud of you!
Every pupil voted and the results are in… please see the last photo for our new Head Pupils!! ⭐️
Author Visit: Grandad Wheels
Pumpkin Class
The author Brian Abram aka Grandad Wheels visited our school and told us all about his disability, his family and the great stories he writes.
R- People with disabilities might be in wheelchairs, but it doesn't stop them doing things like writing books and playing sport.
E- We learnt that people with disabilities are just like us. E- Grandad wheels told us how people in a wheelchair get dressed, get a shower and go to the toilet!
E- Grandad Wheels uses a banana board to help him get dressed.
H- I think he is a really good writer, as he has written lots of stories.
W- He donates money from his book to people with spine injuries.
J- He writes stories about him and his grandson- they are exciting and funny adventure stories.
F- I really enjoyed listening to his story and then we found some more on YouTube to watch.
W- Grandad Wheels was in a wheelchair because he'd banged into a tree. I love how he has changed his life and is writing books for children to read. He makes children realise what it is like to be in a wheelchair.
C- We all had to design a new wheelchair for Grandad Wheels. Mine was crazy and I drew one with a food tray, springs for bouncing and a disco umbrella!
Juniper and Barley Classes
This morning, we had the wonderful opportunity to meet Brian Abrams, author of the Grandad Wheels series of books. He shared his personal experiences of using a wheelchair and also helped to address any misconceptions around wheelchair users.
We found the workshop really fun and certainly learnt a lot. We also had a great time stretching our imaginations to create unique and rather spectacular wheelchair designs (including popcorn machines, jet packs, TV screens, giant springs and hot dog holders!) which Brian thought were fantastic when he came to the classroom to see them.
Thank you Brian, 'Chaos at the Supermarket!' was hilarious!
Year 5 and 6 Activity Day
Our marvellous Year 5 and 6 pupils used their fabulous enterprise and teamwork skills to organise and host this year's Activity Day to the whole school.
The children researched their ideas, advertised their stalls and worked so very hard to ensure that the Activity Day was a success - which I am sure, by seeing the photographs, you will agree it was!
A huge £575.38 was raised on the day which will be used to help fund some of our school events as well as donated to local charities (Woodland Trust and Lincolnshire Wildlife Trust).
Thank you for all of your support with our fundraising event at school, it is greatly appreciated.
Barley Class Learning Share
This week Barley Class had their final Learning Share at Stanford School! It was wonderful to see so many parents and family members join us to learn more about the activities and challenges that Y6 children have been working on this year.
The children decided which elements of the curriculum they wanted to share and set up different tables to display their work and set some challenges for the adults to take part in.
As you may be able to see in the photographs, it was a fabulous morning and the children felt very proud to showcase their work.
Thank you to all of the adults that came to support our Learning Share and a special mention to the mother and daughter TT Rockstars champions with super times of 1 min 14 seconds for the Y6 pupil and 1 min 23 seconds for her mum - well done!
It was lovely to read some of the community feedback from the adults that attended the Learning Share, thank you for your support.
'Absolutely fantastic event. Well organised and lovely to see all the pupils so well engaged in a relaxed but stimulating environment. Perfect end to their Stanford journey.'
'An enjoyable experience. Was great to be able to see some of the work the class have been doing. Nice for the children to share their learning and be proud of what they have achieved. Lovely to be back in school again, especially as their journey comes to an end.'
RSE
This week the children have been:
learning about the special people in their lives and how they care for one another
drawing and talking about their own special people
explaining what makes people special to us and why they are important in our lives
describing the different ways our special people care for us
recognising how we can care for them in return
They also produced these two amazing posters!
Lifestyle 2022
Crime and Punishment - PCSO Bell
As part of our Crime and Punishment and British Values curriculum this term, PCSO Bell kindly came into Y6 to discuss the Rule of Law and consequences that citizens face when breaking the law.
We explored the criminal system - from being cautioned to being imprisoned, how sentencing varies depending on the crime and discussed what we thought appropriate consequences should be.
PCSO Bell also brought one of the police vehicles with her to show us (even allowing us to press the button for the siren!). The pupils had some wonderful questions and the experience really helped them to enhance their understanding of how crimes and punishments have changed over time.
Thank you, PCSO Bell.
Pumpkin and Barley Coaching and Collaboration
This afternoon, Year 2 and Year 6 collaborated together to focus on their sketching and shading skills.
As it was such a glorious afternoon, we decided to use nature as our inspiration and worked together under the oak tree in our school field.
E - I liked when O showed me how to make the grass and tree trunk look 3D by using the side of my pencil.
B - We drew half the picture each, it was really interesting to try to make out lines match up for the leaves.
Allison Homes
We are thrilled to have received the donation from Allison Homes. The children can't wait to start planting the seeds that they've received, and we're looking forward to purchasing new equipment and resources to encourage our pupils to get further involved with gardening.
Brownlee Foundation Triathlon
As a well done for working so hard in the run up to the SATs, our Year 6 pupils have had a wonderful day today at the Brownlee Foundation Triathlon! They swam 50m, completed an 800m cycle and then a 300m run. It was wonderful to see the children cheering each other on and thoroughly enjoying themselves.
O - I loved today, it was fun to do something new and even better that I could do it with my friends.
C - Today was amazing, my favourite part was the swimming. I would definitely recommend other people to do it too.
C - I really enjoyed today, I would like to do a full triathlon in the future.
D - I am not really keen on doing sport, but today was awesome! I would definitely recommend it to other people to take part, even if they aren't usually really sporty.
Year 6 Crime and Punishment Hook Day
We had a marvellous day in Barley Class today (or HMP BARLEY as it will now be known!), to introduce our new topic, 'Crime and Punishment'.
We looked at the different types of crimes that can be committed in modern day Britain, how they can be different in other countries and also how they have changed over time. We also explored the different types of punishments that can be given when a crime is committed.
Part of solving crimes is investigating what has happened - we began to find out about the importance of DNA and fingerprints - analysing our own and identifying if we have whorls, swirls or ridges - then compared the fingerprints of twins in our classroom!
We are very excited about this topic - keep checking our blog to see all of the fabulous things we will be learning about this term.
Yorkshire Wildlife Park
Wow! What an amazing day!
Willow and Barley classes had a wonderful day at Yorkshire Wildlife Park last week! The day was spent exploring the park, focusing on the animal's habitats and how animals are adapted to their environment, which links to their science topics of 'Rainforests' and 'Evolution and Inheritence'.
Children visited the different animal's enclosures and discussed the types of vegetation, the similarities and differences between males, females and offsprings and how the animals are well suited to their environments.
It was a fantastic day, made even better by the glorious weather.
Keep checking our class blogs for further work related to our trip.
A Surprise Visitor
This afternoon in Foundation and Year One we have been appreciating the beautiful things around us. We learnt this can help how we feel, by taking time to stop, and appreciate the small things in our life that we may take for granted. We went on a nature walk to see if we could do this first-hand. However, we all got a massive shock when a surprise visitor came to see us!
Ukraine Collection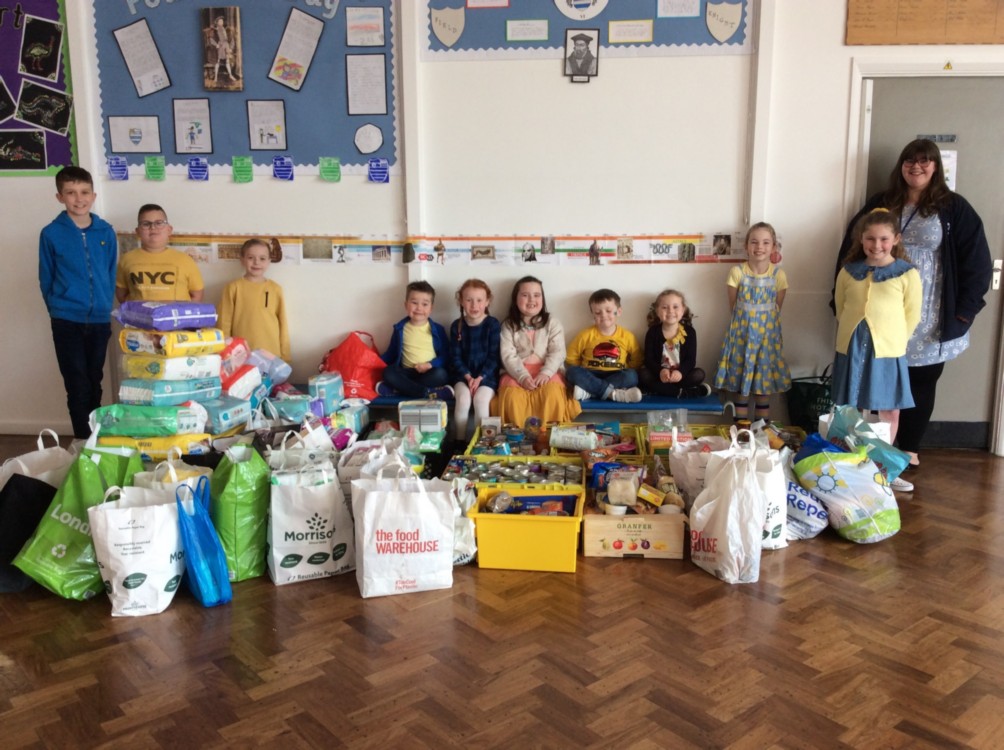 Miss Purshouse would just like to say a massive THANK YOU to everyone who donated to our collection for Ukraine today. We will be dropping our donations off tomorrow afternoon. Thank you again for everyone's support!
Travel Plan Team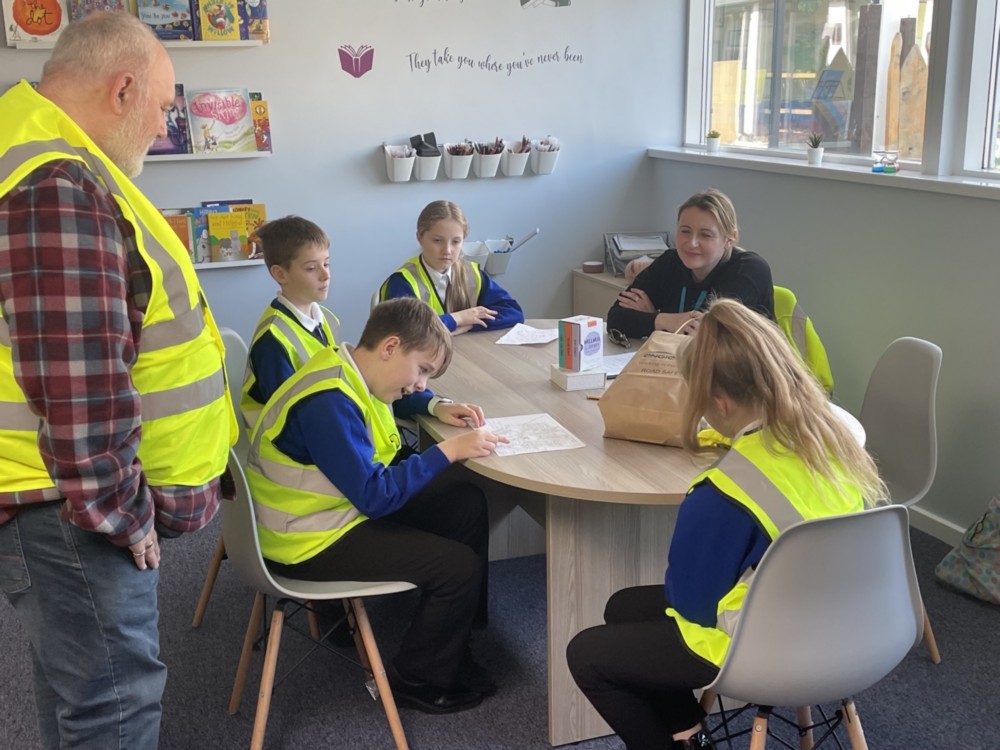 Our Travel Plan team met with The Highways and transport team at EQUANS and the council to discuss their plan and the actions needed to improve safety concerns. They walked around the village discussing key hot spots and danger zones. They want to do something positive to make things better for future pupils and the whole village! Keep up the great work!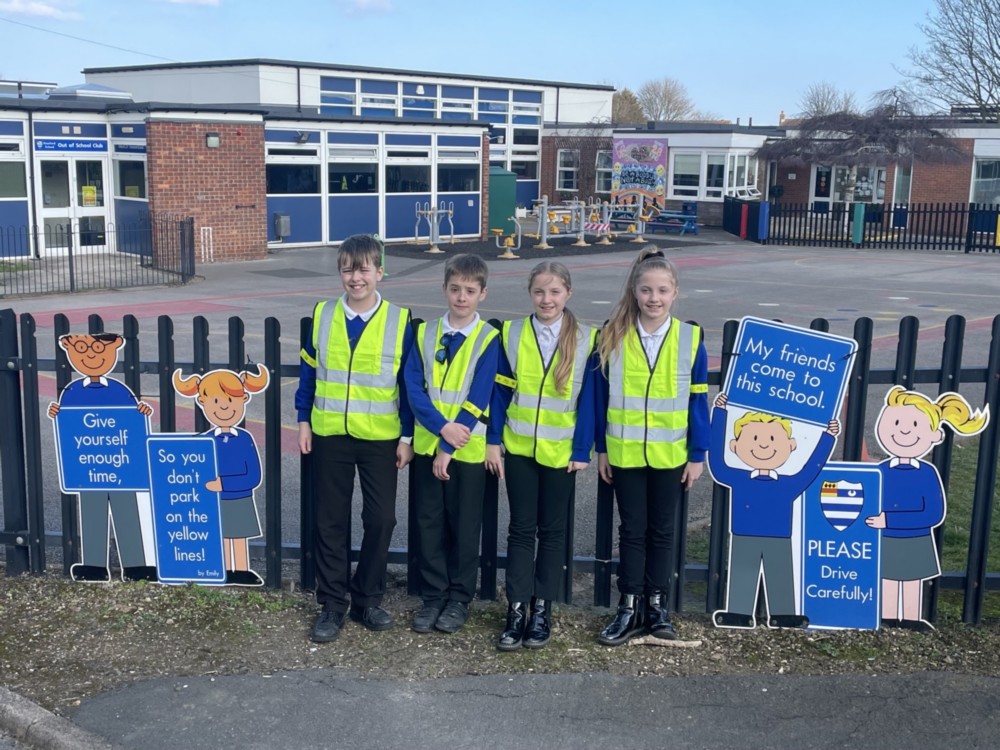 Comic Relief 2022!
Pumpkin Class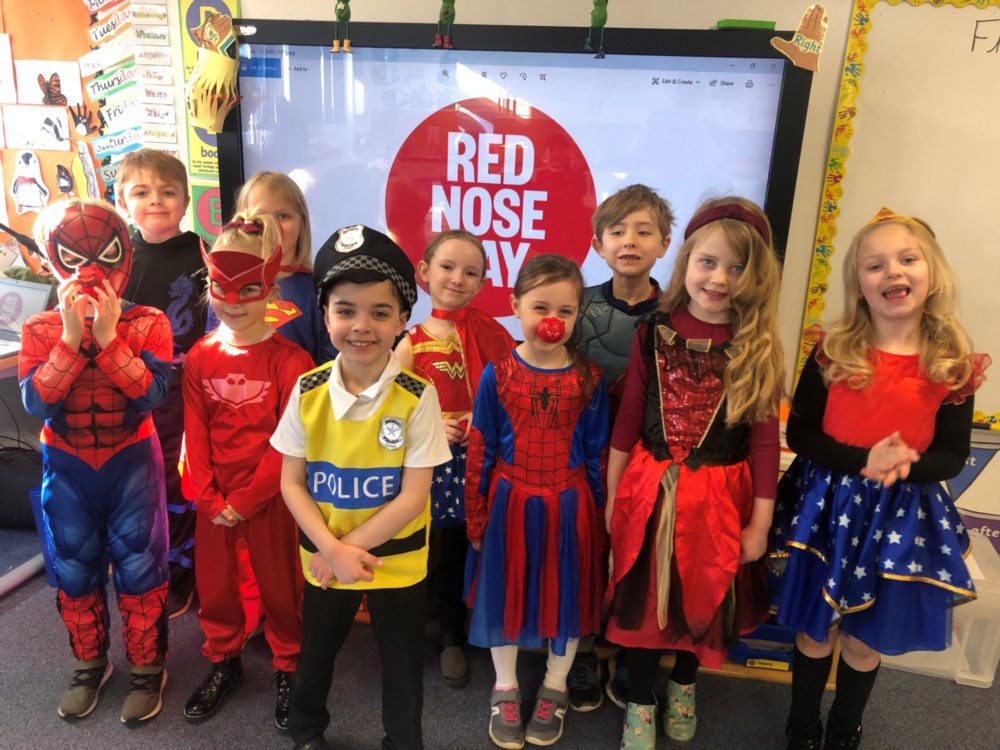 Pumpkin Class enjoyed choosing different things to wear for Red Nose Day. There were lots of funny red noses, lovely own clothes and amazing super hero outfits. Well done everyone for taking part for Comic Relief.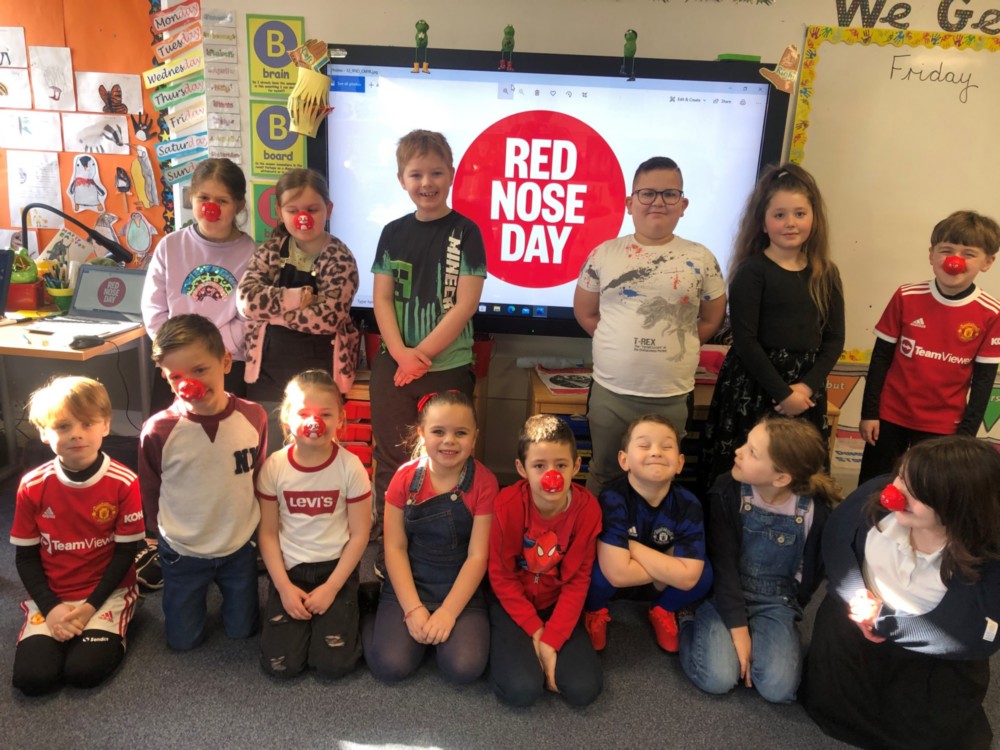 Poppy Class
Today the children enjoyed either dressing in casual clothes or as a superhero of their choice......and they just showed that heroes come in all forms. They are not just those in movies & on the TV.... but people who make a difference to our daily lives.......even teachers or TAs. Miss Perrin is now a little worried that she is going to be replaced by her 'mini-me'.
Juniper Class
Juniper class had a great day celebrating Red Nose Day!!
Civic Awards
A huge congratulations to our pupils who were nominated by Mrs Hackfath at the Civic Awards!! They had a great evening and we are all extremely proud of them! Well done! 🌟
Road and Bicycle Safety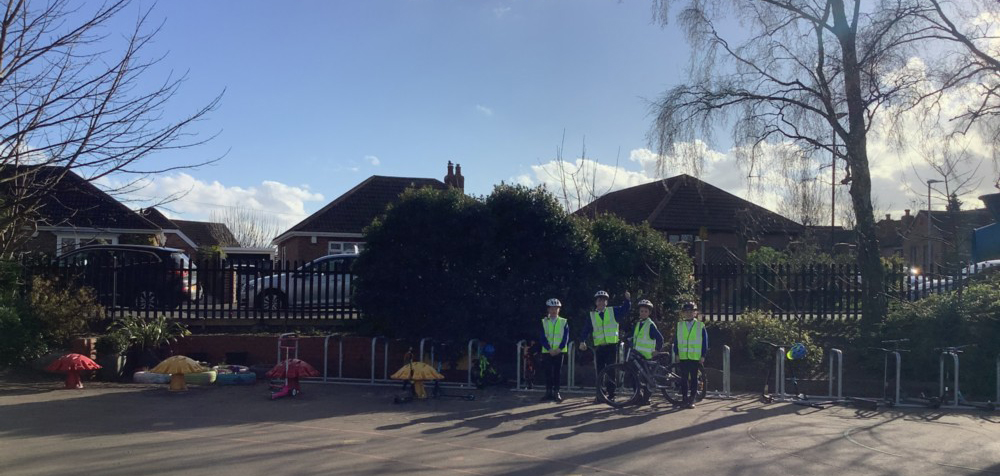 Our superb Travel Plan committee have been working very hard, alongside ENGIE, Lock-It-Safe and the Road Safety Team to help promote safety of our local community when travelling to and from school, and around our village.
What do you think to our new bike racks, scooter pods, hi-vis jackets and bike helmets?
We have lots of exciting information to share with you soon from our Travel Plan Committee - watch this space!
Gymnastics
Our PE topic this term is Gymnastics. Mr Dean has been teaching us how to use the apparatus to move, balance, counter-balance and worked in small groups to create a routine.
Thank you to some of our talented gymnasts who were supporting and coaching others in the class.
S - I have loved using the apparatus today, I was a little scared at first because it seemed so high, but I just used the balancing techniques Mr Dean showed us.
L - We worked well as a team and H helped us with ideas for our routine from her gymnastics lessons.
Children's Mental Health Week
As part of our Children's Mental Health Week (which was on Friday 4th February), we are really proud that with your generous donations we have raised an amazing £146.69!
With this money, we decided that we would like to donate to Aghan Aid, to help the families that have been devastated by the recent events. The amount we have donated is going to enable a family to have a waterproof shelter to live in and 40 apple trees to plant – this will support the family not only with food, but also financially.

Poppy Class
On Friday the children were encouraged to express themselves by showing their personality through their clothes.
Pupil Voice – Express yourself day
Expressing yourself means being who you want to be
Everyone is different but that's ok because the world would be boring otherwise
Expressing yourself through clothes is one way to help your mental health
During this week we have discussed how important our mental health is.
We created our personal support bubble. This shows all the people who can support us when we need help. It's important to reflect on those who care for us, and how lucky we are to have a network there to support us.
Rights Respecting
Foundation Stage
On Friday we looked at one of our Human Rights. The right to be ourselves, the right to be different, the right to be heard.
We listened to the story of Rosa Parks and compared this to Elmer the Elephant. Rosa fought against being different and segregated and Elmer didn't like being different either. We learnt that it is GOOD to be different, it is GOOD to be ourselves and we are all AMAZING!
To show our work, we each made a 'patch' in the pattern we liked and we glued them all onto Elmer. We love our display do you?
'I drew dinosaurs because that's what I like.'
'I drew flowers because they make me smile'
'I drew rainbows and unicorns because I love them.'
'My patch has stripes because I like the pattern.'
United Nations Convention on the Rights of the Child- UNCRC
Pumpkin Class have been learning all about this special promise that most countries have made to look after the rights of all children.
W- The UNCRC is there to make sure that all children are treated fairly
P- All children have the right to eat healthy food and to drink clean water.
D- The UNCRC tell us that all children have the right to feel safe.
H- All children have the right to go to school. This is called getting an education.
C- I think it is good that the UNCRC are making sure that all the children in the world can have a say. People should listen to children.
M- Everyone is the world has rights. It is important to treat everyone the same.
Behaviour Discussion
Pumpkin Class discussed good and bad behaviour choices and they reflected on their own behaviour in school. They worked co-operatively to discuss scenarios and sorted the pictures into 'Acceptable Behaviour' and 'Unacceptable Behaviour.'
L- I always sit nicely in lessons and I always like to listen carefully.
C- I think it is important to share the equipment with everyone. I don't like it when people snatch things.
H- Talking in lessons can be good if it's about our work. It's rude to talk when Mrs. Brady is speaking to the class.
D- Pushing isn't good because someone could get hurt.
A- I am always polite and I say 'please' and 'thank you.'
P- I always have kind hands. I care about my friends.
J- I love to be a Behaviour Ambassador and help my friends make the right choices.
H- Our class motto is 'We Get On.' We try to be friends and get on well together.