Geography
Intent:
The Geography curriculum at Stanford School is unique. It is broad and balanced with a breadth of engaging opportunities. We want to enable children to be secure in their geographical knowledge, as well as having an awareness of being global citizens and an understanding of how we can take better care of our planet by identifying current issues linked to climate change.
Implementation:
The Geography curriculum is purposeful and relevant to the pupils. The knowledge and skills pupils acquire, build on their previous learning, allowing them to transfer key skills, knowledge and concepts to their long-term memories. Geography is carefully planned and sequenced in order to promote progression and development of key skills as children advance through our school.
We focus on learning about human and physical geographical features, introducing children to a wealth of new vocabulary and concepts through a range of meaningful, engaging and relevant contexts. We also encourage enquiry-based learning and use of cross-curricular maths and writing skills through promoting field work as an essential part of geography.
In addition to this, we believe it is important that children are suitably equipped to be able to use and analyse a range of different maps and have secure place knowledge.
In each year group, children focus on important global issues, through their geography, SMSC, RE, science and English lessons, as well as during assemblies and through fundraising.
Impact:
We are proud of the achievements of our pupils in Geography. Our pupils fluently apply their skills and knowledge within Geography and make connections to their existing knowledge and to other curriculum areas. The impact of the children's learning in geography can be measured not only in their cross-curricular topic work, but also through our outdoor learning and application of language and knowledge in writing and reading lessons.
Finding Out All About The World
The Sunflowers have been learning all about the seven continents of the world. They looked at globes and atlases and enjoyed researching lots of interesting facts.
T- We enjoy singing this song, it helps us remember all the continents.
A- The video shows you where all the continents are.
J- I'm getting better at finding all the continents on maps.
LQ: Can I recognise how things change?
LQ: Can I add features to my map?
In preparation for our teddy bear's picnic tomorrow, Seedlings class have been busy baking teddy bear biscuits inspired by our toys themed work. Children counted the number of spoons, measured the ingredients and explored the mixture both before and after they had been cooked. We have also drawn maps that we will follow to help us find our way there. Children learned about the different features on a map, such as a path, bridge, stream and woods. All we need now are our wellies and teddy bears!
Reduce, Reuse, Recycle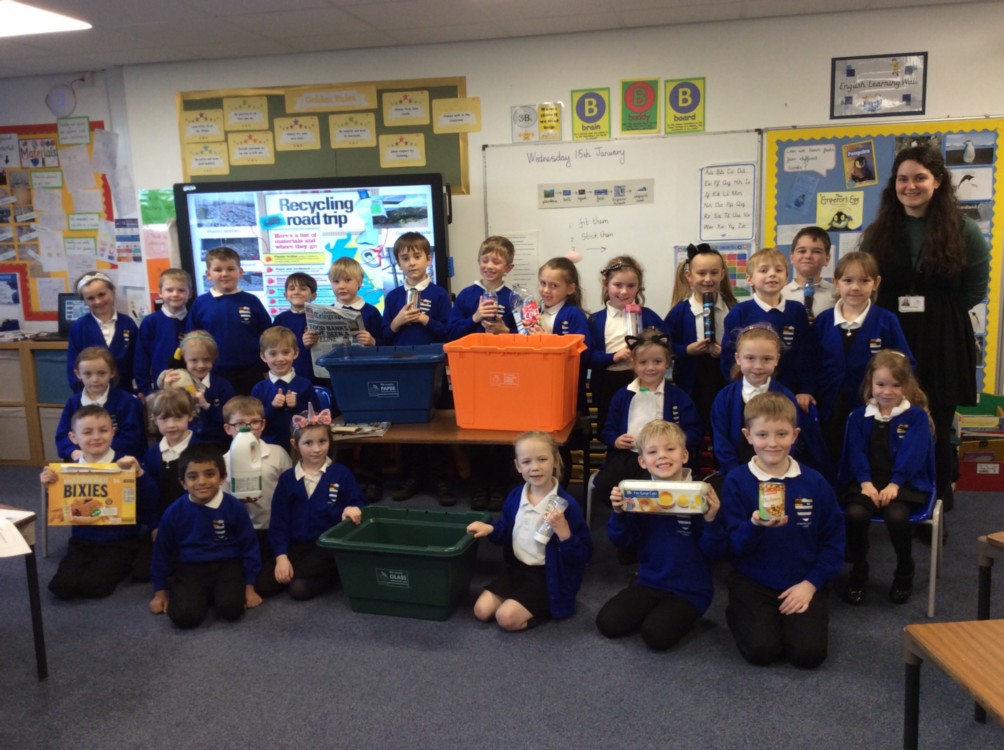 Today we have had a visitor from North East Lincolnshire County Council to show us how to use our bins properly at home.
Jenny showed us how to 'wash and squash' our plastic bottles before putting them in our orange boxes. She also showed us on a map where all our recycling goes.
We are doing a competition to design posters for the new bins around Laceby. So keep watching out for the winning posters.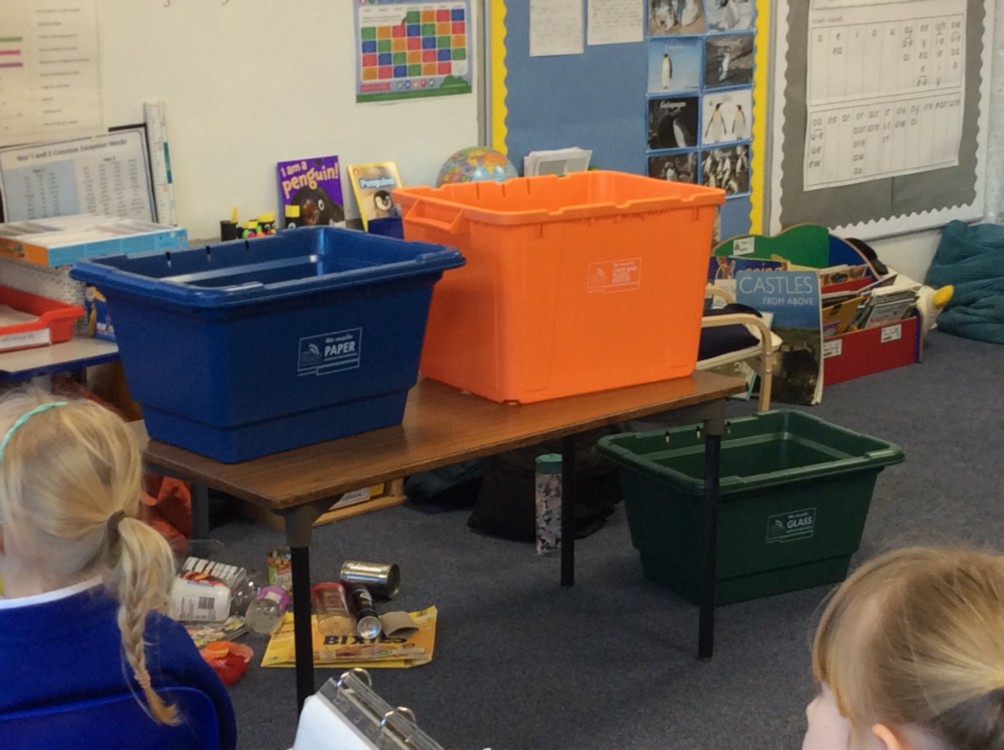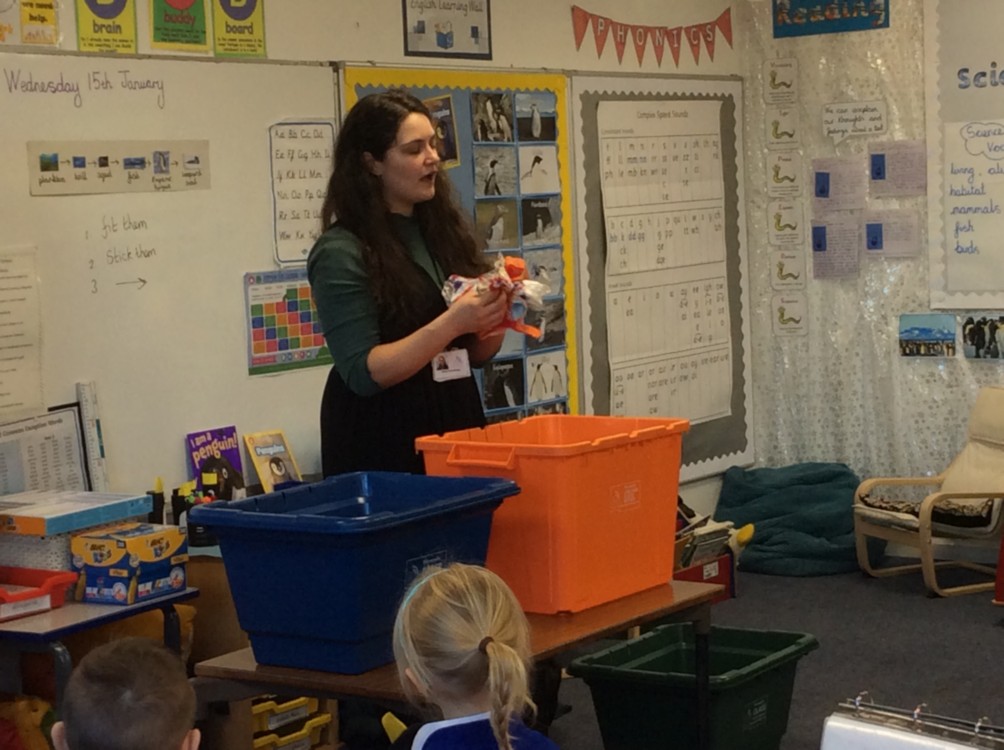 Year 2 Visit The Humber Bridge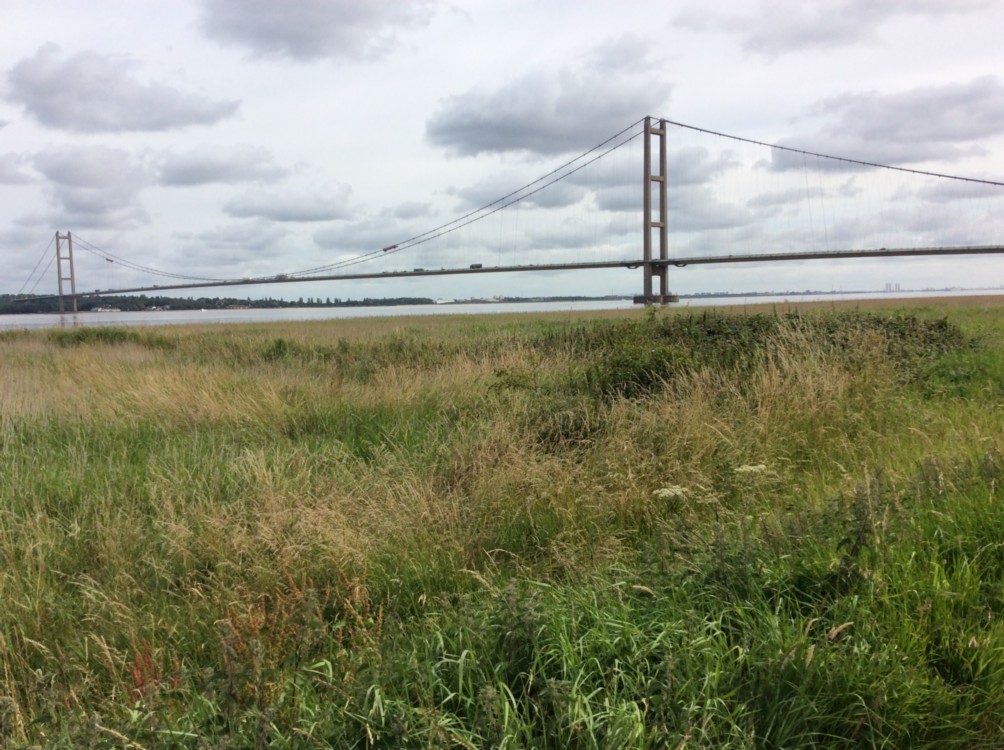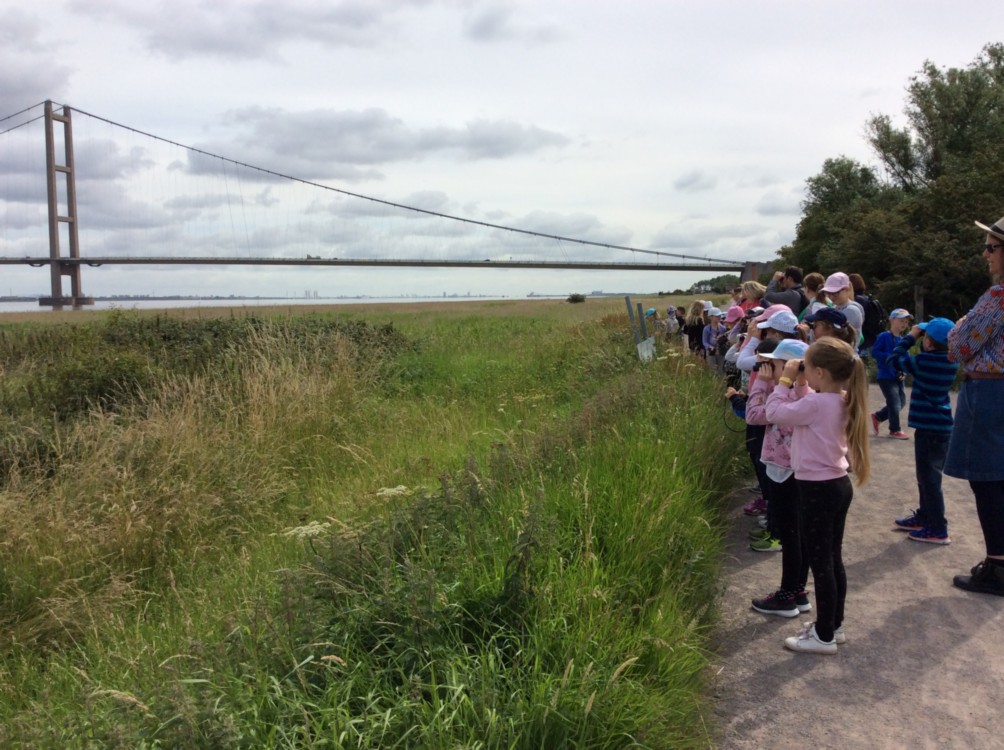 Today we visited the Humber Bridge. We have been learning all about the River and how people used to cross the river to Hull by ferry.
We have studied aerial photos, maps and OS maps of the area but today we got to visit it for real!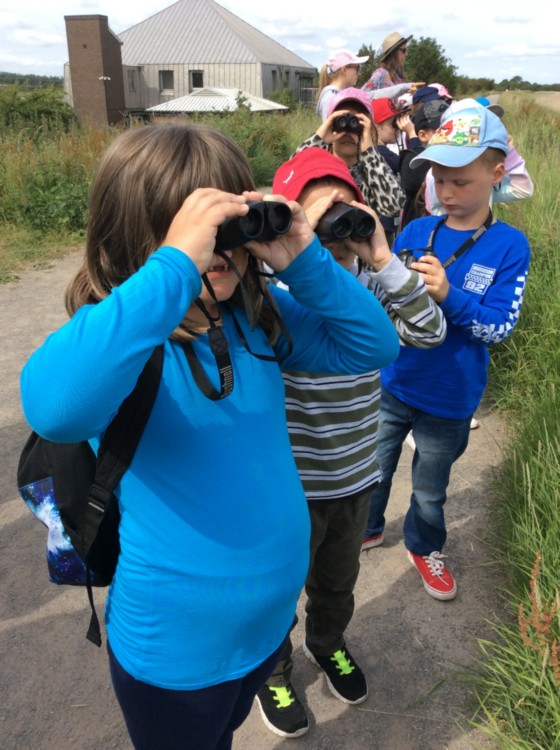 It was amazing to see the bridge so close. We looked through binoculars to see the traffic crossing. We also saw boats going under the bridge.
Tomorrow we are planning to draw the bridge to show others what we saw.
Geology Rocks!!
Linking to our English book and our learning about rocks we arranged for a geologist, Mr Evans, to come and talk to us about rocks, volcanoes & fossils. He brought some of his collection of different types of rocks and fossils for the children to look at and handle.
The children really enjoyed this experience and had lots of questions for him. He was very impressed and surprised by our knowledge of rocks and the questions that the children asked. The children loved handling the fossils and the different types of rocks.
Can I learn all about Africa?
Mrs. Warton gave a special talk to Sunflower Class today all about her trip to Africa. She told them all about her exciting safari trip and showed lots of photos of all the different kinds of animals she saw. The children learnt about the different landscapes in Africa and also about the climate.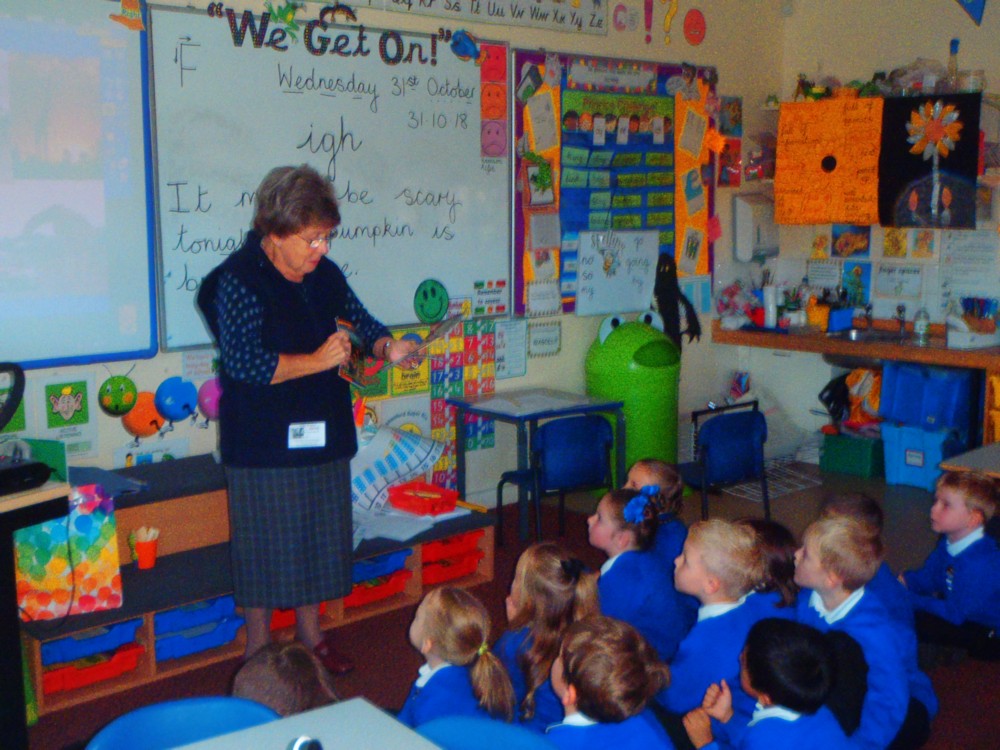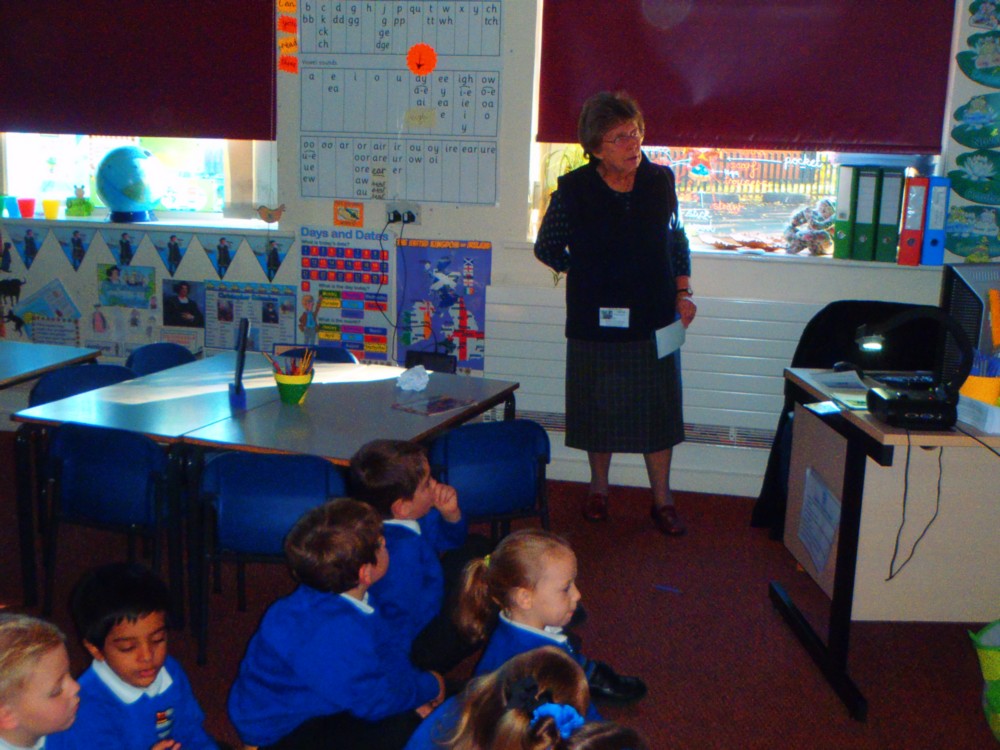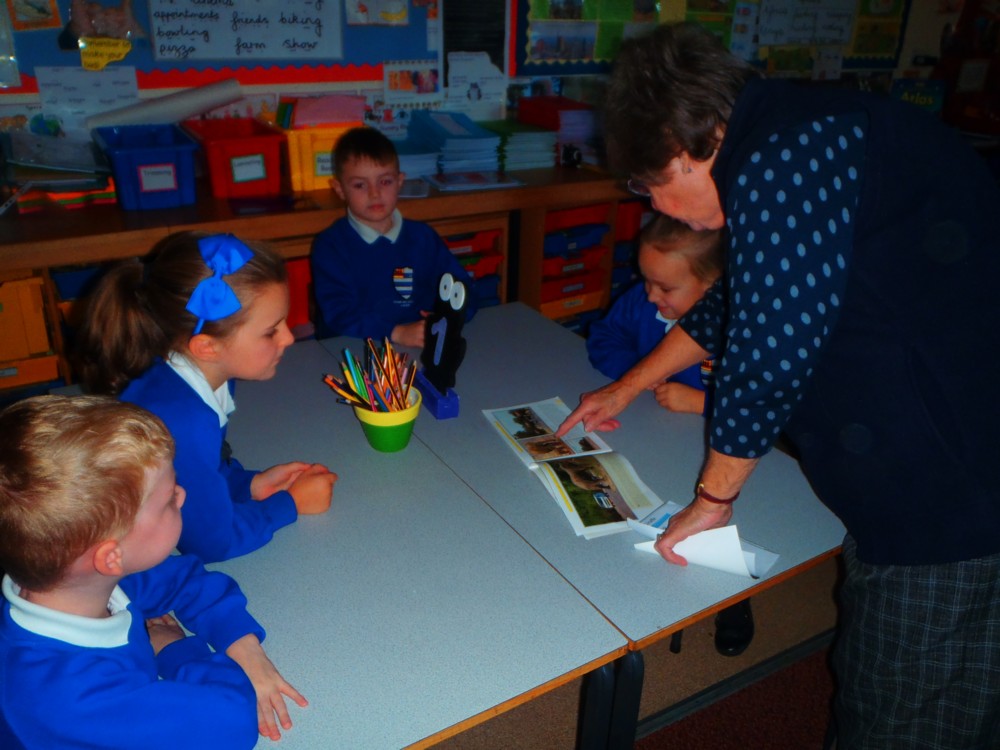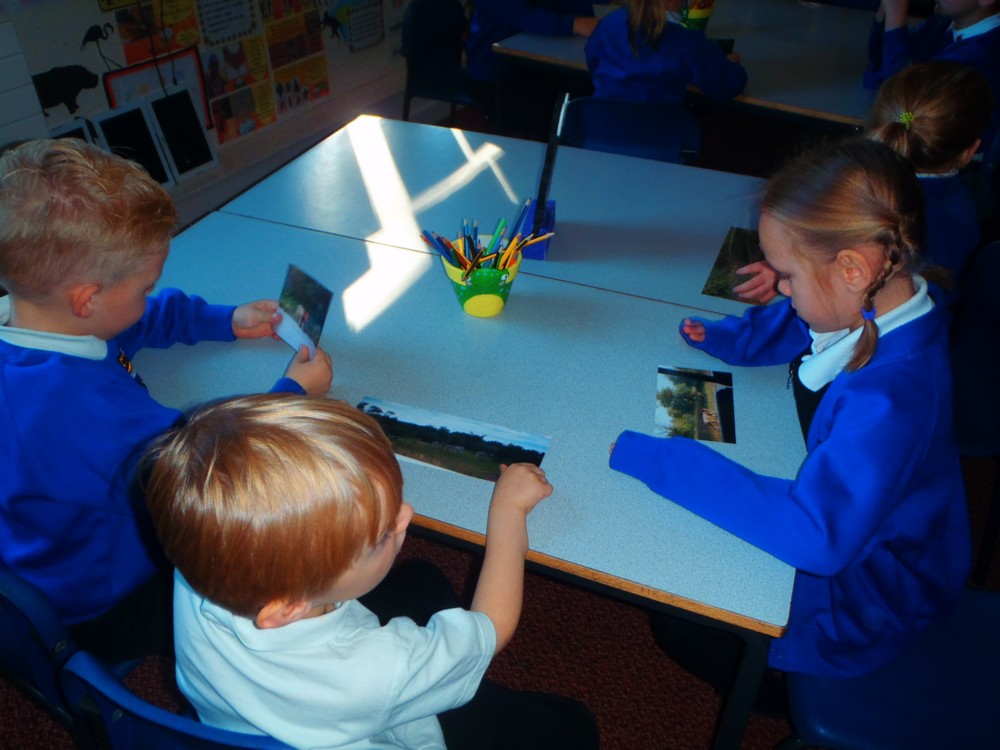 C- I really liked the pictures. It was kind of Mrs. Warton to share them with us.
L- I liked the picture of the lion because I hadn't seen a real lion before.
H- I was interested in the hyena. I can do it's laugh.
T- I liked the ostrich picture because I know they can run fast.
F- I enjoyed looking in Mrs. Warton's guide book at the leopards.
Mrs. Brady- Thank you to Mrs. Warton for such an interesting talk. The children will be able to write lots of exciting safari adventures now!
Can I learn about directions: North, South, East and West?
The Sunflowers have been learning about Christopher Columbus and how he navigated his ships using a compass. Today they navigated their way around the playground using their own compasses.
Can I research features of a location and present them in a persuasive leaflet?
Year 6 completed some fabulous cross-curricular work recently, where they were able to display their new-found knowledge about a part of South America. We focussed on Brazil and the children used sources to research many different aspects of human and physical geography of the area. They then applied their knowledge of persuasive and informative writing to present their findings in a meaningful and interesting way.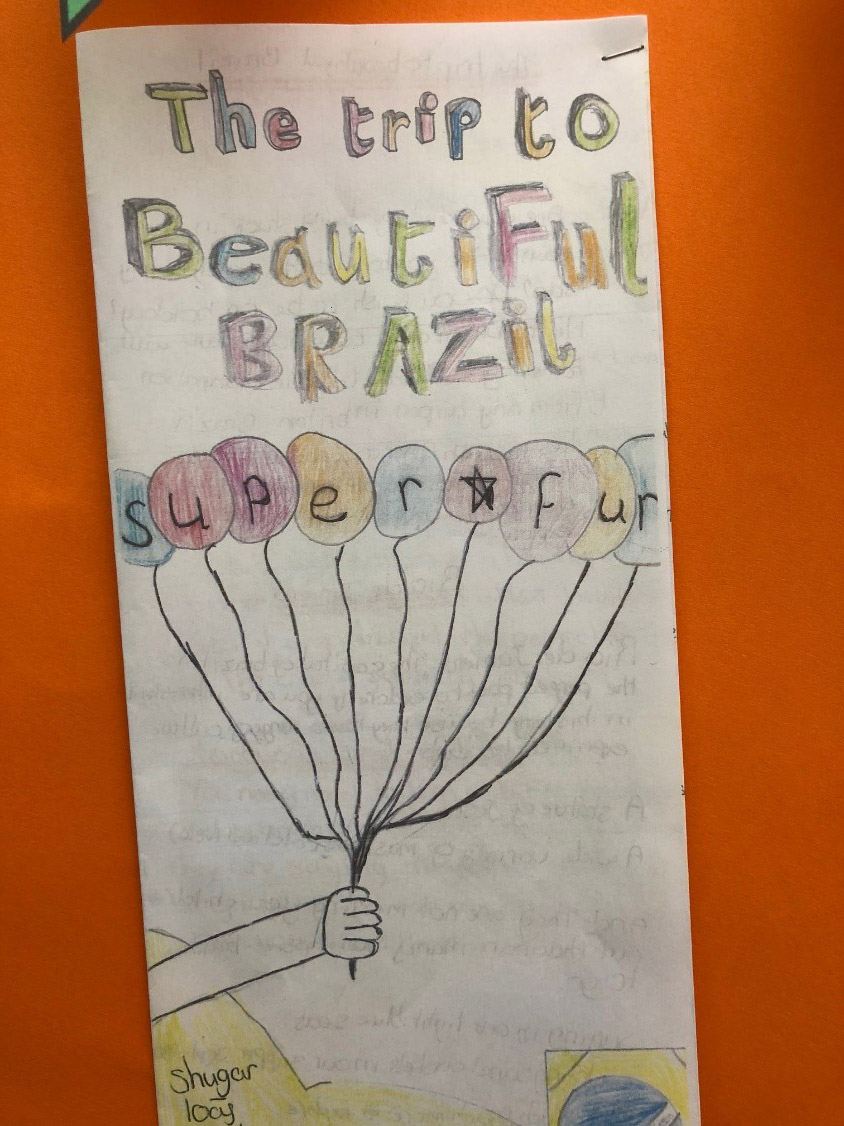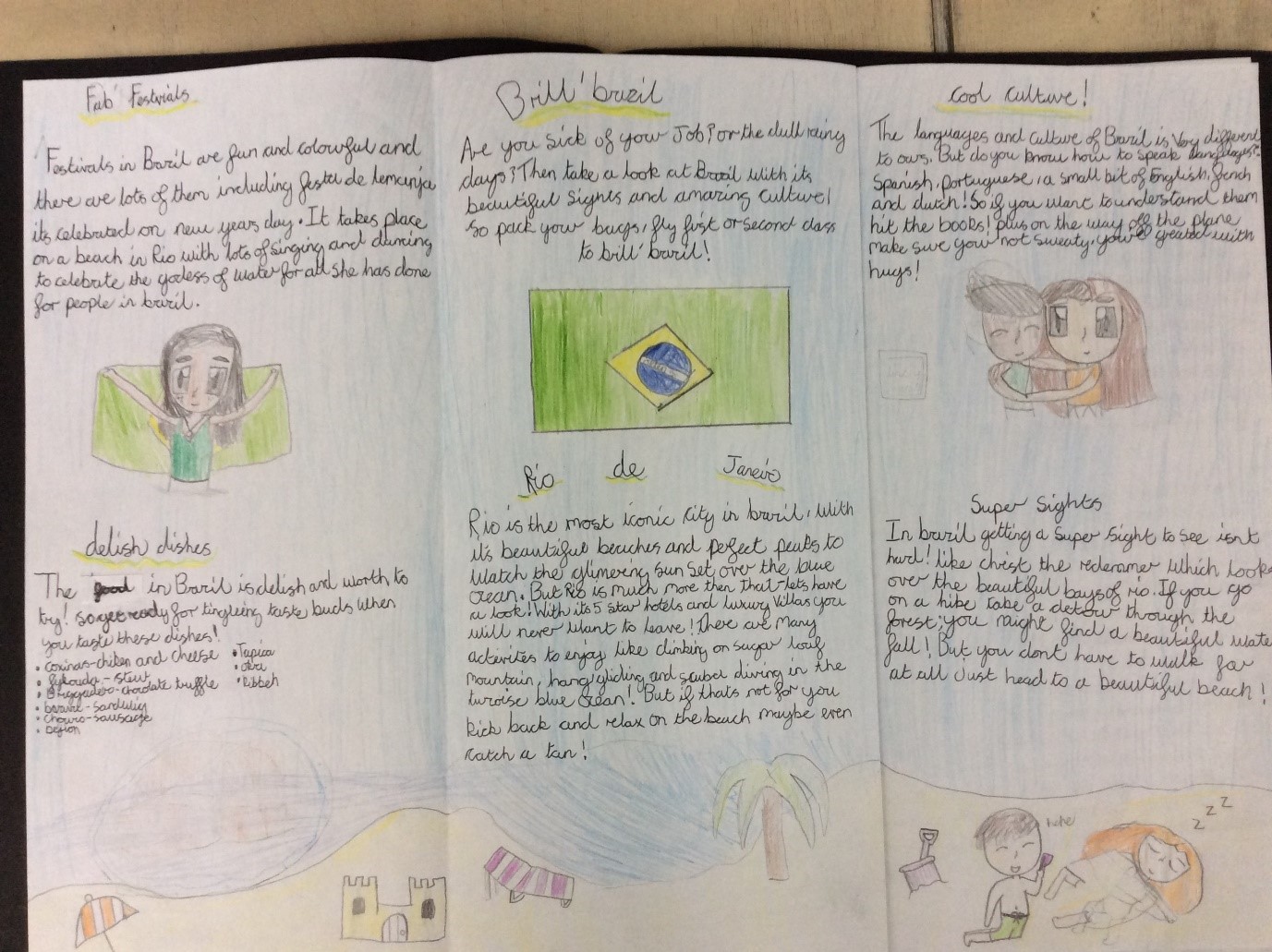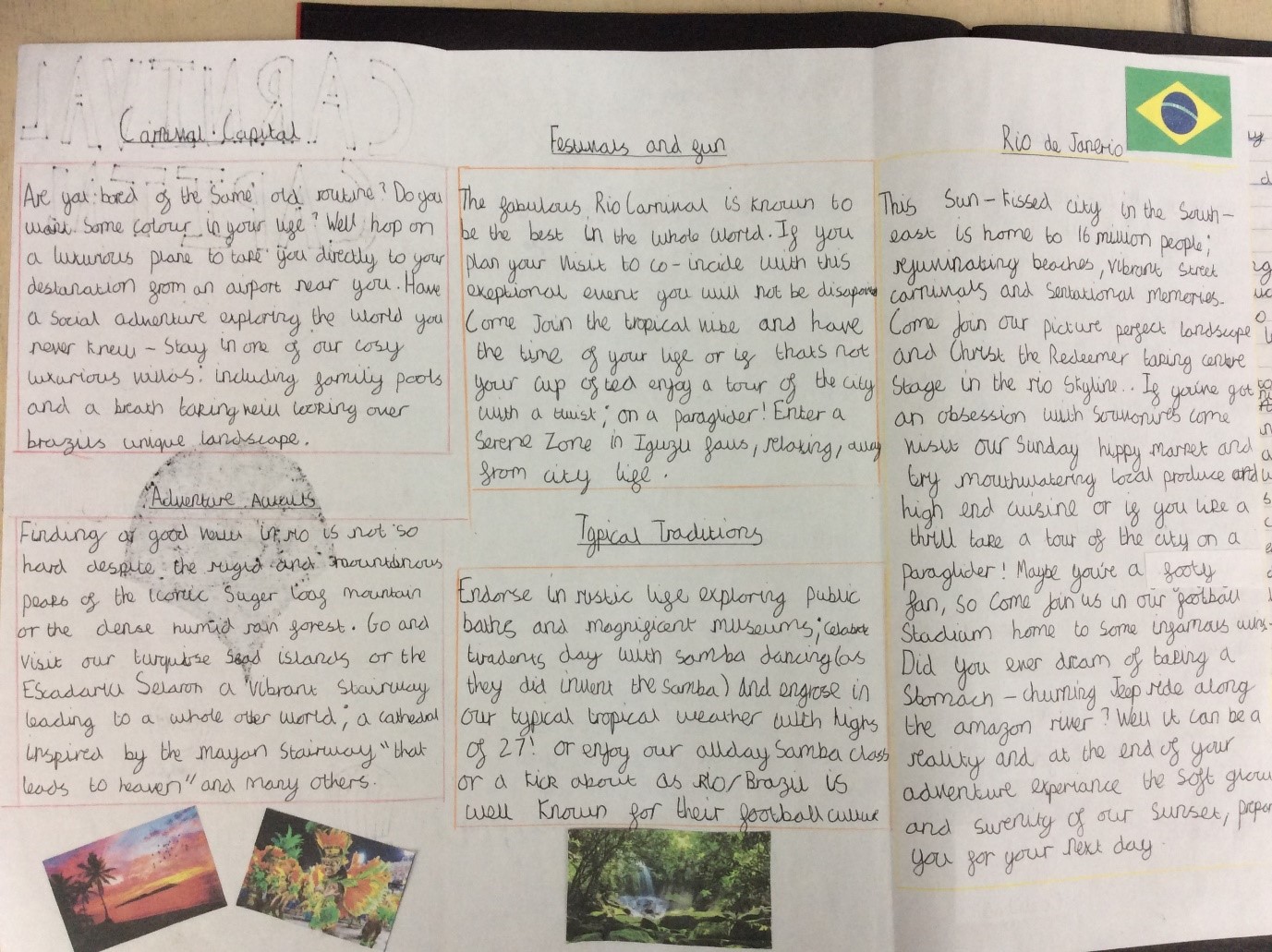 Beijing Calling
As Pumpkin class enjoy learning foreign languages we arranged for a video call to Beijing so the children could learn about China and its language Mandarin. Approx 1 billion people in the world speak Mandarin making it the most spoken language in the world.
The children were able to speak to a teacher called Jining Wang who lives in China's capital city. Jening showed us what her home looked like and showed us pictures of China's famous places – the Forbidden City and the Great Wall of China. She then taught the children how to say 'hello' and 'goodbye' in Mandarin.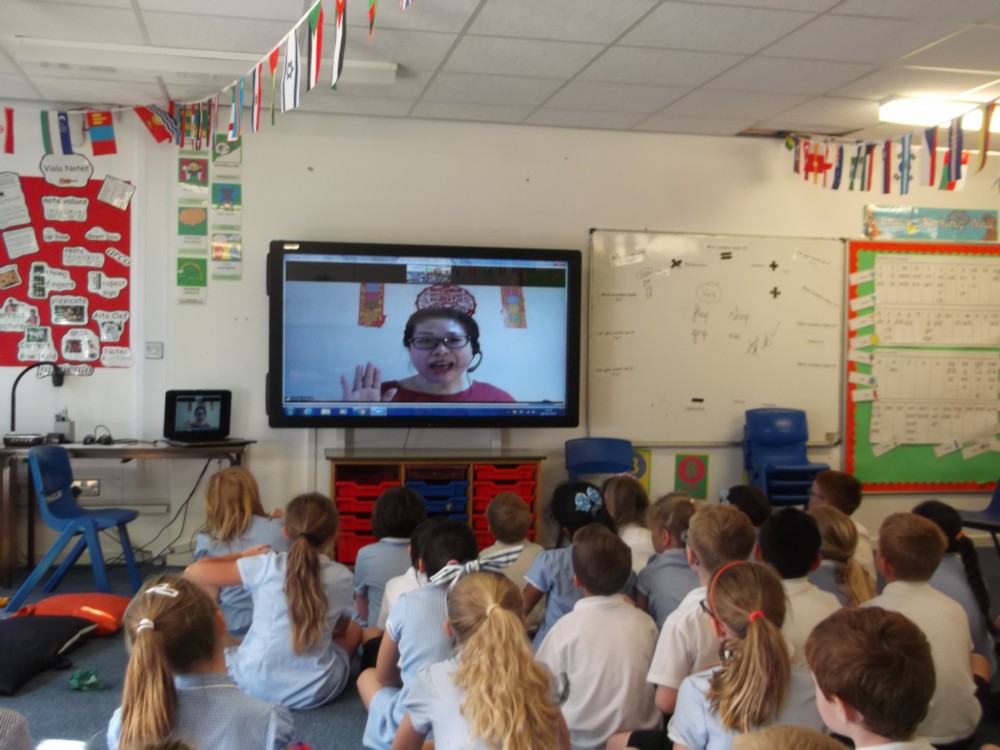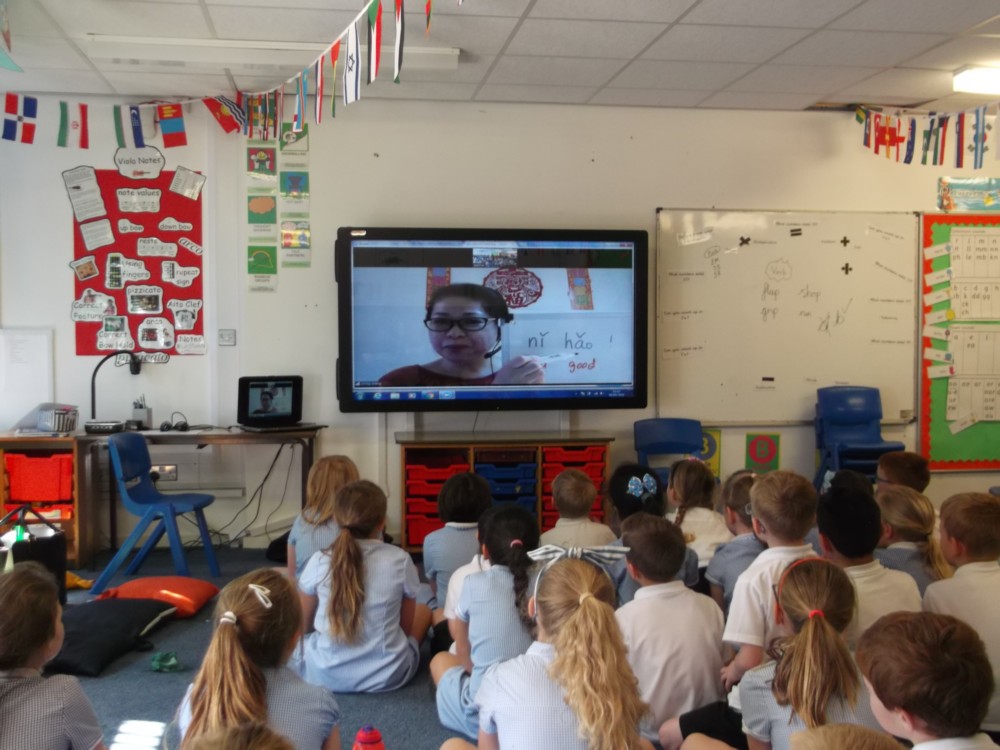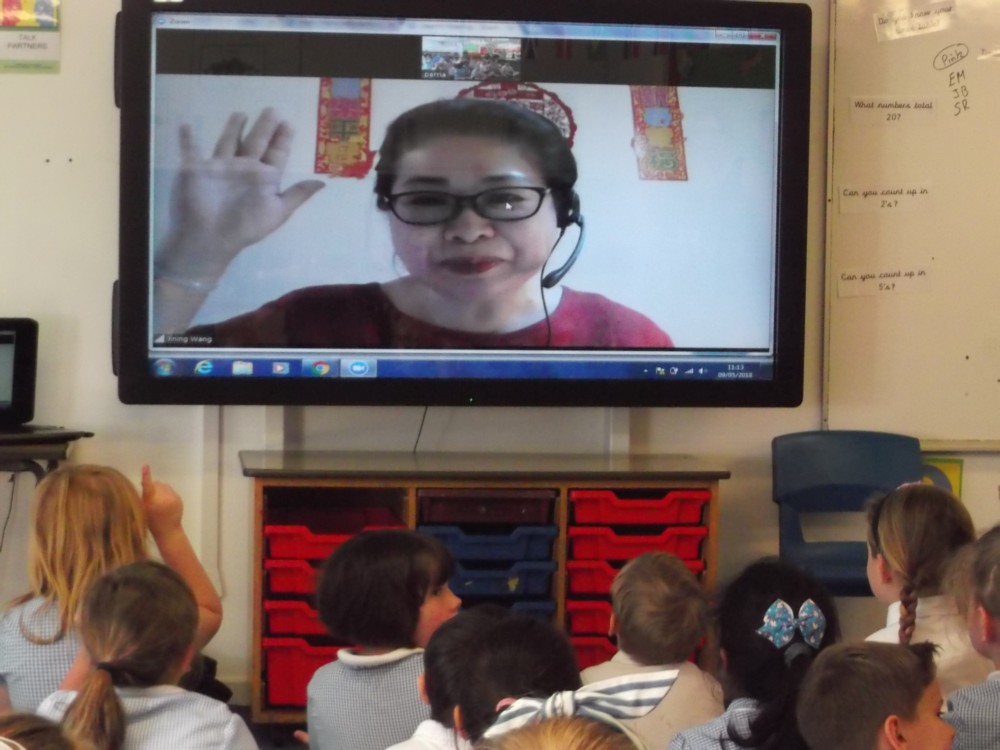 The children were really quick to grasp the language and the teacher was very impressed with them. She tried to catch the children out with a game of Simon Says but the children were too clever to be caught out!
This was a fantastic opportunity for the children, some of whom have never had video calls before, and they really enjoyed it. They were talking about it all day they were so excited.
见 (zài jiàn): See you again!
Can I practise my map reading skills?
Sunflower Class have been learning about directional language and how to read a map. Oliver H- I enjoyed finding all of the crayons using my map. Mollie- I liked learning how to read a map. Jamie- We've learnt about compass directions. Isla- I liked going outside to use the maps. Joshua- We found things using maps to help us.
Can I explain the water cycle?
As we have been learning about how the rocks are formed we thought we would look at water. The water we have now is the same as when the Earth began and before life was created. It moves in a continuous cycle call The Water Cycle.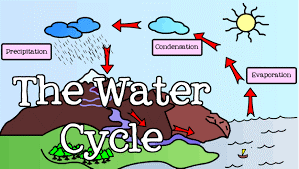 We watched a video to show this amazing process.
We then tried to make it rain in the classroom.
We got a sealable bag, water and food colouring. First we labelled the bag with the different processes: evaporation; condensation and precipitation, then we added the food colouring and the water.
We then attached them to the classroom window. As the classroom warmed up the water levels dropped as the water had evaporated. When the classroom cooled, or the warm air touched the side of the bag neat the cool window the water vapour condensed to form drops of water which ran down the side of the bag back into the pool of water at the bottom of the bag. It was really interesting to watch.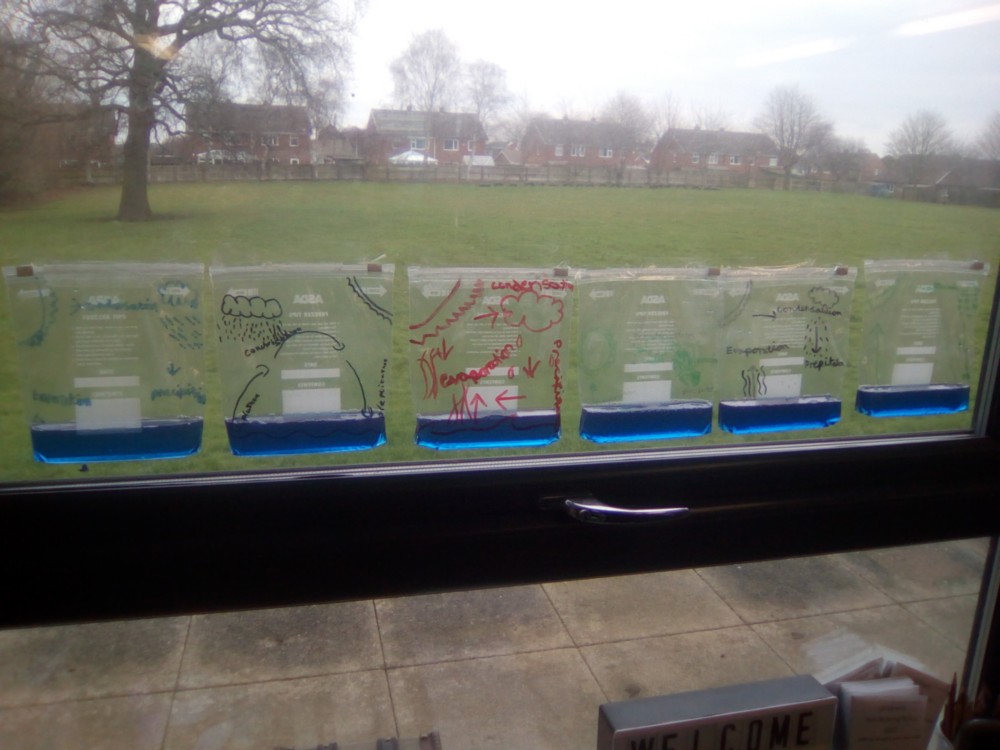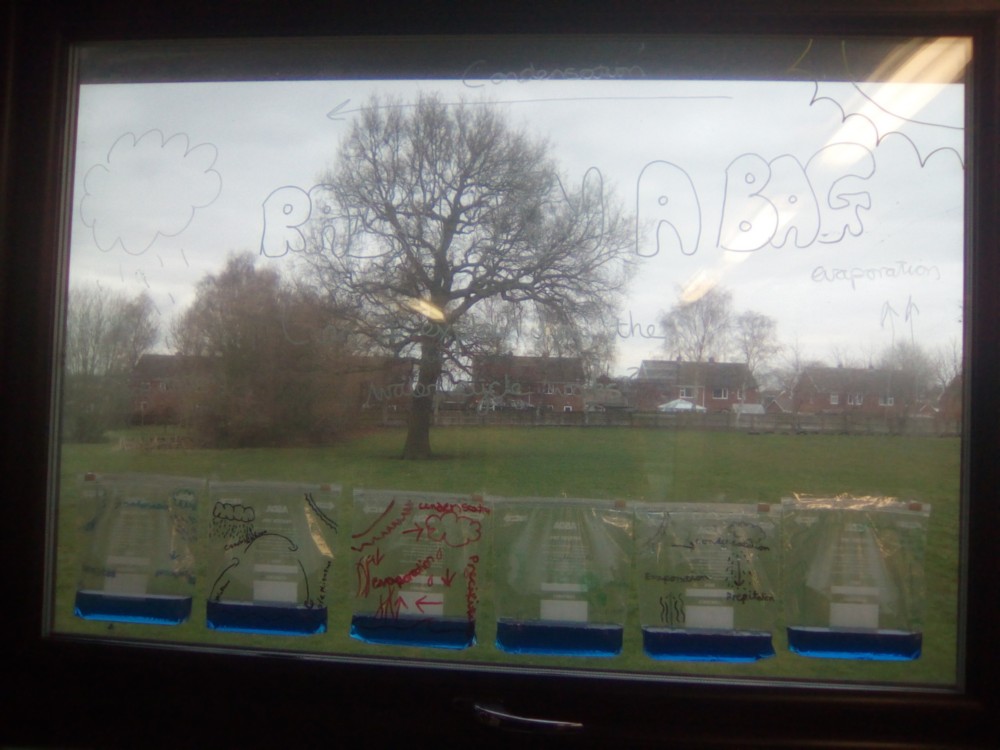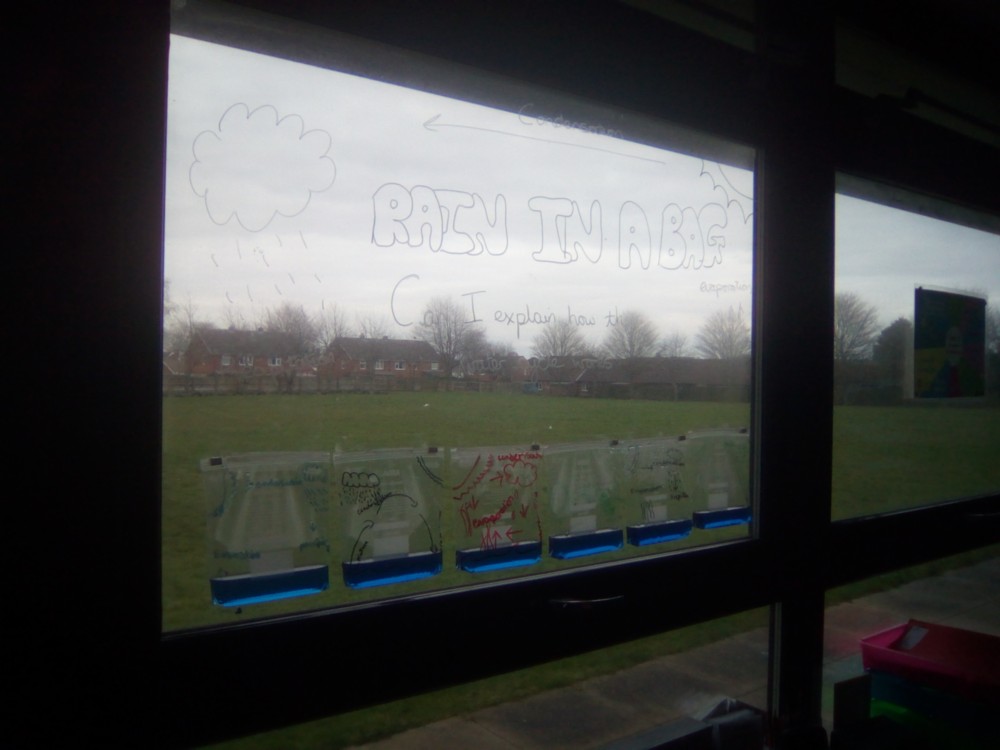 Access Cambridge Archaeology
As part of our Vikings vs Anglo-Saxons learning, we were very lucky to have a special visit from Miss Ryley from Access Cambridge Archaeology. We spent the morning finding out about the role of an archaeologist, looked at specialist tools and took part in a variety of exciting and interactive activities.
We examined and sketched real animals bones, using reference cards to identify the skulls of a lion, sheep, pig and full skeleton of a fox.
We utilised our map skills and compared maps from present day Laceby and Laceby a century ago.
We had to show our patience and use tools delicately to excavate seeds from mud and then identified what they were and where in the world they are from.
We examined excavated pottery pieces and worked as archaeologists would, identifying the type of pottery and which era it came from.
We looked st the different layers of soil and how we can tell how old something is based on where we found it and similar objects it may have been found with.
Finally we examined artefacts from different eras and discussed what we could find out about people living in those times just by the things they leave behind.
We had a fantastic morning! Thank you Miss Ryley!
"It was amazing to be able to touch the artefacts and the animal skulls, I've never done anything like that before" - Alfie
Can I use 8 point compass directions to give and follow instructions?
Last year we learnt about how directions can be given using compass directions. This year we have learnt to increase the accuracy of our directions by using 8 compass points.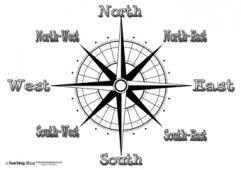 We went outside and drew a large compass on the playground. Then we played games where we had to run to different parts of the playground following the compass directions given. After that we went inside and used this knowledge to find our way around a map of a town finding places of interest and giving directions of our own.
The Fishing Heritage Centre
As part of our theme- learning about our local heritage, we visited the Fishing Heritage Centre in Grimsby.
Throughout the day we toured the museum, selecting which job we wanted to undertake on the fishing boat, learnt about the history of fishing and the fishing industry and even experienced what it would be like to work on the fishing boat. Did you know from the age of 14 you could work on the fishing boat?
We were also very lucky to be able to tour the very famous Ross Tiger Boat. It was amazing to see the ship and how it worked in the fishing industry. Our tour guides were men who had worked on the Ross Tiger so we were able to ask them lots of questions throughout the day!
We will be following our visit up by writing a recount of our brilliant class trip!