Art and Design
Creating Penguin Art
Pumpkin Class enjoyed creating pictures of different kinds of penguins on their laptops, using the 2paint program on Purple Mash.
A- I love drawing pictures and trying out the different colours and different sized pens.
G- I looked at pictures of real penguins first, so I could get the shape and colours right.
J- I like drawing pictures on Purple Mash because I can save them and work on them later.
Sometimes I do some more drawing at home.
L- I like penguins. I like to draw them.
Year 3 - Prehistoric Art
Here are the finished sunsets & cave paintings. We hope you like them!
Year 3 Hook Day - Art
In the morning we had 4 activities.
Activity 1 - Making cave art with handprints. We used chalk to draw around them then we smudged the chalk outlines.
Activtiy 2 - Sunsets. We changed the tone of colours by adding white to make it lighter and creating a sunset effect. When they are dry we will create a silhouette of Stone Henge to make them look even more beautiful.
Activity 3 - Cave walls. The children used the end of their brushes to create a blended effect for cave walls, This is called stippling.
Activity 4 - Research & sketching. The children researched prehistoric creatures and sketched them in their sketch books. We will use charcoal to draw them on out 'cave walls' once they are dry.
Year 3 - Christmas Cards, Design & Technology & Music
Our Project this term was to create moving pictures. We decided to link this to Christmas and make a card with flaps which hides hidden treasures and pop up figures inside. To link it further across the curriculum we incorporated QR codes so parents, carers and loved ones could hear the children sing Christmas carols from our concert. I am sure these are cards that parents will want to treasure for a long time!
Year 3 - being a designer
The children have learnt about the jewellery that Egyptians wore. Using this information they designed their own necklaces and created them. Aren't they great?
Black History Month
The children in Pumpkin Class have been finding out all about the life of American artist Alma Thomas. They discovered that during her life she had been treated very unfairly because of the colour of her skin. The children enjoyed exploring her art work and found her colourful pictures inspiring and so they decided to create some of their own.
Exploring the Art work of Claude Monet
This half term we have explored some of the artwork Claude Monet created in his Garden. We used paint to explore the use of colour and different brush techniques to create our own Lily pad pond paintings in an impressionist style.
Year 3 - Being an artist
The children enjoyed researching about the Egyptians. We looked at examples of Egyptian necklaces and found out that most were made from gold or breads, they had bright colours and repeating patterns, The children designed their own necklaces using these features out of paper plates. In addition to this we tried to make a replica of papyrus. The Egyptians were the first to make paper out of papyrus. They tore the papyrus into strips and laid the strips in layers horizontally and vertically. The sheets were hit to make the pieces stick together and then they were left to dry. We used brown paper which we tore into strips, dipped in glue and laid out in layers. Our method was much easier and equally effective. We can't wait to show you the finished products when they are dry!
Sculpture
Pumpkin Class were inspired by the British Artist Marc Quinn. Marc Quinn is a contemporary artist who was born in 1964. He creates very interesting and unusual sculptures which reflect his interest in art and science.
F- Marc Quinn made lots of hand sculptures. Mrs. Brady found out that he made lots of different hands out of bread in 1994.
C- We wanted to make hand sculptures and we decided to use clay.
H- The clay was difficult to do, so we used special clay tools.
R- I found out that Marc Quinn's sculptures show links between art and science. He was interested in making sculptures of parts of the body.
E- I squashed, rolled, cut and pressed my clay.
W- I tried to show my nails, veins and lines that I can see on my hands. I drew them with the clay tool.
Pumpkin and Barley Coaching and Collaboration
This afternoon, Year 2 and Year 6 collaborated together to focus on their sketching and shading skills.
As it was such a glorious afternoon, we decided to use nature as our inspiration and worked together under the oak tree in our school field.
E - I liked when O showed me how to make the grass and tree trunk look 3D by using the side of my pencil.
B - We drew half the picture each, it was really interesting to try to make out lines match up for the leaves.
Craft Club - Making 'God's Eyes'
A God's eye (in Spanish, Ojo de Dios) is an object made by weaving a design out of yarn upon a wooden cross. We had a go at making them ourselves. It was tricky at first but once they got the hang of it they were really quick at it!
Y3 - Art - Tone
In our Plant Art lessons we looked at paintings of Georgia O'Keeffe who focused on close up work of flowers. We studied how the petals were not one colour but had several tones of colour. We found out that 'Tone' means how colours are made lighter and darker. If we add white it is referred to as Tint/Tinting and if we add black it is referred to as Shade/Shading. The children had a chance to experiment with the tone of colours. We then tried watercolours were the strength of the colour is changed by adding water. The children really enjoyed this lesson.
African Art
Year 1s have been looking at pictures, colours and patterns of Africa and made headbands.
'We had lots of fun'
'I enjoyed looking at the pictures'
'The headbands are great!'
Craft Club
The children had lots of fun making friendship bracelets. They used a cardboard wheel to weave the threads, it was quite tricky but they got the hang of it.
It was a great time for them to relax and socialise with each other whilst making something lovely.
Finger Puppets
Pumpkin Class have been enjoying designing and making paper and cardboard animal finger puppets.
A- I have made all my favourite animals.
R- I did a texture by crayoning on top of my chair to make a bumpy animal skin.
J - I think I have got better at drawing animals.
D- I made sure I chose the right colours for my animals. I wanted them to look real.
What shall we make?
This week some reception children decided they wanted to make crowns. They selected the materials they wanted to use, problem solved to make them fit each other, worked together to help everyone succeed and were successful in their chosen challenge.
Well done to all those involved!
Animals
As part of our learning about animals, reception children are exploring crocodiles. We have learnt how to mix two primary colours to make the green we needed to paint crocodiles. We made a huge crocodile outside with wooden bricks. We also painted, drew and cut out crocodiles for a display. In the story making area we used wild animals to make stories about how a crocodile hunts and kills its prey. Look at the fun we've had along the way.
Year 3 Hook Day Art
On our hook day there were lots of activities for us to do.
One activity was making prehistoric jewellery. The children had to make salt dough and mould them into the shape of teeth and bones. Once they have been baked & painted we will make them into necklaces. On another table we make a cave wall background using watercolours. We researched prehistoric beasts and when the backgrounds were dry we used charcoal to draw our beast pictures on them.
Another table used their hands and chalk to make handprint art which has been found on cave walls around the world.
The last activity was creating a sunset effect using watercolours. When this was dry we added black paper to make the silhouette of Stonehenge. What a busy but productive day we had!
Remembrance
Willow class created some beautiful artwork and some wonderfully descriptive poetry as we learned about Remembrance.
Enterprise Project
Juniper class started to complete their enterprise project, ready to sell at the Christmas Fayre. One of the projects we are creating are rag wreaths.
Can I make a replica of an Egyptian Cartouche?
A cartouche is an Egyptian nameplace which the Egyptians would put on a sarchophagus so a person's soul would recognise their body when they reached the afterlife. To make this the children used clay to make their shape. They had to figure out how to write their name in hieroglyphics and carefully etch their name into the clay. Our next step is to wait for them to dry, then paint them to look authentic. Watch out for the finished products!!
Black History Month
The children in Pumpkin Class have been finding out all about the life of American artist Alma Thomas.
They discovered that during her life she had been treated very unfairly because of the colour of her skin.
The children enjoyed exploring her art work and found her colourful pictures inspiring and so they decided to create some of their own.
Painting
We have really enjoyed painting our families.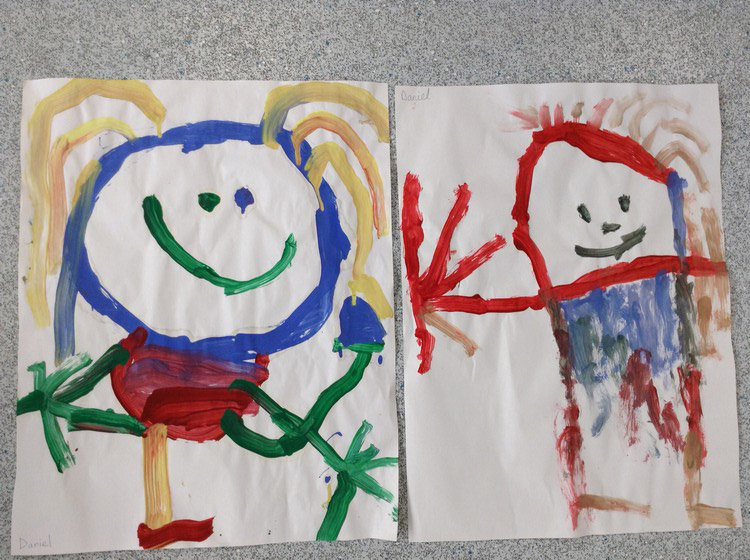 Can I create a replica of papyrus?
On our hook day we learnt that the Egyptians were one of the first civilisations to create 'paper' which they called papyrus. They used parts of the papyrus plan which they wove together. We used strips of paper which we laid out in strips and glued together. When they are dry we are going to use them to make Egyptians drawings.
Can I recreate an Egyptian Necklace?
On our hook day we researched Egyptian jewellery. We found out that they were big, had lots of blues & golds in them and a lot had eagles on them. We used a paper plate to make the base of our necklace, created a design and started to paint them. We can't wait to show you them when we've finished.
Nature Photography
In Year 6, we were inspired by Andy Goldsworthy to create, and photograph, some Nature Art. We used the Nature Area and school field to collect materials of different shape, size, texture and colour to create our 3D art pieces.
We created flowing patterns in concentric circles and explored different filters with camera. We will continue learning about different effects and filters using the cameras - keep checking our class blog for updates!
Clay coins
We looked carefully at a range of artefacts from Roman times including coins. We decided to design and create our own coin in Art and design. We experimented with using different tools to shape the clay and carve in our designs. We included our year of birth which we wrote in Roman numerals. We used a range of metallic paints to complete our coins.
Parts of a Plant
On Friday, Pumpkin Class created collages with felt to show our knowledge of parts of a plant. In Science we have learnt about the different parts of a plant and their purpose. We used our art skills of collage to cut felt and create our masterpieces. What do you think?
When civil rights, history & music combine with art
In music we have listened to a piece of music by The Beatles called 'Blackbird'. When we investigated further we discovered that Paul McCartney created this piece of music after he learnt about the struggles of civil rights for black people in America. We researched further into how people of colour were treat in history including slavery in America. We looked at the piece of music again to further understand the music then we created a piece of art to accompany this track.
Here is the link if you would like to listen to this poignant piece of music while you enjoy our art - Blackbird
Make Do & Mend
In history we learned about how people would need to repair and re-use their clothing during World War 2. During this time, one quarter of the population were in services that required uniform, so clothes manufacturing had to prioritise this. Ordinary people at home would therefore need to "make do and mend". Manufacturing toys was not a priority because the factories were re-purposed for the war effort, meaning that some families would take to making their own toys. Inspired by this piece of history, in Year 5 we have been making our own toy bunnies out of our old socks!
Year 1 Art: Fantastic Flames!
The Year 1 children are enjoying learning all about The Great Fire of London. In Art, they made fire and flame effects by experimenting with ripped and layered tissue paper.
A- My fire looks really hot. K- I am bending the tissue paper to make it look like the flames are moving. E- I scrunched up small bits, to look like sparks from the fire. E- If you put a different colour over the top, you get a new colour. H- I have enjoyed tearing the paper and making different shapes.
Tree Collages
Over the past three weeks Pumpkin Class have been creating tree collages using pumpkin seeds. We have already looked at why trees were important to humans, animals and the environment so we decided some art work would go nicely with this work. It took several weeks to design, create and paint the pieces. Here are some of our finished pieces:
Can I create a Mexican Mirror?
The Maya come from Central America. One of the countries situated in this area is Mexico. We thought we would bring some colour into the classroom by making our own Mexican mirrors. Central America is known for its bright colours and the intricate decorations.
The children enjoyed making them and they look really effective.
Mayan Masks
On our hook day we learnt a little bit about the Mayan culture. We found out that there are lots of similarities with the Egyptians as the Mayan temples were pyramid shaped and they also put the bodies of important people in sarcophagus and put death masks on the bodies so they could be recognised in the afterlife. We then looked at different types of masks and tried to create our own. The children had to design their mask and the use tiny bits of paper to create a mosaic effect. It was very fiddly and took a lot of sticking to complete each mask but the children persevered and made some fantastic masks.
Y4 Science & Art come together
As a part of Science Week the children had to design their own 'Robobug' which could be built to use in space exploration. Today the children were able to finish off their creations and give them some colour. Here is a selection of them. I could just imagine them in space. They look amazing!
Landscape Art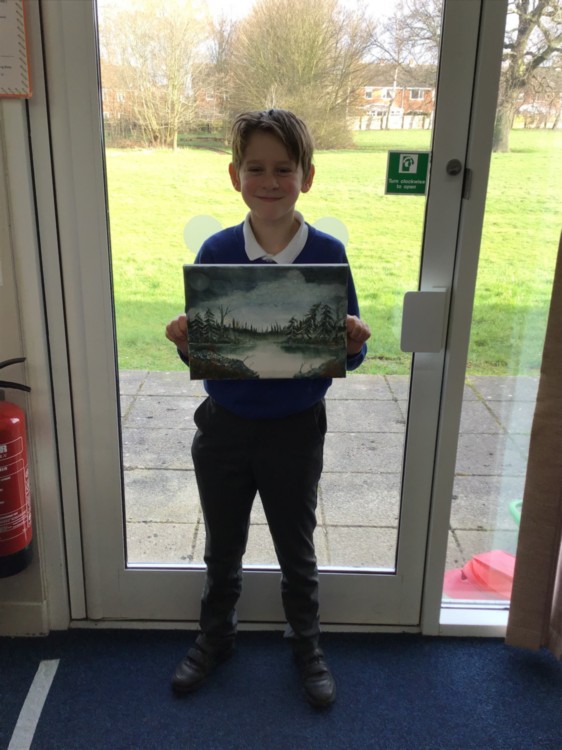 Wow! Well done to one of our very talented pupils in Y6 - a remarkable canvas art shared with the class! A wonderful masterpiece!
Jewellery designers - Can I make a bracelet?
In Art we have looked at different types of jewellery. Today we looked at bracelets and had a go at making our own by weaving wool. The children really had to concentrate to make sure they were following the pattern and to ensure that the wool didn't get knotted. It was also very therapeutic and the children enjoyed making them.