Assessment
Assessment which informs teaching and learning is a key feature in the children's education at Stanford Junior and Infant School. We use assessment to ensure the most effective learning opportunities are provided for children throughout their time in school in order to ensure everyone meets their full potential and that there is a continued raising of standards.
The purpose of our assessment is-
To involve each pupil in their learning and encourage them to take responsibility in moving on to their next steps through reflective learning and target setting.
To use a range of 'Assessment for Learning' tools effectively such as success criteria, partner talk, clear objectives, reflective learning, self- assessment and quality feedback and marking.
To inform focused teaching and learning outcomes that meet the needs of the individual child.
To provide evidence through the tracking of pupil progress which will identify trends, development needs and resource allocation in order to support school improvement and value added indicators.
To impact on the raising standards of achievement throughout the whole school in all subjects.
To provide information to enable the school to report to parents, building a partnership between pupils, families and teachers in developing each child.
Age Related Expectations (ARE)
Since the removal of 'Levels' associated with the old National Curriculum the school has chosen instead to use an annual scheme to show if children are working at age related expectation (ARE); using a year group based approached which classifies children as working within a particular year group and as either Emerging, Developing, or Secure, (E, D, S) within that year.
This system is very transparent when examining a child's current attainment and is easy to recognise where a child's learning sits in the 2014 National Curriculum. We also record the depth, creativity and complexity to which a child can apply their understanding into other contexts.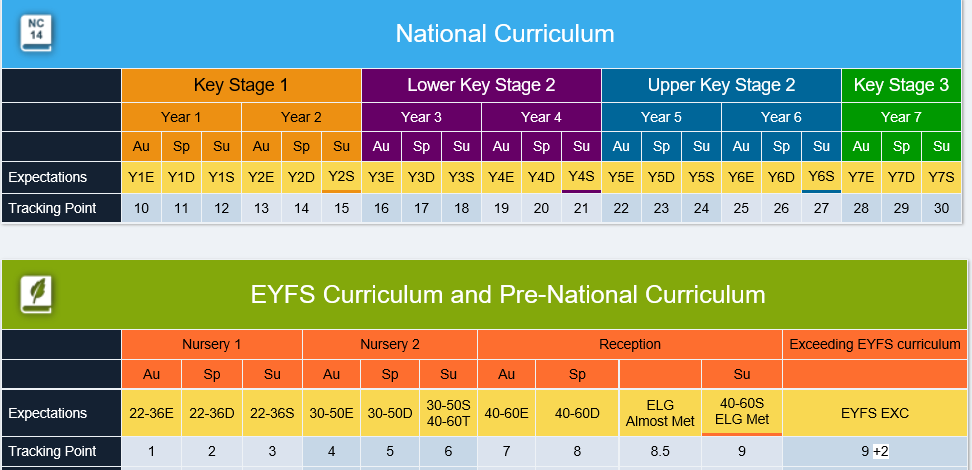 The current assessment scheme also includes Tracking Points to help monitor pupil progress. 3 points progress from each child's starting point at the beginning of the year would represent expected progress; 0.5 points per half term.
Greater Depth
Greater Depth is how skilfully a child can apply their learning.
Greater Depth is not just knowing a fact, but it is using that fact in increasingly more difficult situations
Overall, Greater Depth is a long term measure and must be used how it is designed to mirror the manner in which the DFE is testing and assessing Greater Depth across the curriculum. It is a broad measure and will not be used as a short term measure or 'micro‐stepping' or as a way of showing extra progress over a year - it will stay static for long periods. It should not fluctuate or change every term. In fact, over a child's lifetime at Stanford School, there may be only one or two times when one child's overall Greater Depth Rating changes.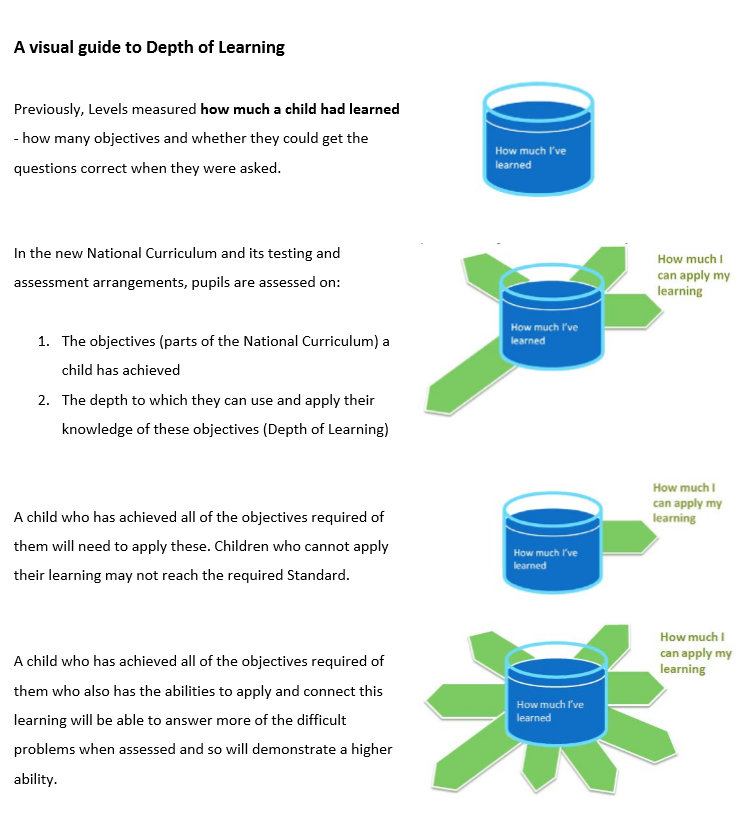 Greater Depth and higher order questioning this is taught and explored in the classroom in an on-going manner in most lessons in all year groups. The more able pupils in each year group are stretched by giving them the opportunity to apply, link, explore and investigate their understanding to become a more independent and deeper learner. We record Greater Depth where a child is judged on a scale between deep mastery skills (#4) to low mastery skills (#1).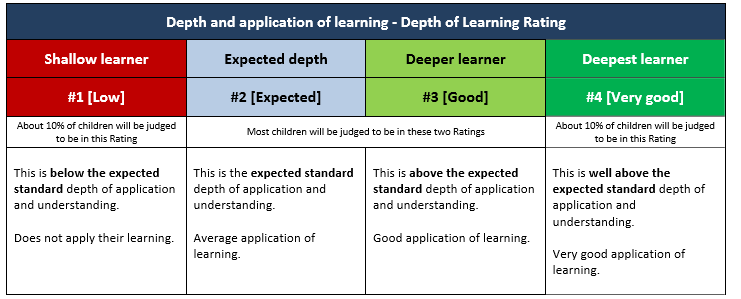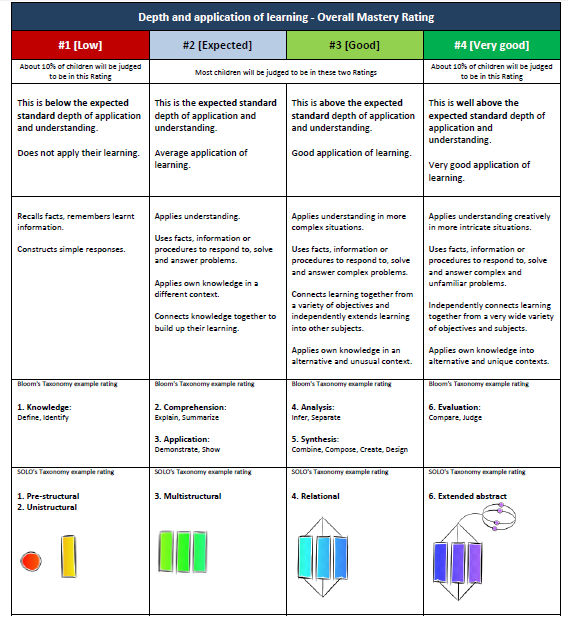 The easiest way to explain this is ‐ the End of Key Stage assessments will look at the depth of application of a child's learning across all areas of the subject and across many connected objectives across the Key Stage and so a teacher must use the same methodology when judging whether a child is working at Greater Depth.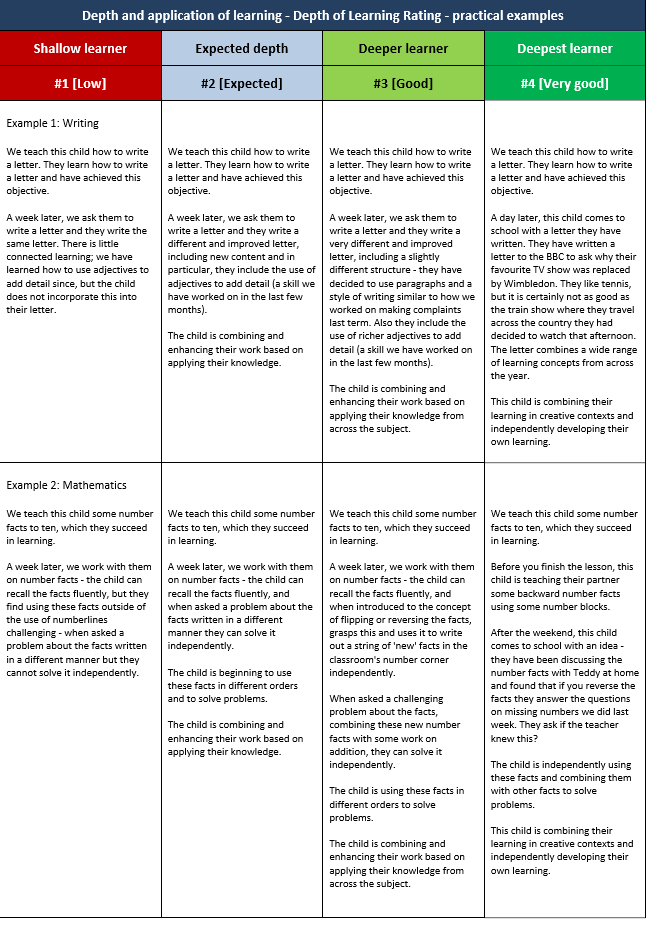 Online Reporting
As well as providing an Annual Report and regular mentor meetings with your child's teacher, we are working with School Pupil Tracker Online to give you access to some of your child's school information which is updated termly.
School Pupil Tracker Online is a secure website where we store some of your child's school information, such as their attendance, attitude to learning, behaviour and most up to date assessments.
If you would like further details about School Pupil Tracker Online, we suggest you visit www.schoolpupiltracker.co.uk/safe.php to read about how your child's information is kept secure online.
To access your child's report, you must use the CONFIDENTIAL Username and Password given to you by the school. Please keep these safe and secure - you are responsible for their security. You should not share them with anyone else. If you lose your log-in details please ask the main school office who will be able to help reset your details.