Yoga!
Miss Gibbard led our well-being and physical activity with yoga! We were able to learn different poses in Yoga such as the cobra and lotus. It made us feel very calm and we were able to use our breathing techniques to support this!
Gymnastics
In PE, we started our new topic- Gymnastics. We had a great session led by Mr Boswell, learning a number of different rolls, such as a forward roll and learning how to make different shapes with our bodies
Girls friendly Football match ⚽️
Today we took some of our KS2 girls to play a friendly football match with Wybers Wood Academy. We continue to raise the profile of girls football and this was another fantastic opportunity for the girls to showcase their skills!
The girls played brilliantly, with many goals saved and even more goals attempted. Their teamwork and skills were outstanding and showed the great Stanford football team they have become! Well done girls!! 🌟
New Goals
Following pupil voice on our new MUGA, pupils wanted to add goal posts to the pitch for when they play matches. Mrs Smith, our Sports Lead, purchased the new goals for all to use. Mr Marshall and pupils quickly ensured they were up and running for our pupils and after school clubs! 🥅 ⚽️
O: Having new goals is great for our matches!
J: They are going to help us target our goals and be more precise! I love using them!
R: I love that we can use them for our after school football club to help us practise for matches!
PE: Football Skills
This half term we have focused on improving a variety of ball skills including controlling the ball, dribbling, passing, shooting, and goal keeping.
Alongside this, we have practised our teamwork skills.
After School Clubs
It has been a great start for our After School Clubs this half term! We have a wide range of clubs on offer from Football, Outdoor Adventures to Chill Club and Chess Club! Take a look at just some of our clubs!
Laceby Solar Farm Community Fund
We are so pleased to have been submitted a successful bid for £20,000 to Laceby Solar Farm Community Fund towards a wonderful new resource at school.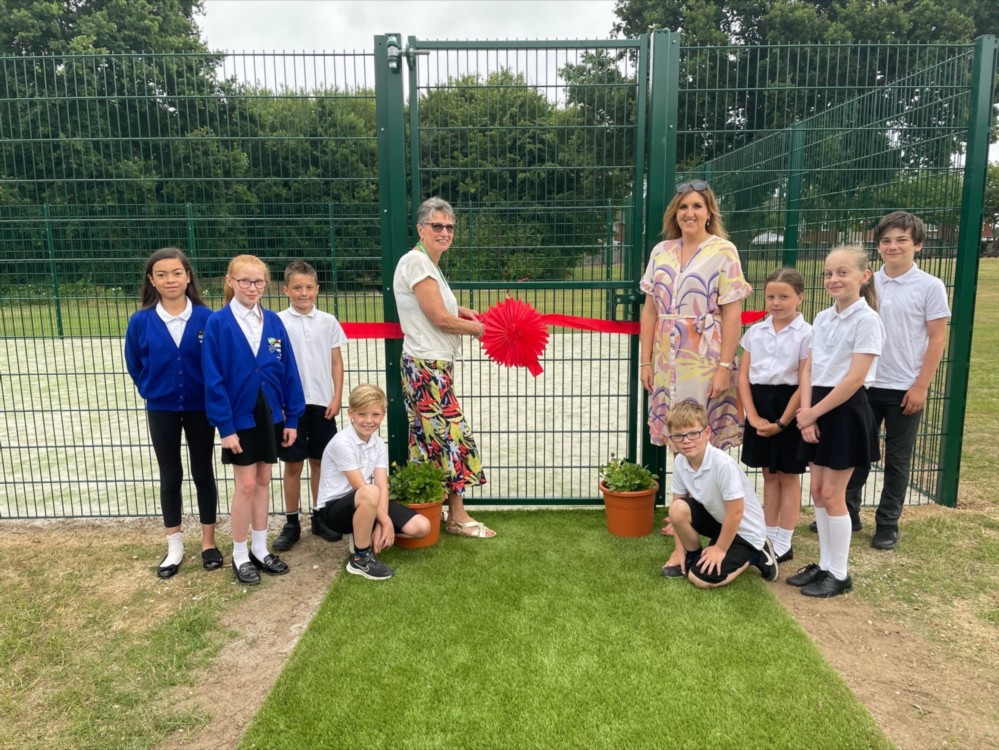 Pupils, staff, Governors and friends of the school are delighted to share with you the good news about a new Muga!! (Multi- use Games Area)
This resource will be used for PE activities, to help the pupils develop their skills and knowledge, understand the importance of healthy lifestyle, for enrichment clubs, intervention and to have fun!
Thank you to Mrs Brady for her support with the bid and to Mrs Griffith, in her School Governor role, for fact finding about the resource. Mrs Smith, Deputy, also leads on PE in school.
We have enjoyed lots of recent successes, such as winning the local Swimming Gala, winning the Gradley Cup, winning Respect Awards in football tournaments and having lots of fun at The Brownlee triathlon, successful sports day and a brilliant range of after school clubs.
Mrs Smith is looking forward to seeing the Muga being used and said, 'It will be great to be able to use the Muga all year round and see the pupils take part in a wide range of sports on the Muga due to its versatility, and seeing the pupils having fun whilst learning new skills!'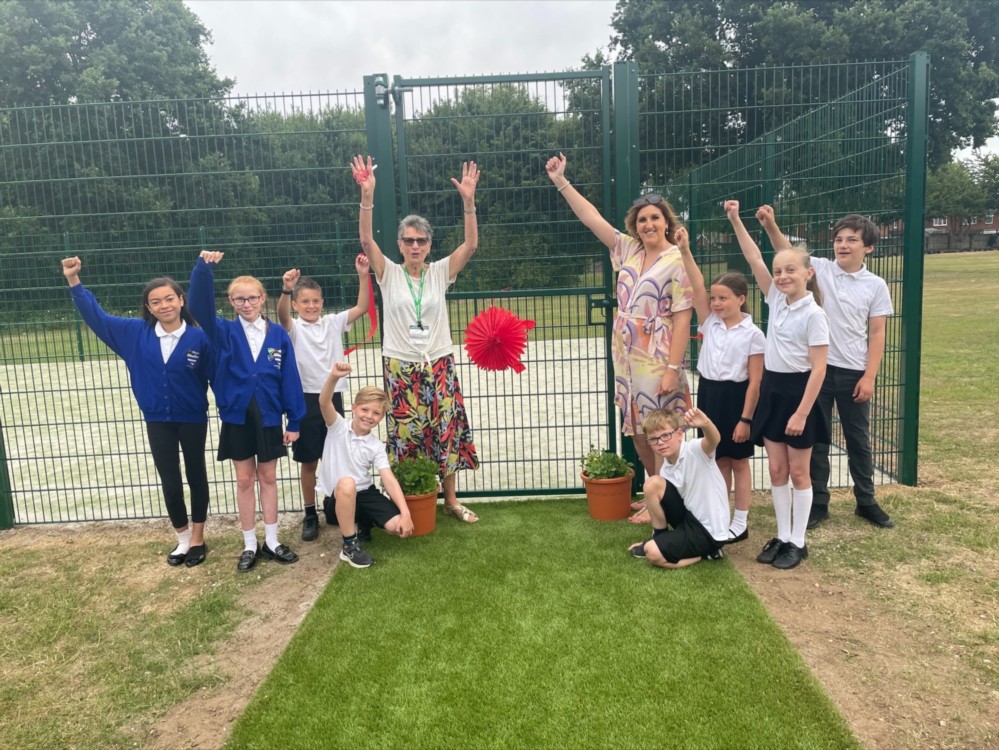 🏊‍♀️Swimming Gala 2022 🏊‍♀️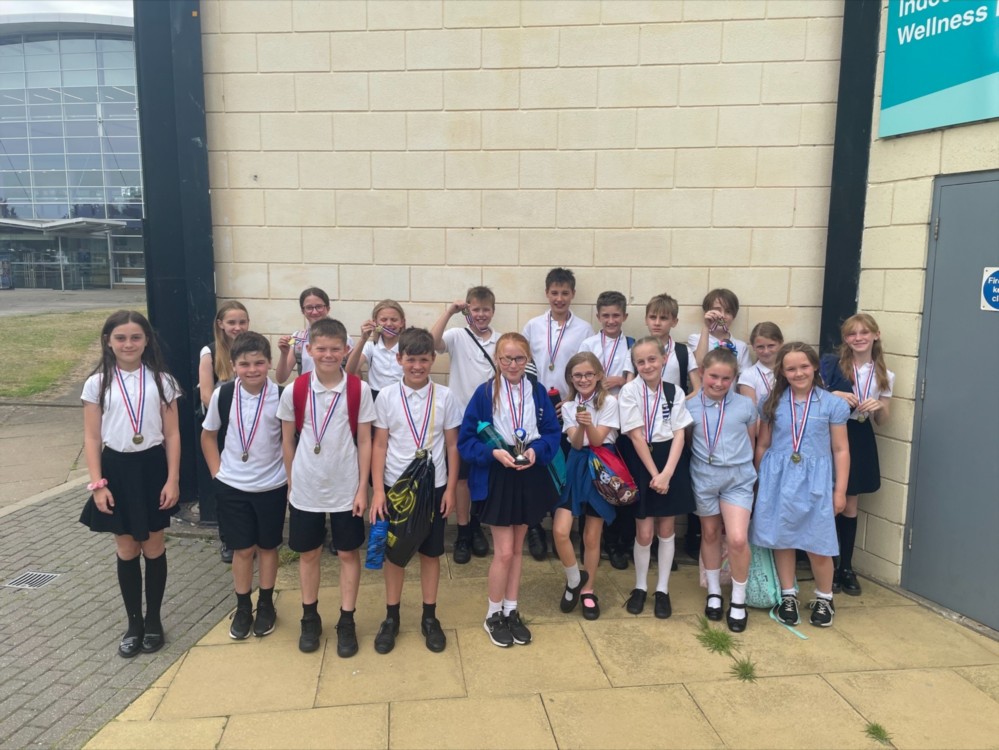 Pupils from Years 4,5 and 6 had a fantastic afternoon at the Swimming Gala 2022!
Competing in a range of events from front crawl to freestyle, individual and relay races, the pupils showed their swimming talents!
ALL of the pupils were absolutely incredible, showed great determination and were always the top 3 in each race. Throughout the races, the pupils showed excellent sportsmanship by cheering their peers on and had such team spirit.
Because of this and their amazing swimming talents..... Stanford School came 1st!!!
Thank you to the staff and our parents/ carers who came to support and cheer our amazing team on!!
Well done!! We are all so proud of you!! 🏆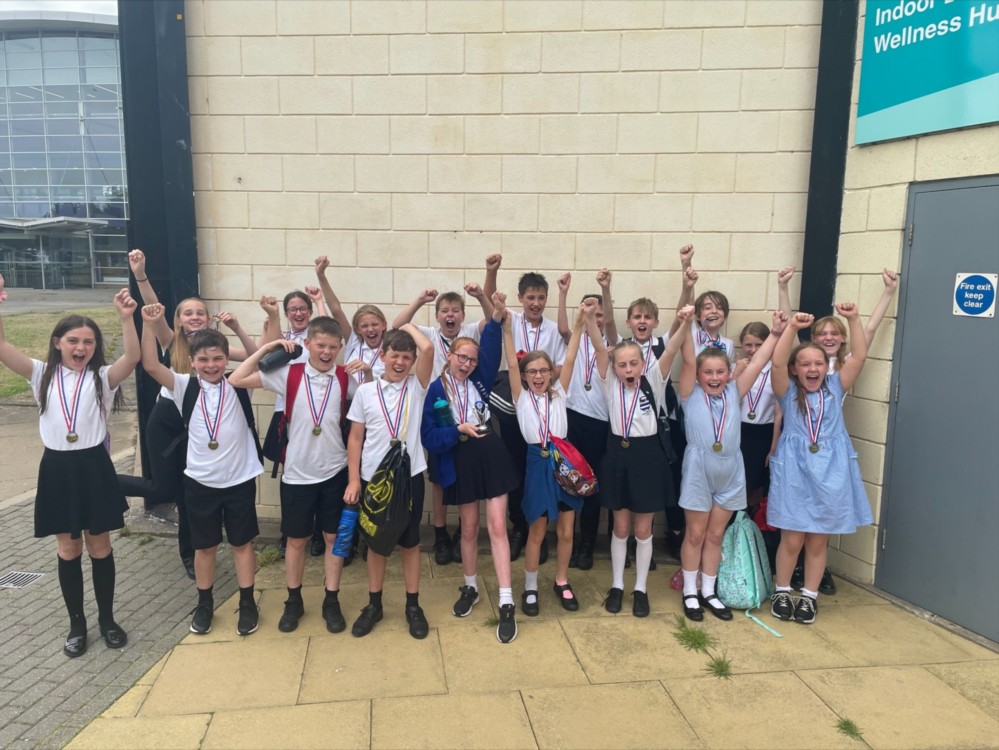 Year 5 girls Football Team ⚽️
As the UEFA Women's Euro 2022 starts this week, Stanford school is aiming to raise the profile of girls football in school. Through collaboration with local schools we were invited to play a friendly match with Wybers and Scartho on Tuesday.
The year 5 girls represented the school fantastically, despite turning up to the event playing against teams of year 6s!!
None stop smiles and encouragement between one another, amazing sportsmanship and teamwork 😄 Well done girls!! ⚽️
Key Stage 2 Sports Day 2022
Wow! We had another fantastic sports day this morning with our Key Stage 2 pupils this morning!
The sun was shining as the pupils took part in a range of events and activities, from space hoppers to hurdles! It was great to see parents, siblings and staff take part in a race too!
Thank you to all our parents/carers who came to support and to all the staff and Premier Education for leading this!
Sports Collaboration
Year 2 children have absolutely loved all the different sports activities their friends in Year 6 have organised for them recently.
A- There have been so many different games and I have enjoyed them all.
O- I just want to say thank you to Year 6. They have made PE fun for all of us!
F- They asked me which activity I liked best, but I have liked doing them all.
J- When it's Activity Day, Year 6 will set up the games we liked the best. We have voted for our favourite ones.
Brownlee Foundation Triathlon
As a well done for working so hard in the run up to the SATs, our Year 6 pupils have had a wonderful day today at the Brownlee Foundation Triathlon! They swam 50m, completed an 800m cycle and then a 300m run. It was wonderful to see the children cheering each other on and thoroughly enjoying themselves.
O - I loved today, it was fun to do something new and even better that I could do it with my friends.
C - Today was amazing, my favourite part was the swimming. I would definitely recommend other people to do it too.
C - I really enjoyed today, I would like to do a full triathlon in the future.
D - I am not really keen on doing sport, but today was awesome! I would definitely recommend it to other people to take part, even if they aren't usually really sporty.
⚽️Stanford School wins Football tournament⚽️
Our amazing Year 5/6 football competed this evening at the Gradely cup football tournament and we are so pleased and proud to share that they won!!!
The team won every game and didnt concede a goal!!
We are so proud of them all and have done Stanford proud- well done boys! They were Respectful, determined and worked as a team to win!
A huge thank you to Mr Page and Mr Marshall for all their help and support!
🥇🥇🥇
Bikeability
Year 5, Juniper class, spent two days completing their cycling proficiency, levels 1 and 2 last week. Bikeability is the government's national cycle training programme. It helps pupils learn practical skills and understand how to cycle on today's roads. Bikeability gives everyone the confidence to cycle and enjoy this skill for life.
Well done Juniper class you were amazing and safe on the roads!
Sponsored Sport's Event
Pumpkin Class met Martin Norris who is an England Wheelchair Rugby League player. They enjoyed hearing about his life and achievements in a special assembly and then they completed a circuit of exercises.
J- He has inspired me to set goals and see what I can achieve.
L- I enjoyed all the exercises, they got my heart beating fast.
M- I enjoyed watching Martin's video. I think he is a very good rugby player.
Y3 Orienteering
The children had lots of fun orienteering. It involved working as a team, finding clues and putting them together to solve a puzzle.
Gymnastics
Our PE topic this term is Gymnastics. Mr Dean has been teaching us how to use the apparatus to move, balance, counter-balance and worked in small groups to create a routine.
Thank you to some of our talented gymnasts who were supporting and coaching others in the class.
S - I have loved using the apparatus today, I was a little scared at first because it seemed so high, but I just used the balancing techniques Mr Dean showed us.
L - We worked well as a team and H helped us with ideas for our routine from her gymnastics lessons.
Pirate P.E.
Today in Foundation P.E we pretended to be pirates. We played 'what's the time captain?' and practiced our jumping (which is a gross motor skill) in a relay game.
Year 3/4 Football club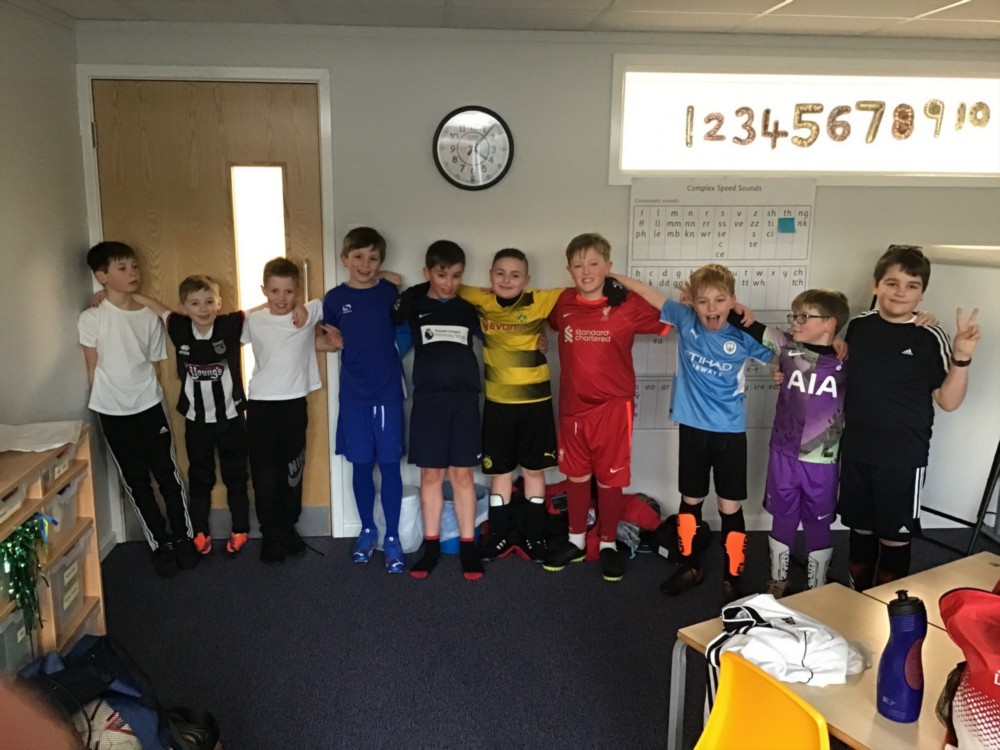 Pupils have been working hard over the past few weeks on their dribbling, passing and shooting skills with Mr Marshall- well done!
Wow! Archery Event
Pumpkin Class
Pumpkin Class had great fun learning how to do archery.
E- I had never held a bow and arrow before.
K- It was hard, I kept dropping my arrow, but I kept trying.
J- My arrow hit the target, but then it fell off.
E- I got better after a few goes.
W- It was a good activity for us, because we have been learning about castles and we found out that King Harold got shot by a bow and arrow in his eye during the Battle of Hastings!
Willow Class
Willow class had a great time learning some archery skills with Premier Sport. We learned how to play safely, how to aim for a target and how to work well in a team. We also got to practise our maths skills by combining our scores at the end.
Juniper Class
Juniper Class took part in our second PE Wow event of the year, this time focusing on learning and developing their archery skills. During this event we focused on 4 areas: safety, distance, sharing and scoring. We all improved our skills by the end of the session!
Barley Class
Today, we took part in an archery event with premier sport. First we discussed safety, distance, sharing and scoring. Then we practiced using the equipment and had a competition to see which team could get the most points.
Well done to our winning team with 25 points!
Football Tournament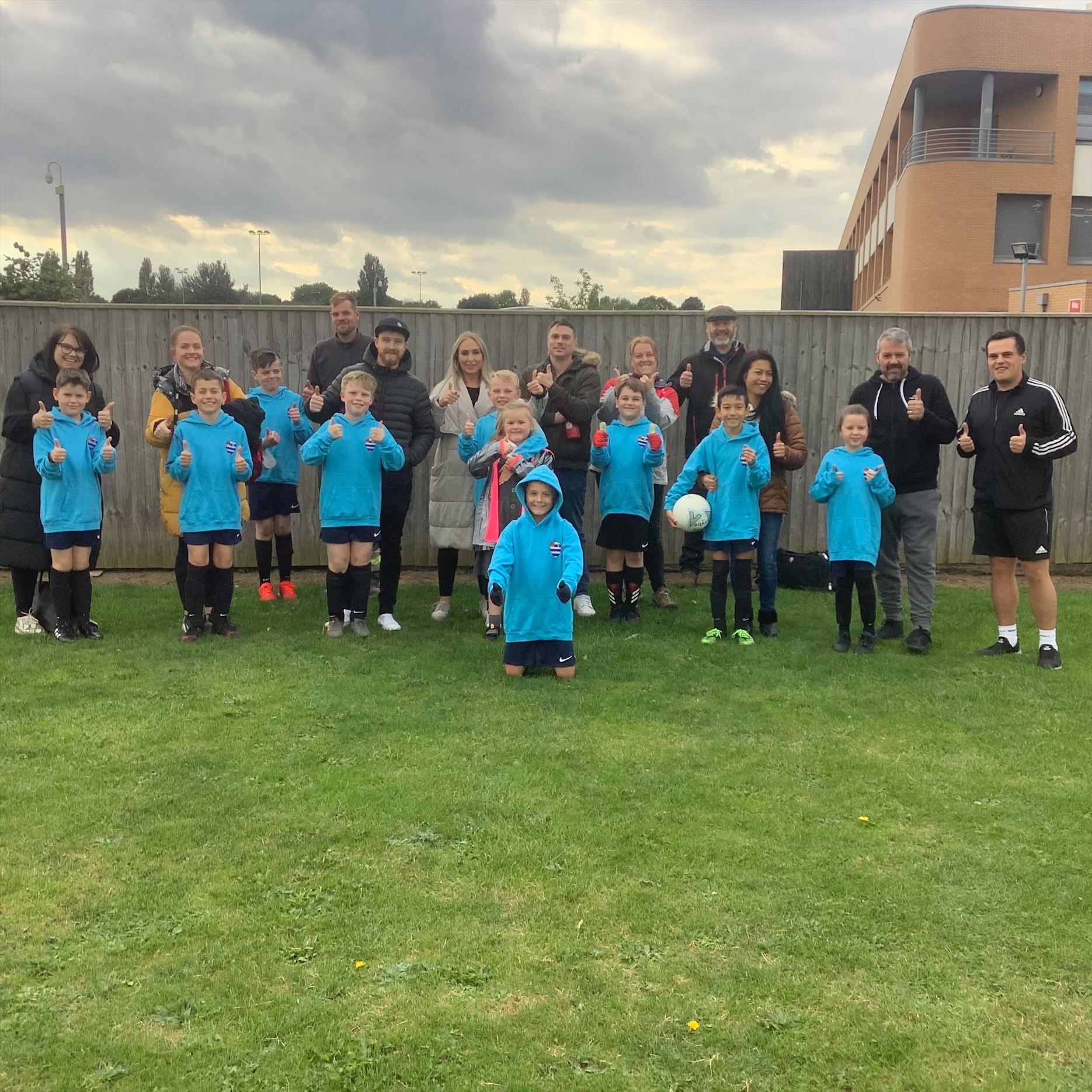 Another fantastic tournament with our Year 4 and 5 football team. The team were amazing, played with skill and dedication - could not be more proud. Thanks for the support. Great evening!
Wow! Sport Event
Pumpkin Class
Pumpkin Class learnt how to play tag rugby with Mr. Darby from Premier Sports. They listened carefully, learnt all the rules and played very well. There was a great atmosphere and lots of team spirit!
E- I enjoyed learning tag rugby. I had never played it before.
O- I liked it when people threw the rugby ball to me.
L- I have learnt to dodge and catch.
J- I was a fast runner, people couldn't catch me.
E- I thought it was fun. I want to play it again.
Poppy Class
The children had lots of fun today. First they worked in small groups passing a rugby ball between them. They had to see how many times they could pass the ball without dropping it. Then they played Tag Rugby. They each had a belt with 'tags' on them. The aim of the game was to stop people taking their tags and to get tags off other people. They really enjoyed this game!
Barley Class
Today, Barley Class took part in the Wow! Sports Event which Pupil Voice decided would be Tag Rugby.
As you can see, we had a fantastic morning practising our throwing, catching and team building skills!
Grimsby, Cleethorpes and District School Football Association Competitions
Well done to all!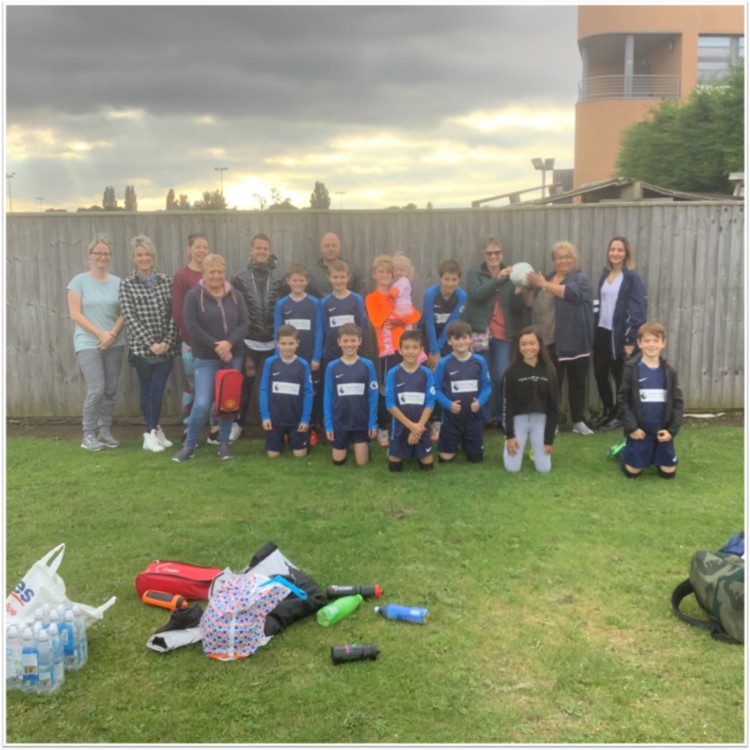 Girls Football Tournament
Wow!!! A huge well done to our Years 5/6 girls football team who competed in the Grimsby, Cleethorpes and District football tournament today! They were all so determined and positive- We are very proud of them all!!
Our wonderful team received medals for the 'Respect Award', amazing!!!
A huge thank you to Mr Page, Mr Dean, Mr Marshall and Mrs Hackfath for supporting the team!
Also a huge thank you to our supporters- family and friends who came to cheer the team on! We really do value and appreciate your ongoing support!
Finally, thank you to the girls- those that played and those that will play in the next game or in the club- You are amazing!! ⚽️🏅
Teamwork – Scatterball
Juniper class successfully worked in teams playing a game of scatterball. Some great throwing, catching, fielding and batting skills but the thing that impressed me most was the fabulous teamwork. Well done Juniper class!
Skipping Workshop
We were really lucky as Georgia Toay came to the school to provide a skipping workshop. Georgia represented Team GB in the world skipping
championship!
The children had lots of fun trying out different ways of skipping.
Pupil Voice Sports Equipment
As part of our latest Pupil Voice meeting, children in each class discussed how they would like to have more playtime equipment, including bats, balls and a volleyball net.
Here we are enjoying this equipment on the playground and field.
Y4 Swimming Lessons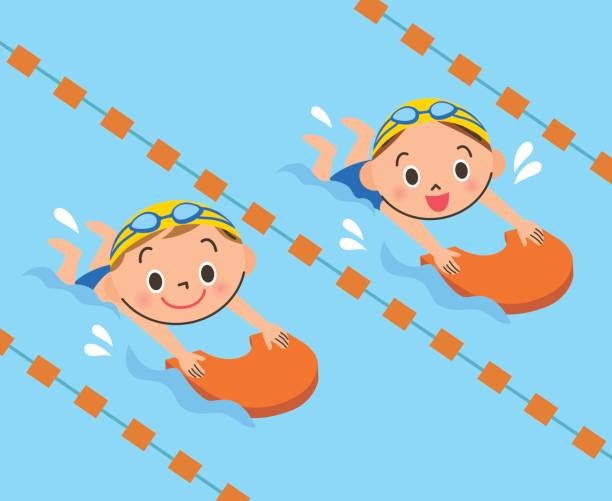 This week the children started their swimming lessons which is a part of the Y4 PE curriculum. The children were extremely well behaved and all the swimming instructors commented on this which made Miss Perrin very proud.
There were lots of beaming faces in the pool, as swimming is something we have not been able to do for so long, and I am sure there were lots of tired children at the end of the day.
Wow! Super Sports Day!
Foundation Stage
The Foundation children had a great time learning lots of new sports skills with Mr. Dean from Premier Sport today.
E- I liked throwing the javelins.
A- I was good at kicking the big footballs.
C- I had lots of fun.
S- I learnt how to do cricket.
S- I liked chasing people and being a robber.
J- I could throw my beanbag and get it in the net.
V- We did lots of activities. It was fun!
Year 1
The Year 1 children had great fun learning a wide range of sports activities with Mr. Dean from Premier Sports.
A- I enjoyed learning how to hit a ball with a cricket bat.
J- I was very good at football and I could knock the stumps over.
D- I liked the basket ball activity. I got 15 points.
K- I had fun playing the cops and robbers game.
O- Exercise is good because it make your body fit.
Pumpkin Class
Pumpkin Class had such a great day yesterday doing their super sports day. The morning was great weather so it was games on the field and the afternoon was just as fun in the hall despite the rain outside. This is what the children had to say:
JJ – "It was fun and my favourite day ever! I liked batting and catching balls."
DI – " I loved the dance floor game, you had to copy each other's dances and then freeze."
AB – "My favourite was rounders."
JR – "Sports day was brilliant and I sweated a bit!"
CP – "I worked hard."
GR – "It was a fun and exciting day."
TS – "It was really good and I enjoyed working at it. It was the best ever sports day!"
Poppy Class
We were lucky to have Premier Sport come and provide a sports day for the children. The children were playing games and taking part in team building activities throughout the day. They had so much fun and were exhausted by home time. I bet they will all sleep well tonight!!!
Barley Class
Year 6 had their Wow! Sports Event - the children loved taking part in the team games and also learning about healthy lifestyles with Mr Playford and Mr Dean from Premier Sport.
'It has been so much fun playing new games that we haven't played before'
'The best word I can think of to describe it - AMAZING!'
'It was so fun, but also tiring - your legs will feel sore the next day!'
Bikeability
Star Anise class had lots of fun learning how to safely navigate their bikes around the streets of Laceby.
Intra-sport competition
Pumpkin Class
As part of our Intra-sport activities on Friday last week, Pumpkin Class took part in an amazing event! The Cricket tournament was between our four Teams at Stanford and we had semi-finals and Finals. We all had a great time learning a new PE skill; working as part of a team; encouraging and supporting our friends and having lots of fun!
Here are some pictures we'd like to share.
Juniper Class
Juniper class really enjoyed taking part in the intra school sport event today playing 3 Tee cricket. Ist place in our class was Yellow team. Some great team work skills.
Poppy Class
We were very lucky to have Premier Sport come in and organize cricket competitions for each class. The children played for their houses and had lots of fun learning a new game to play. They were very good at striking the balls so I daren't get any closer!!!!
Barley Class
This morning we took part in an intra-sport cricket event - the Premier Sport coaches were really impressed with our teamwork and enthusiasm! We enjoyed it so much that we even played a class game of cricket at playtime and Golden Time too!
Well done to Whitgift and Knight who drew in the Y6 game.
Juniper Class PE Wow day
Today we had our PE wow day, we played lots of different games that needed many skills. We had to use communication to our teammates, learn how to play fairly and work as a team. We really enjoyed the variety of games and had great fun! We also created a poster to show all of the benefits of sports and what we think when we think of sports! We have had a great day and hope we can do it again soon.
We played some warm up games, archery, cops and robbers and lastly dodgeball which was really fun!
Year 5 Sports Event
Star Anise class had a whole day of sporting fun this week, where they took part in a range of multi-sport activities. As well as being lots of fun, there was also a focus on well-being, mental health and healthy eating. There was lots of great teamwork on display throughout the day.
Going for Gold
Year 2 are hoping to achieve the Golden Mile award with Mr Page. Every Friday morning we are walking or running as many times as we can around the playground. We are counting our miles as we go. This is good for our HEARTS, good for our HEADS, great for our WELLBEING and LOTS OF FUN!! Here we are running and walking in the sunshine.
PE with Mr Page
Keeping fit and active is not only good for us physically - but mentally too.
Mr Page has created some fun work out videos for you to use at home - hope you enjoy them!
---
---
Year 5 and 6: Star Anise and Barley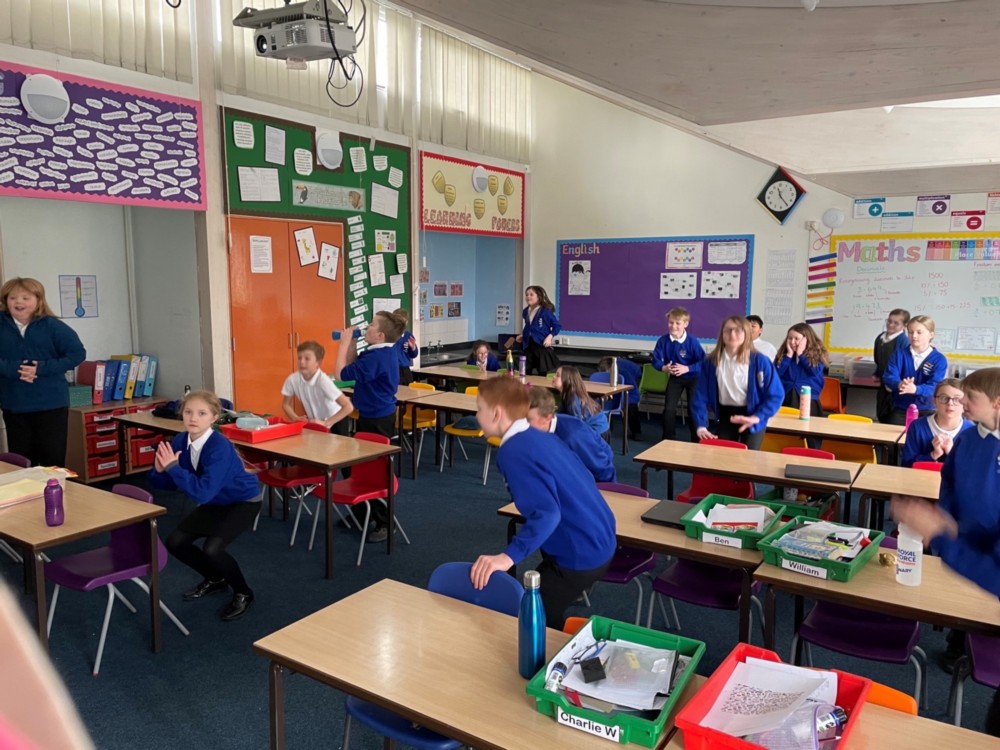 Year 5 and 6 pupils took part in the Live Premier Education session today and completed some short exercises that get the heart racing!